Munich, the capital city of Bavaria in Germany, is a popular tourist destination known for its rich history and breathtaking architecture. The city boasts of many luxurious 5-star hotels that offer top-notch amenities and world-class services to their guests. From grand ballrooms to fine-dining restaurants and indulgent spas, these hotels are perfect for travelers who seek nothing but the best.
If you're planning a trip to Munich and looking for an opulent stay experience, then these 5-star hotels won't disappoint you. Designed to cater to the needs of discerning travelers, each hotel exudes elegance and sophistication in its own unique way. Whether you're here on business or leisure, there's no better way to pamper yourself than by staying at one of these premier properties. So sit back, relax, and let us take you on a tour of some of the finest 5-star hotels in Munich!
Best Munich Five Star Hotels
Hotel Bayerischer Hof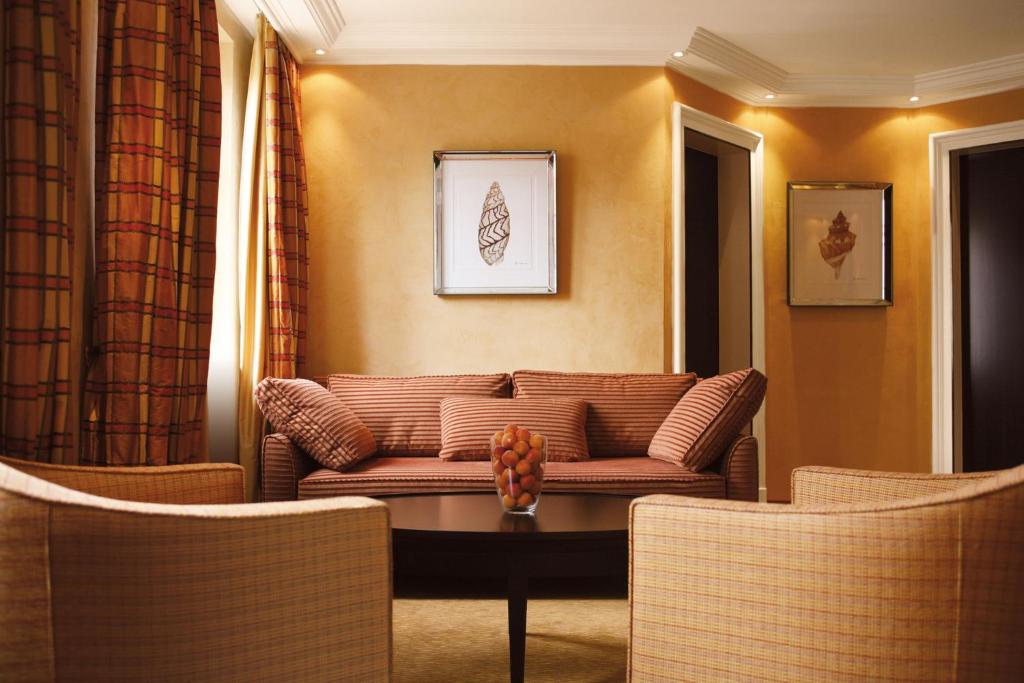 Hotel Bayerischer Hof is a historic 5-star hotel located in Munich's trendy shopping district. The hotel boasts of 5 gourmet restaurants, 6 bars, and an exclusive Blue Spa with a rooftop pool. Each room and suite comes with a unique design, ranging from cosmopolitan to colonial style.
Pros:
– Offers high-speed WiFi and air conditioning along with complimentary fruit basket and mineral water
– Has an exclusive Blue Spa with sauna area, gym, and beauty salon
– Features dining facilities like Trader Vic's restaurant and the 2-Michelin-star Atelier Restaurant
– Private parking spaces available for guests' convenience
– Cinema Lounge ideal for private celebrations or company presentations
Hotel München Palace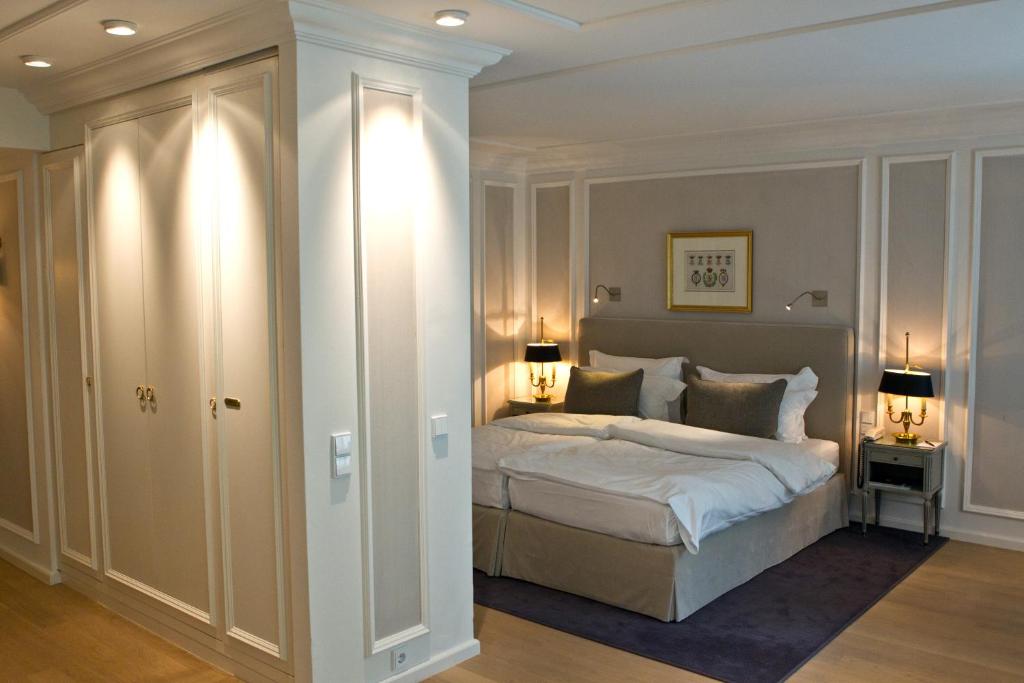 Hotel München Palace offers luxurious accommodation in the heart of Munich, located on the serene banks of River Isar and near the famous English Garden. The hotel features elegant rooms with a host of amenities including free minibar, flat-screen TV and marble bathroom, as well as a range of international meals offered at its Palace Restaurant. Guests can also enjoy free WiFi throughout the hotel, access to two Sky Sport channels in both rooms and bar area, sauna and steam room facilities as well as modern gym.
Pros:
– Prime location near English Garden
– Elegant and luxurious rooms with marble bathrooms
– Free minibar in all rooms
– Access to sauna, steam room and gym facilities
Roomers Munich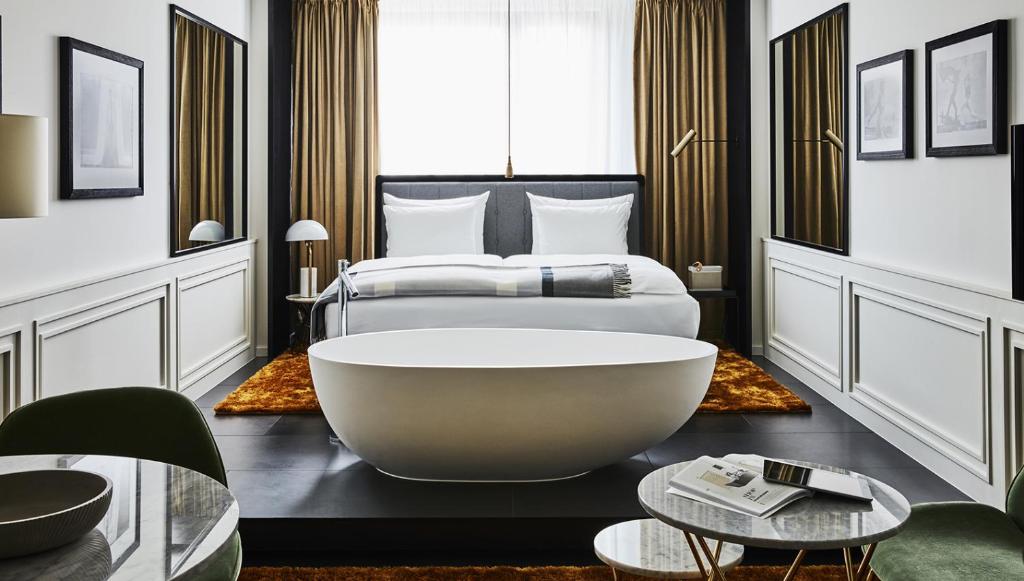 Roomers Munich, Autograph Collection is a luxurious 5-star hotel located in Munich. It offers guests free WiFi, a 24-hour front desk, and an in-house restaurant serving Asian cuisine with vegetarian and vegan options. The hotel also features rooms with air conditioning, flat-screen TVs, private bathrooms with hairdryers, and select rooms come with balconies or hot tubs.
Pros:
– Great location within walking distance to Oktoberfest and other local attractions
– Beautiful terrace for guests to relax on
– Spa services including massages and beauty treatments available
– Fitness center onsite for those looking to stay active
Other places to stay in Munich
Munich Downtown Five Star Hotels
Munich downtown is home to several luxurious five-star hotels that promise an unmatched travel experience. From modern architecture to historical landmarks, these hotels offer a perfect blend of comfort and opulence.
Mandarin Oriental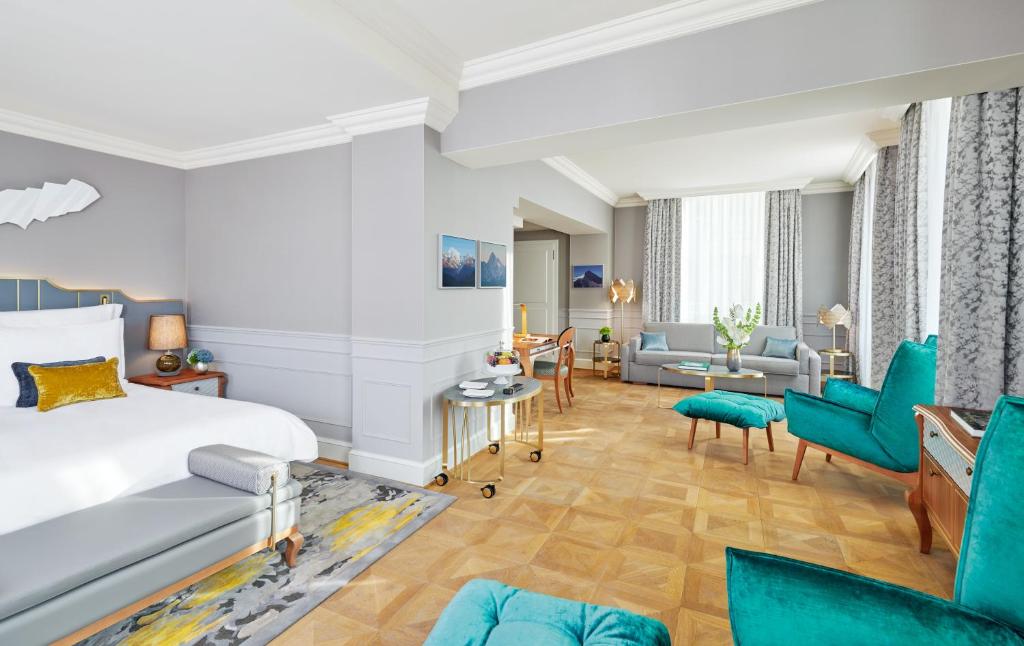 Located in the heart of Munich's Old Town, Mandarin Oriental is a luxurious 5-star hotel that offers elegant rooms and suites with an Oriental style mixed with German charm. It's situated on a quiet side street just a short walk away from the city's main attractions and shopping streets.
Pros:
– Spacious rooms equipped with Samsung entertainment systems and free minibars
– Matsuhisa, Munich restaurant serving renowned Japanese-Peruvian cuisine created by celebrity chef Nobu Matsuhisa
– The Lounge offering all-day dining and delicious afternoon tea options
– Fully-equipped fitness centre, Turkish steam bath, Finnish sauna and terrace with 360-degree city view
Rocco Forte The Charles Hotel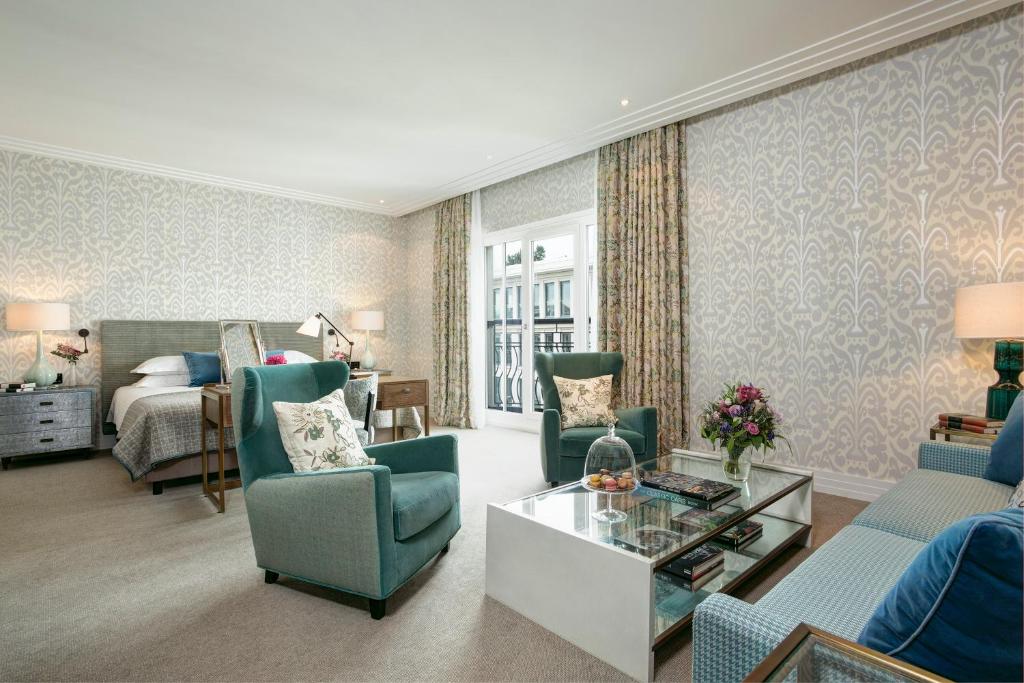 The Rocco Forte The Charles Hotel is a 5-star design hotel located in Munich, offering luxurious amenities such as an exclusive spa with indoor pool, elegant Neo Bistro with terrace and bar, soundproofed rooms with free Wi-Fi, flat-screen TV and limestone bathrooms with a bathtub and separate walk-in shower. Guests can enjoy city or garden views from their rooms while taking advantage of the hotel's spacious spa area that includes sauna, steam room, modern gym and beauty treatments. Other perks include private garage access and proximity to Munich Central Station.
– Luxurious spa facilities including sauna, steam room, indoor pool and gym
– Beauty treatments available for booking
– Elegant on-site dining options featuring regional and seasonal ingredients
– Prime location near Munich Central Station
The Westin Grand Munich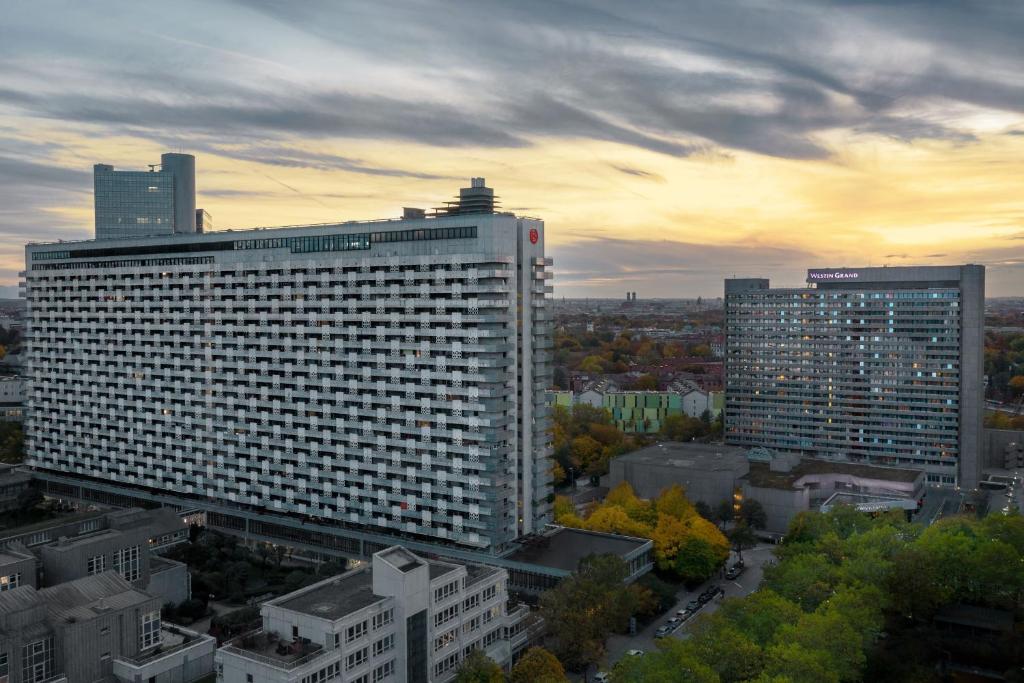 The Westin Grand Munich is a luxurious 5-star hotel located just a 10-minute underground ride from central Munich. The hotel boasts two restaurants, a bar, and a beer garden for guests to enjoy as well as an extensive spa with a large indoor pool and 24-hour gym.
Pros:
– Spectacular city views
– Spacious lobby and large spa area for relaxation
– Elegant marble bathrooms with high-quality toiletries and rain showers
– Exclusive Westin Club lounge offering delicious culinary treats, complimentary breakfast buffet, smoothies, teas and more
– Bavarian food available in the Paulaner Wirtshaus tavern with its own beer garden
Luxury 5 Star Hotels in Munich
Munich boasts a range of 5-star luxury hotels that offer guests exclusive experiences and exceptional service. These hotels provide lavish accommodations and are often located in prime locations throughout the city, making them the ideal choice for discerning travelers looking to indulge in opulent surroundings.
Hyperion Hotel München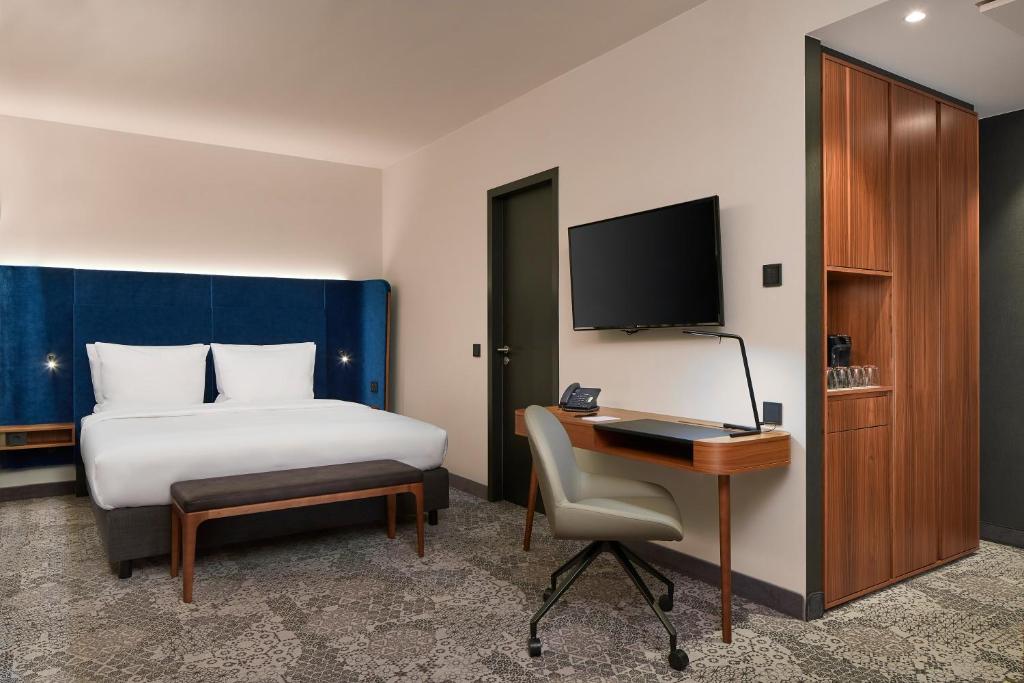 The Hyperion Hotel München is an elegant new hotel located just 4 km east of Munich city centre, making it a great option for travelers who prefer to stay outside of the bustling downtown area. With amenities like a gym, 24-hour reception and free WiFi, guests can enjoy comfort and convenience throughout their stay. The spacious and air-conditioned rooms are equipped with a variety of features including Sky sports channels, tea/coffee facilities, designer chairs, desks, safes and bathrooms with rainforest showers and heated floors.
– Gym facility on-site
– Free WiFi available
– Conference facilities available for business travelers
– On-site parking spaces available (additional charge)
– Restaurant offers regional and international dishes with live cooking view
Andaz Munich Schwabinger Tor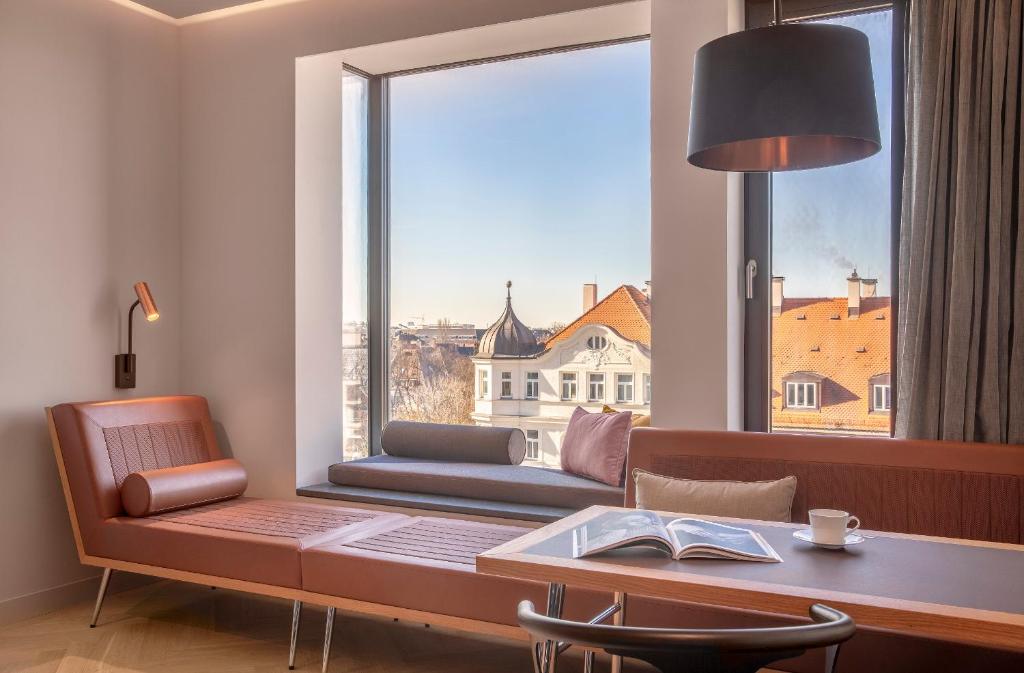 Andaz Munich Schwabinger Tor – a concept by Hyatt is a luxurious hotel situated at the Schwabinger Tor in Munich, between the Olympic Stadium and the English Garden. This hotel boasts of impressive features such as a spa, fitness centre, pool area with sundecks and rooftop bar offering panoramic views of the city and Alps. The rooms and suites are exquisitely designed with sophisticated interior details and inspiring art while guests can indulge in organic and locally sourced Bavarian dishes at The Lonely Broccoli restaurant.
– Impressive spa, fitness center, pool area
– Rooftop bar offers 360° views of the city & Alps
– Rooms & suites have sophisticated interior design
– Organic & locally sourced Bavarian dishes available at their restaurant
Sofitel Munich Bayerpost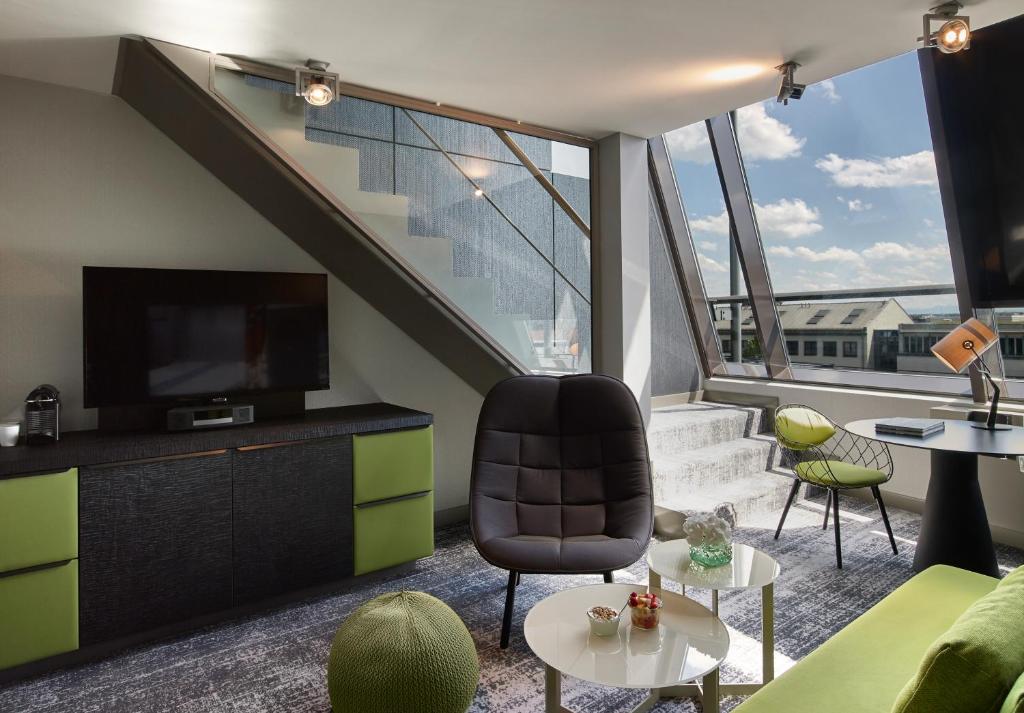 The Sofitel Munich Bayerpost is a 5-star hotel that underwent extensive renovation in 2017. It boasts of modern interior design while still preserving its historic Wilhelmine facade. The hotel is conveniently located just 100 meters from Munich Main Station and features air-conditioned rooms with luxurious amenities such as Nespresso coffee machines and Diptyque toiletries.
Pros:
– Spafacilities offering massages and a sauna
– Restaurants serving modern French specialities with an elegant ambiance
– Convenient location for exploring the city, including walking distance to Oktoberfest Beer Festival
– On-site parking available for guests
Cheap 5 Star Hotels in Munich
Munich boasts several cheap 5-star hotels that offer a high level of luxury without breaking the budget. These hotels are ideal for travelers who want to experience the best of Munich's hospitality without paying top dollar.
Le Méridien Munich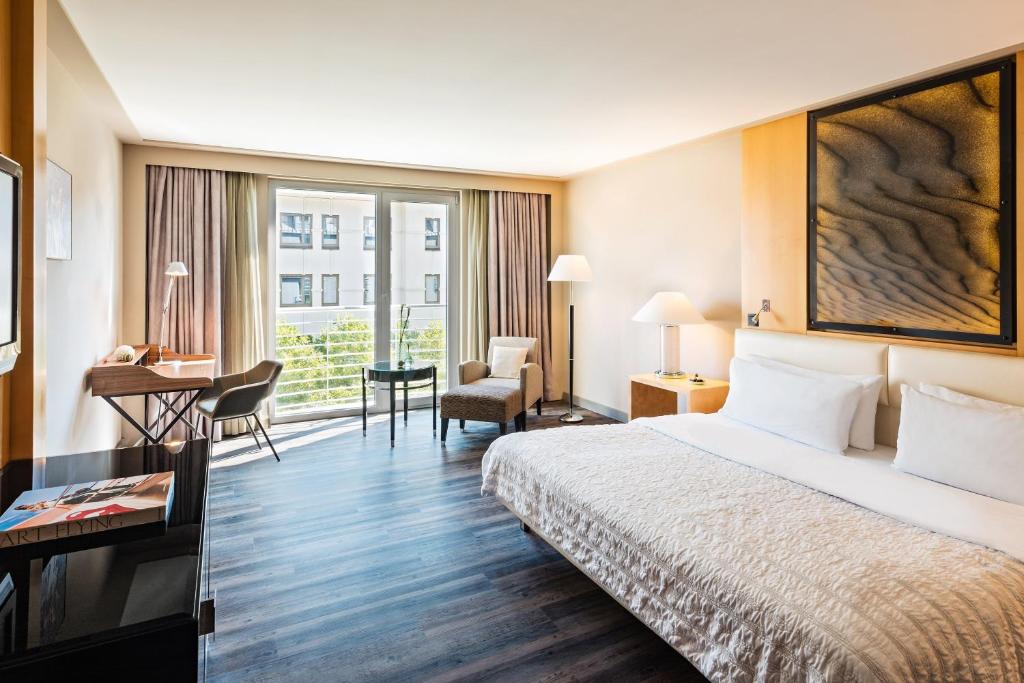 Le Méridien Munich is a luxurious 5-star hotel located just 50 meters from Munich Main Station. The hotel features an attractive lobby, spa area with a long pool, designer interiors, and free admission to selected cultural sights. Guests can enjoy air-conditioned rooms with rich carpets and marble bathrooms.
Pros:
– Prime location in the heart of Munich near the main train station
– Luxurious spa area with a long pool
– Designer interiors and comfortable rooms with modern amenities
– Free admission to selected cultural sights
Louis Hotel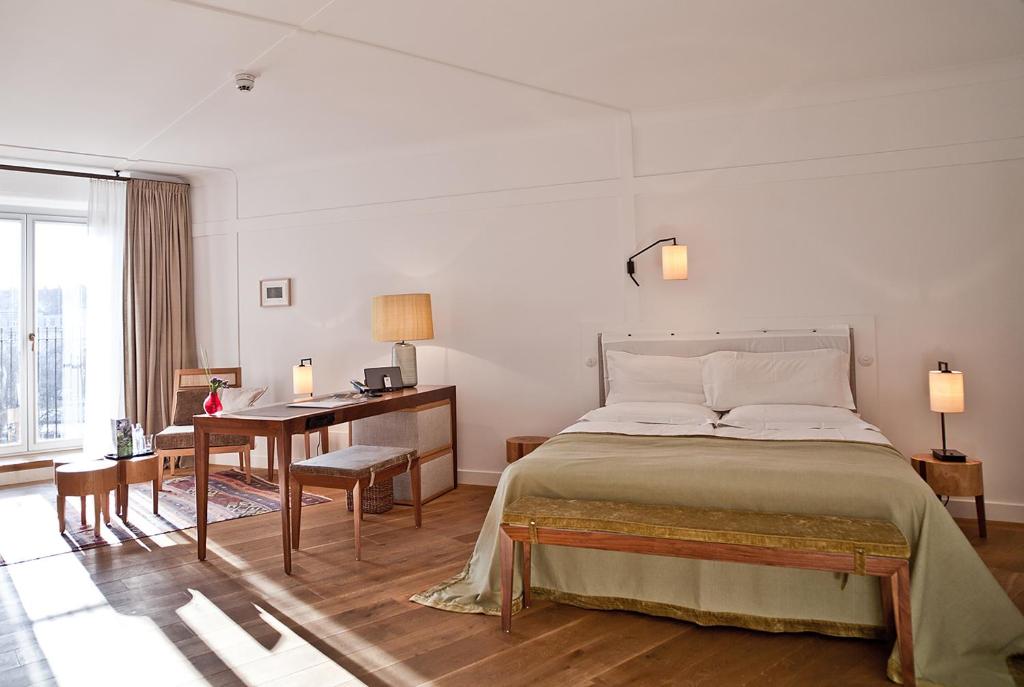 The Louis Hotel is a luxurious 5-star hotel located in the heart of Munich, adjacent to the vibrant Viktualienmarkt and just a short walk from Marienplatz. The meticulously designed rooms feature natural stone, wood, and Italian fabrics, as well as modern amenities such as flat-screen TVs, iPod docking stations, and DVD players. Guests can indulge in authentic Japanese cuisine at the EMIKO restaurant or enjoy drinks at the hotel's bar.
– Stylish rooms with modern amenities
– Japanese restaurant on-site
– Convenient location next to Viktualienmarkt and close to public transportation
– Meticulous attention to design details
DO & CO Hotel München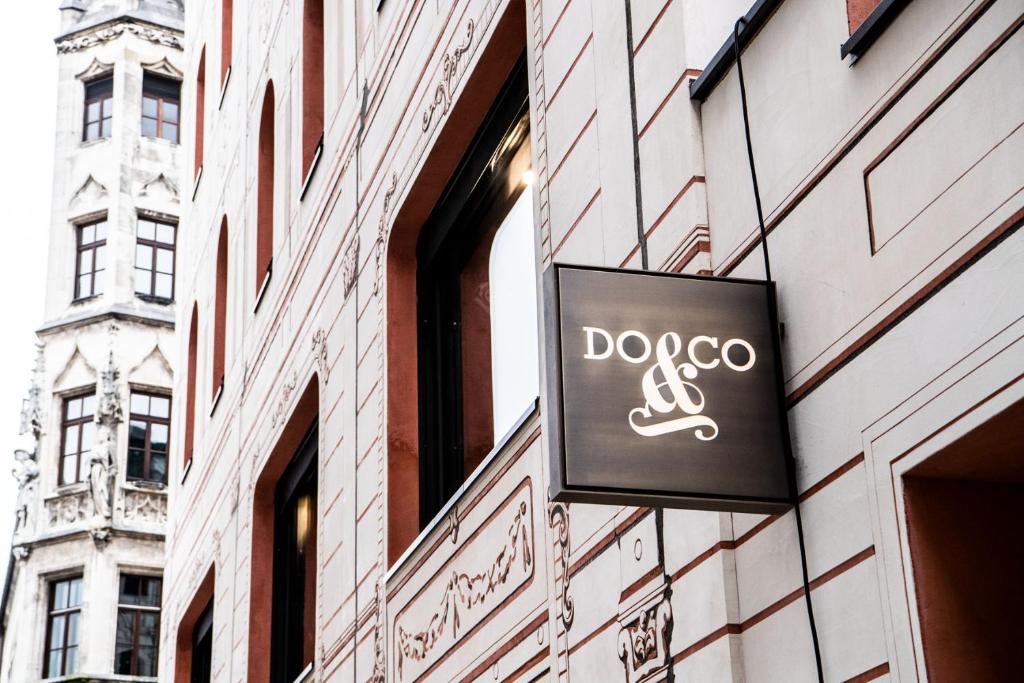 The DO & CO Hotel München is a new luxury hotel in Munich that opened its doors in May 2021. The hotel boasts a fitness centre, shared lounge, terrace, and bar. Guests can enjoy Mediterranean, Asian and international cuisine at the on-site restaurant.
Some short pros of this hotel include:
– Convenient location near popular tourist attractions
– Options for vegetarian, vegan, and dairy-free diets
– Availability of bike and car rentals for exploring the surrounding area
– High-quality amenities such as air conditioning and a coffee machine in each room
Munich 5 star Hotels Information
| | |
| --- | --- |
| 🛎️ 5 star Hotels in Munich | 12 |
| 💵 Hotels Prices From | $250 |
| 💵 Highest price | $1628 |
| 🥇 Average Review Score | 8.5/10 |
| 🛏️ Average number of Rooms | 251 |
Top 5 star hotels in Munich
| | |
| --- | --- |
| DO & CO Hotel München | 9.1/10 |
| Mandarin Oriental | 9/10 |
| Rocco Forte The Charles Hotel | 8.9/10 |
| Hotel München Palace | 8.8/10 |
| Andaz Munich Schwabinger Tor | 8.8/10 |
FAQ
What are some of the best luxury hotels in Munich?
When it comes to luxury hotels, Munich has a lot to offer. The Mandarin Oriental is considered one of the best and most luxurious hotels in the city with its prime location near many tourist attractions and high-end amenities like Michelin-starred dining. Another option is The Charles Hotel, which boasts elegant rooms, a tranquil spa, and an on-site restaurant serving Bavarian cuisine.
What is the average price range for a 5-star hotel in Munich?
The price range for 5-star hotels in Munich can vary greatly depending on factors such as location, time of year, and amenities. On average, you can expect to pay anywhere from €200 up to €600 per night at these types of properties. However, keep an eye out for special deals or packages that may bring down the cost.
Is it worth paying extra for a room with a view at a luxury hotel in Munich?
This really depends on your personal preferences and budget. While having a room with scenic views of landmarks like Marienplatz or the English Garden can certainly enhance your experience in Munich, it's important to weigh the added cost against what else your money could be used for during your stay. If having beautiful views are important to you and within your budget then go ahead!
What type of amenities should I expect at a 5-star hotel in Munich?
Luxury hotels typically offer top-of-the-line amenities like fitness centers with state-of-the-art equipment, opulent spas offering massages or other treatments & swimming pools as well as fine-dining restaurants where guests can indulge in gourmet cuisine prepared by world-class chefs. In-room amenities might include plush bedding & linens quality toiletries and sometimes even private balconies.
Are there any historic 5-star hotels worth staying at in Munich?
Yes! If you're interested in experiencing history while still enjoying modern luxury, consider staying at Hotel Bayerischer Hof. With a history dating back to the 1800s, this hotel has hosted celebrities and political figures alike. Another option is Hotel Vier Jahreszeiten Kempinski Munich, which has been in operation since 1858 and maintains its classic charm while providing guests with top-notch amenities like an on-site spa and four exceptional dining options.
Popular Five Star Hotels destinations