Welcome to the tropical paradise of Honolulu, located in the stunning United States. If you are seeking a truly extravagant getaway, indulge yourself in the unparalleled luxury offered by 5-star hotels in this mesmerizing city. With their opulence and grandeur, these exquisite accommodations provide an unforgettable experience that will leave you in awe.
Honolulu boasts a plethora of top-notch establishments that embody excellence in every aspect. From lavish resorts nestled along shimmering beaches to elegant boutique hotels tucked away amidst lush greenery, the options are endless. Immerse yourself in utmost comfort as you bask in the warm Hawaiian sun and enjoy breathtaking ocean views from your spacious suite or private balcony. Pamper yourself with impeccable service and indulge your taste buds with tantalizing cuisine prepared by world-class chefs. Whether you seek relaxation at a serene spa or wish to embark on thrilling adventures exploring nature's wonders, these luxurious havens cater to every desire. Prepare for an extraordinary stay where sophistication meets tropical bliss – welcome to the world of 5-star hospitality in Honolulu!
Best Honolulu Five Star Hotels
The Kahala Hotel and Resort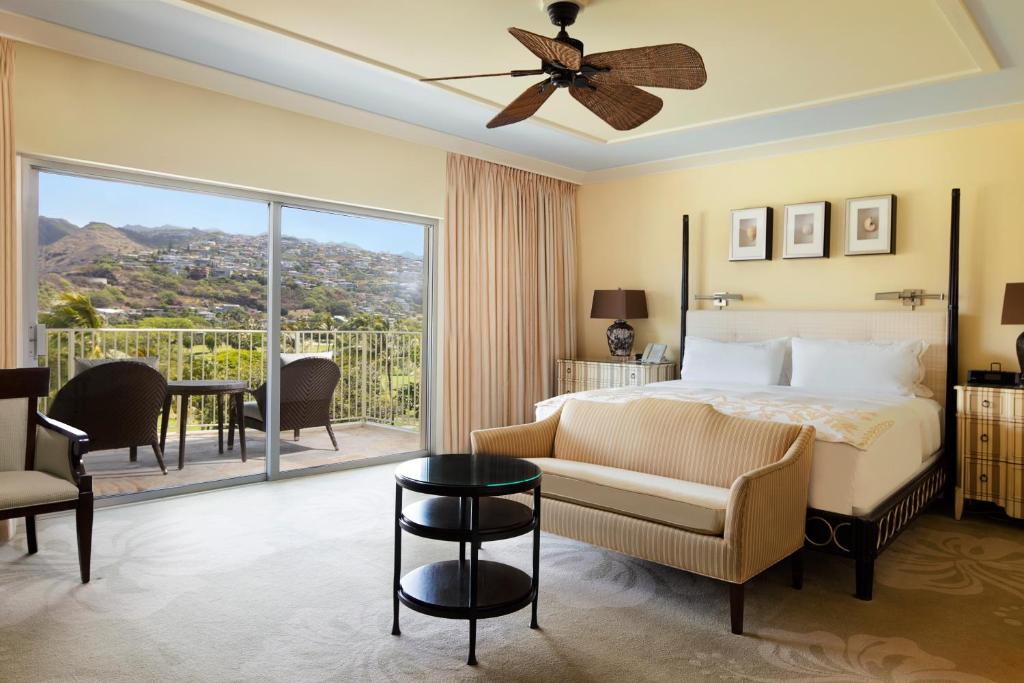 The Kahala Hotel and Resort is a stunning luxury beachfront resort in Honolulu, offering guests an unforgettable experience. With four exceptional restaurants to choose from, including the acclaimed Hoku's fine dining restaurant, guests can indulge in a variety of culinary delights. The resort also features the Kahala Spa, with its private treatment rooms and serene open-air relaxation space, providing the ultimate in pampering and rejuvenation.
– Beachfront location with beautiful views
– Excellent dining options including award-winning restaurant
– Luxurious spa with private treatment rooms
– On-site activities and access to outdoor pool and fitness center
The Ritz-Carlton Residences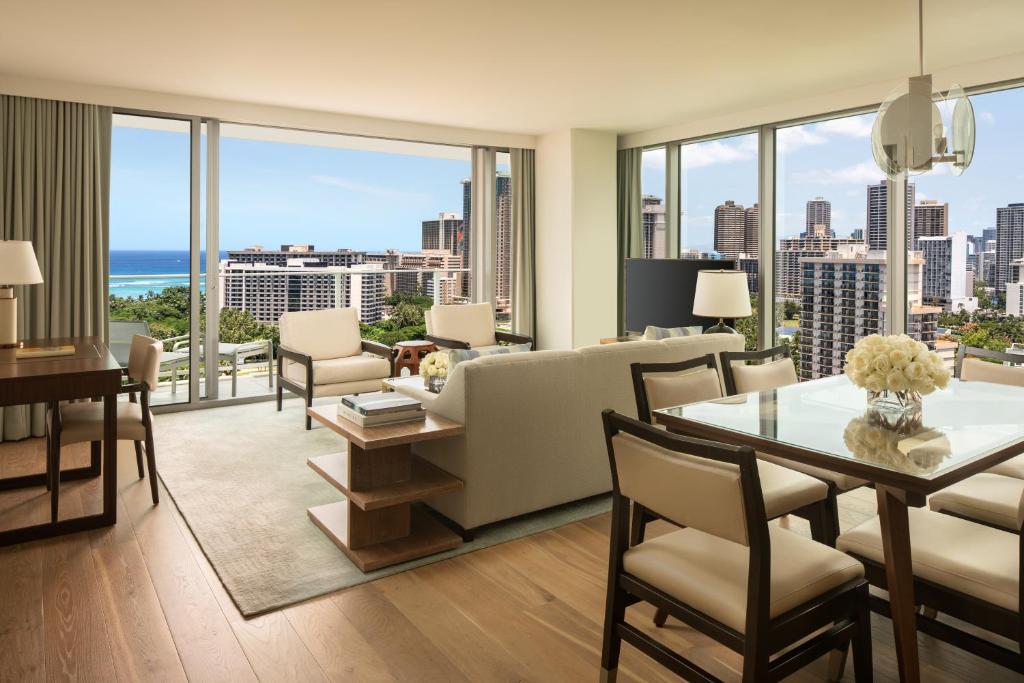 Located in Waikiki, The Ritz-Carlton Residences offers a unique luxury resort experience that combines the comforts of home with top-notch amenities. With 552 ocean-view rooms and suites, including residential features like gourmet kitchens and premium brand washers and dryers, this property is Oahu's first Ritz-Carlton hotel. Guests can enjoy two infinity pools with private cabanas, a premier fitness center, a yoga room, and even a movie theatre. The Ritz-Carlton Spa offers customized treatments inspired by traditional healing methods from the islands. In addition to these amenities, guests can indulge in a variety of dining experiences ranging from a sushi legend from Japan to modern French cuisine. The hotel also boasts over 6,000 square feet of indoor function space for meetings and events. With its ideal location near Waikiki Beach Area and Waikiki International Marketplace Shopping Center, guests have easy access to popular attractions while enjoying legendary Ritz-Carlton service.
Pros:
– Ocean-view rooms and suites with residential amenities
– Two infinity pools with private cabanas
– Premier fitness center and yoga room
– Customized spa treatments inspired by Hawaiian traditions
– Diverse selection of dining experiences
The Royal Hawaiian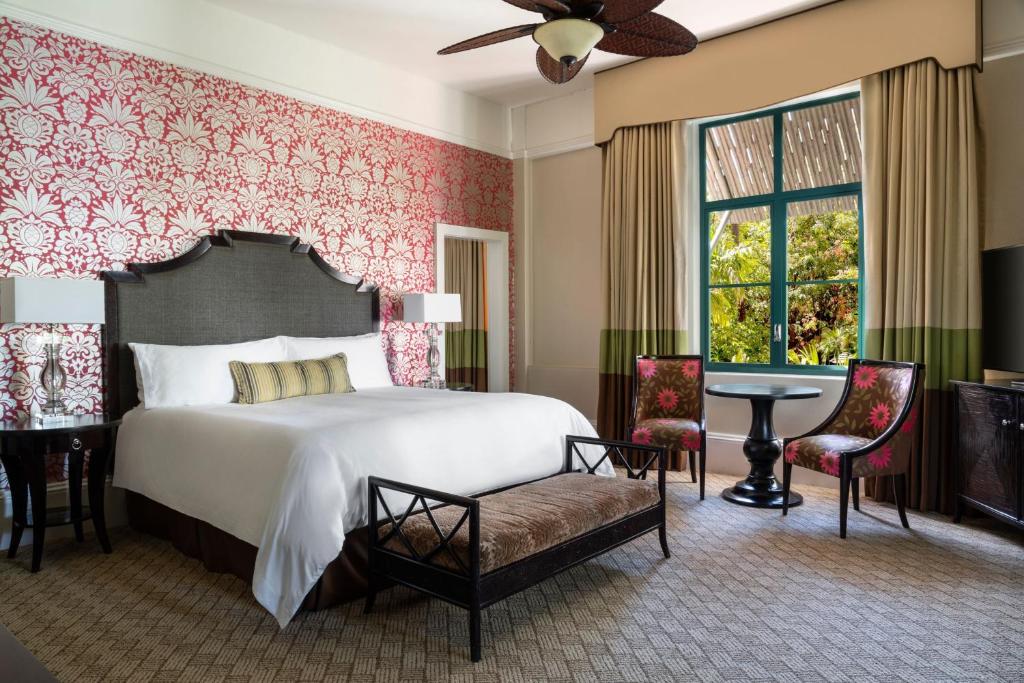 The Royal Hawaiian, a Luxury Collection Resort, is a stunning 5-star hotel located in the heart of Waikiki, Honolulu. This luxurious resort offers a range of amenities including a fitness centre, full-service spa, on-property bakery and an exclusive area on the beach. Guests can also enjoy two outdoor pool options and a variety of cultural activities.
Pros:
– Beautifully decorated rooms with tropical colors and themes
– Spectacular views of the garden or ocean from each room
– Access to two outdoor pools and a hot tub
– Daily cultural activities available for guests to immerse themselves in local traditions
– Excellent dining options with fresh seafood at Azure Restaurant and refreshing dishes at Surf Lanai
Other places to stay in Honolulu
Honolulu Downtown Five Star Hotels
Honolulu Downtown offers an array of luxurious five-star hotels that cater to the discerning traveler seeking the utmost in comfort and elegance. Boasting unparalleled service, exquisite dining options, and opulent surroundings, these hotels provide a haven of tranquility in the heart of bustling Honolulu. With their prime locations near renowned attractions and vibrant city life, guests can easily explore all that this dynamic destination has to offer before retreating to the refined ambiance and top-notch amenities offered by these distinguished establishments.
Aston Waikiki Beach Tower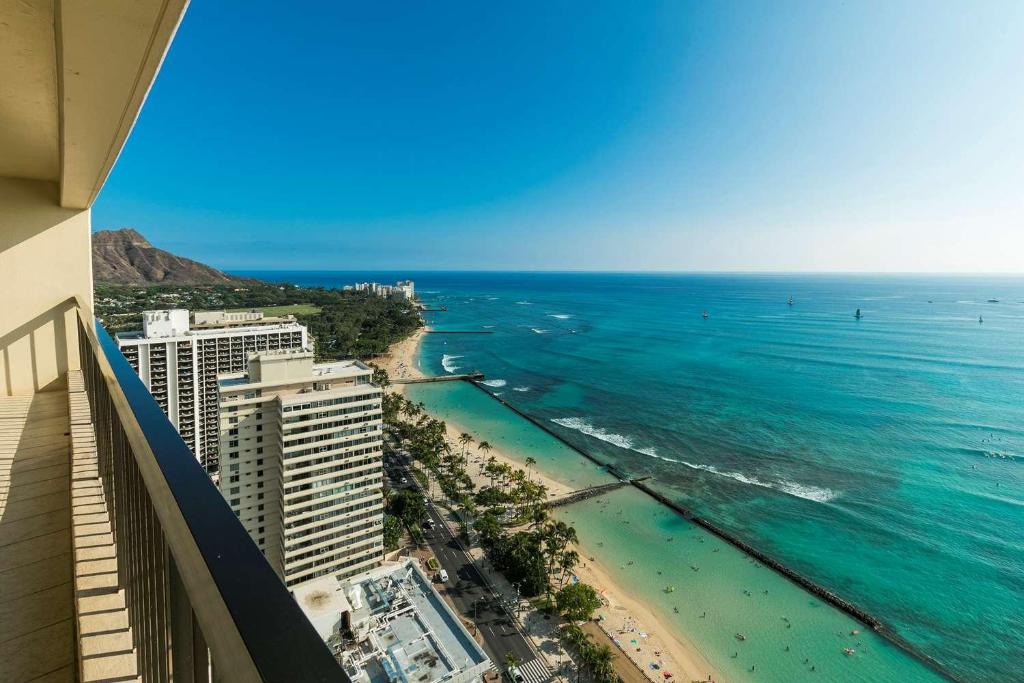 The Aston Waikiki Beach Tower is a luxurious all-suite apartment hotel located just steps away from the famous Waikiki Beach. Each suite offers fully-equipped accommodation with stunning views of the Pacific Ocean and includes a fully-equipped kitchen, balcony/lanai, and modern amenities. Guests can enjoy the outdoor pool, recreation deck, barbecue grills, billiards, jet spa, yoga classes, and fitness center. Daily maid service is available to ensure a comfortable and relaxing stay.
– Prime location across the street from Waikiki Beach
– Fully-equipped suites with ocean views
– Outdoor pool and modern recreation deck
– On-site amenities including barbecue grills and yoga classes
Jet Luxury Private Residences in Waikiki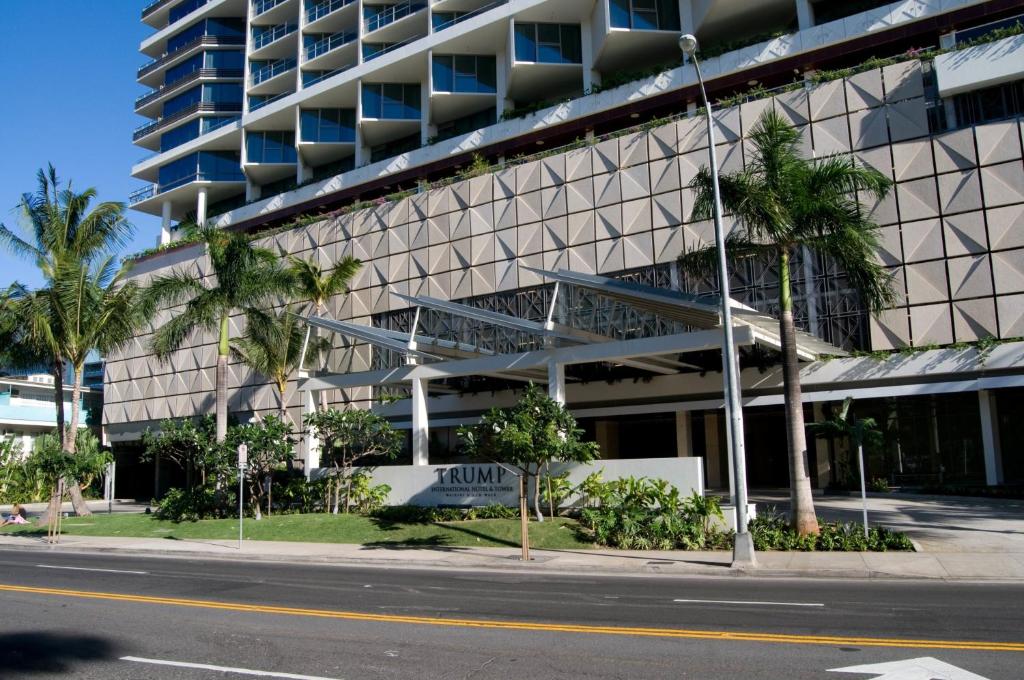 Jet Luxury Private Residences in Waikiki is a luxurious resort located in Honolulu, offering an outdoor pool and a fine-dining restaurant. Situated right on the famed Waikiki Beach Walk, this hotel provides stunning views from its suites, which feature floor-to-ceiling windows and gourmet kitchenettes with granite countertops. The resort also boasts a modern fitness center, luxury spa, infinity pool, and outdoor deck on the 6th floor.
Pros:
– Prime location on Waikiki Beach Walk
– Beautiful views from suites with floor-to-ceiling windows
– Well-equipped gourmet kitchenettes in every suite
– Modern fitness center and luxury spa for guests to enjoy
ESPACIO THE JEWEL OF WAIKIKI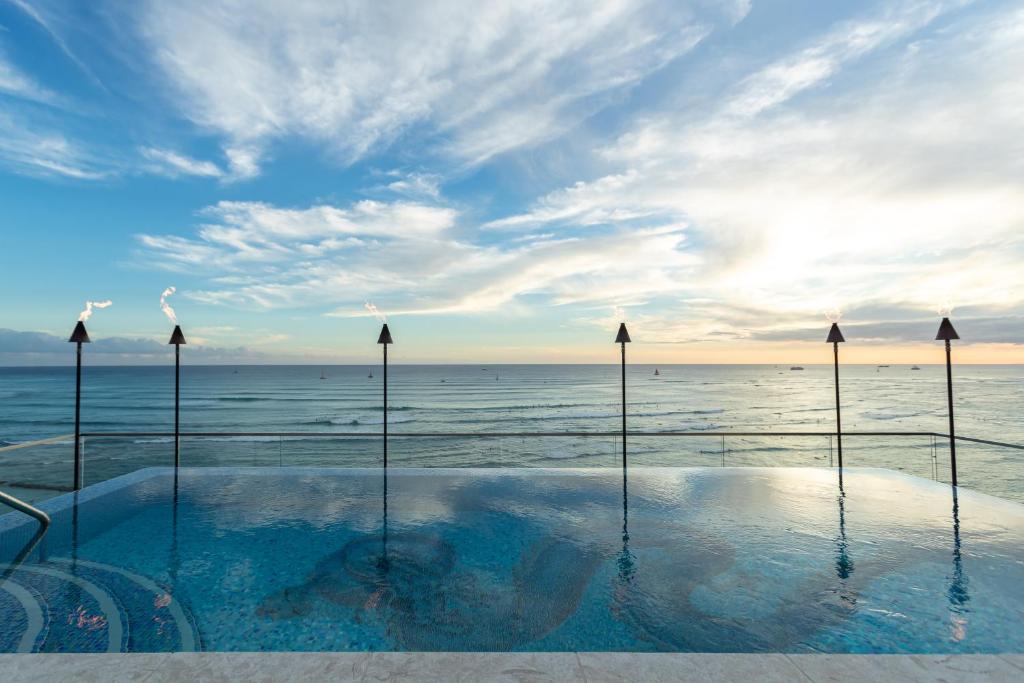 ESPACIO THE JEWEL OF WAIKIKI is a luxurious hotel that opened in July 2019, located directly in front of Waikiki Beach in Honolulu. The hotel offers guests the ultimate luxury experience with a rooftop infinity pool, a full-service spa, and an exclusive fine dining restaurant. Each elegant suite is adorned with Italian marble details and accents from Morocco, equipped with Smart TVs and fully controllable amenities via iPad.
Pros:
– Private entrance on each floor for added exclusivity
– Modern kitchens with high-end appliances and hot tubs on private balconies
– Sauna in each suite (except Accessible suite) for ultimate relaxation
– Complimentary admission to popular museums and shopping services by Neiman Marcus
– Round-trip luxury airport transportation and car services provided for convenience
Luxury 5 Star Hotels in Honolulu
Luxury 5 star hotels in Honolulu embody the epitome of elegance and sophistication, providing an impeccable sanctuary for discerning travelers seeking an indulgent escape. From the moment guests step foot into these opulent establishments, they are greeted by unparalleled hospitality and exquisite design. The lavish accommodations boast meticulous attention to detail, offering a harmonious blend of modern amenities and timeless charm. Meticulously curated dining options tantalize the taste buds with an array of culinary delights prepared by world-class chefs. With stunning views of pristine beaches and mesmerizing sunsets, coupled with unrivaled service that caters to every whim, luxury 5 star hotels in Honolulu create unforgettable experiences that define true extravagance.
The Modern Honolulu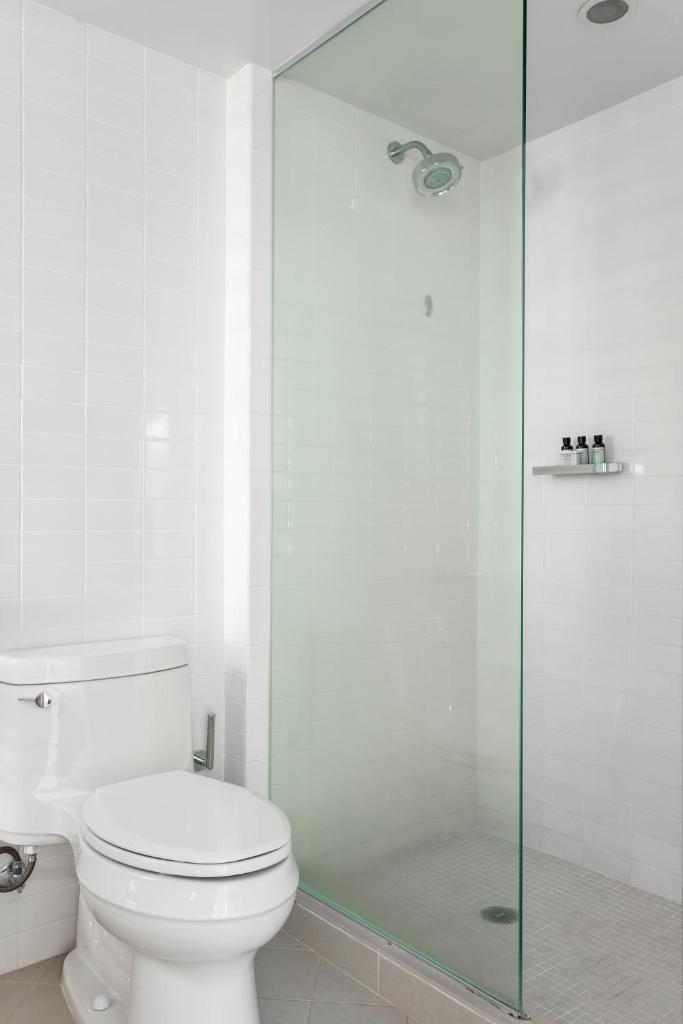 The Modern Honolulu is a luxury hotel located next to the beautiful sands of Waikiki Beach. With 2 exotic pools and stunning ocean views, guests can enjoy a truly relaxing and tropical experience. The hotel features spacious rooms with open views and lots of natural light, as well as amenities such as free WiFi, custom beds, and a 46-inch flat-screen TV. Guests can also indulge in delicious Pacific-inspired cuisine at THE GROVE restaurant, which offers farm-to-table dishes celebrating coastal cuisine from all Pacific cultures.
– Convenient location just steps away from Waikiki's famous white sand beaches
– Close proximity to shopping destinations like Daniel K. Ala Moana Shopping Center
– Easy access to Diamond Head Crater Park for outdoor adventures
– Less than 1 km away from the Hawaii Convention Center
Four Seasons Resort Oahu at Ko Olina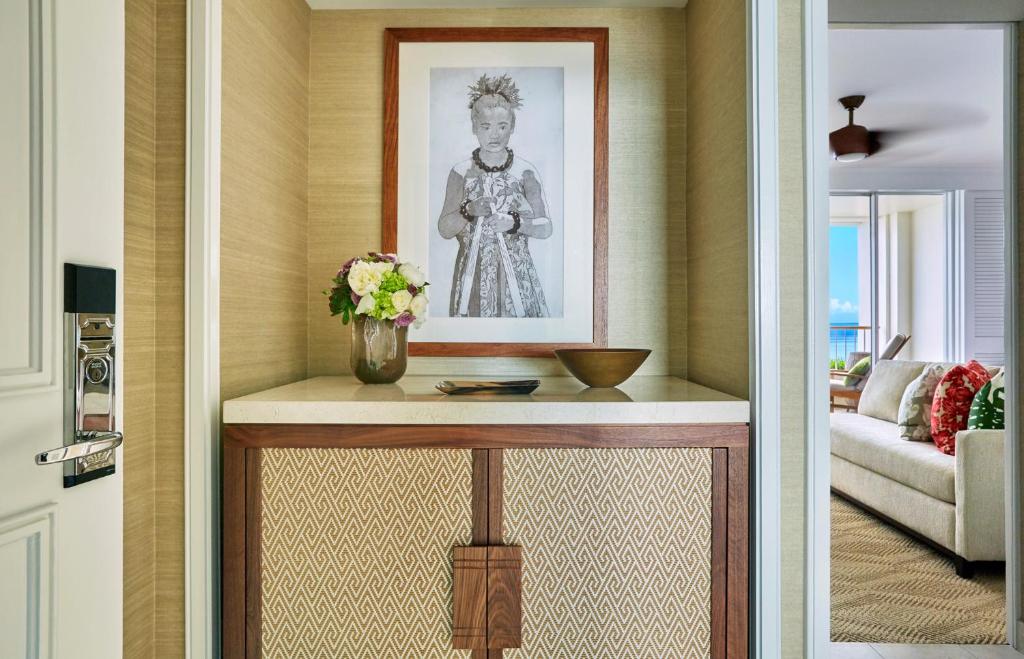 Situated on Oahu's picturesque west coast, Four Seasons Resort Oahu at Ko Olina is a luxurious beachfront retreat offering a plethora of amenities. From exquisite restaurants and bars to inviting swimming pools and lagoons with water sports, guests can indulge in endless entertainment options. The resort also boasts a spa, tennis courts, golf courses, and easy access to Honolulu International Airport.
– Free WiFi throughout the property
– Spacious guest rooms with 65-inch flat-screen HDTVs
– Plush Four Seasons Beds with customizable mattress toppers
– Balconies with stunning views
– Luxurious bathroom features including deep soaking tubs and walk-in glass showers
Halekulani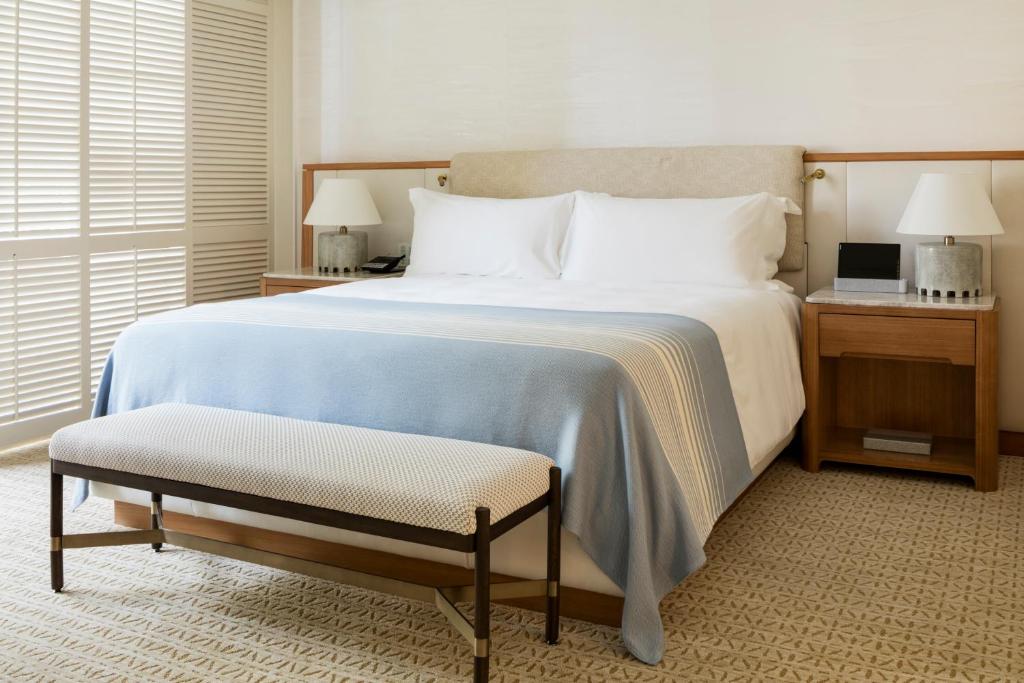 The Halekulani hotel is a luxurious 5-star property located on the beautiful Waikiki Beach, offering stunning views of Diamond Head. With three restaurants, including the internationally-awarded La Mer restaurant serving fine French cuisine, guests can indulge in a variety of culinary experiences. The hotel also features a day spa offering traditional Polynesian rituals and a heated swimming pool with breathtaking views of Waikiki Beach.
– Spacious lanais provided in each guest room
– Luxurious en suite bathrooms with plush bathrobes and premium toiletries
– Complimentary fresh fruit bowl and signature chocolates in every room
– Free WiFi available throughout the property
– Upscale shopping and dining at Ala Moana Shopping Center just minutes away
Honolulu 5 star Hotels Information
| | |
| --- | --- |
| 🛎️ 5 star Hotels in Honolulu | 9 |
| 💵 Hotels Prices From | $226 |
| 💵 Highest price | $1077 |
| 🥇 Average Review Score | 8.8/10 |
| 🛏️ Average number of Rooms | 232 |
Top 5 star hotels in Honolulu
| | |
| --- | --- |
| ESPACIO THE JEWEL OF WAIKIKI | 9.9/10 |
| Aston Waikiki Beach Tower | 9.5/10 |
| Halekulani | 9.3/10 |
| The Ritz-Carlton Residences | 9.2/10 |
| Four Seasons Resort Oahu at Ko Olina | 9.2/10 |
FAQ
What are some popular 5 star hotels in Honolulu?
Some popular 5 star hotels in Honolulu include The Kahala Hotel & Resort, Halekulani Hotel, and The Royal Hawaiian.
What amenities can I expect at a 5 star hotel in Honolulu?
At a 5 star hotel in Honolulu, you can expect amenities such as luxurious spas, infinity pools with stunning ocean views, fine dining restaurants, and personalized concierge services.
Are there any beachfront 5 star hotels in Honolulu?
Yes, there are several beachfront 5 star hotels in Honolulu including the Four Seasons Resort Oahu at Ko Olina and the Moana Surfrider, A Westin Resort & Spa.
What is the average price range for a stay at a 5 star hotel in Honolulu?
The average price range for a stay at a 5 star hotel in Honolulu is between $400 to $800 per night depending on the season and location.
Which neighborhoods have the highest concentration of luxury hotels in Honolulu?
The neighborhoods of Waikiki and Ko Olina have the highest concentration of luxury hotels in Honolulu.
Popular Five Star Hotels destinations