As a connoisseur of opulent accommodations, I find myself irresistibly drawn to the majestic allure of 5-star hotels in Wales, located within the United Kingdom. These exquisite establishments epitomize luxury and sophistication, seamlessly blending modern comforts with a rich tapestry of Welsh heritage. Nestled amidst breathtaking landscapes and steeped in history, these exclusive retreats offer discerning travelers an extraordinary escape from the ordinary.
Prepare to be enchanted by the grandeur that awaits in Wales' finest 5-star hotels. Each splendid establishment boasts a myriad of lavishly appointed rooms and suites, meticulously designed to cater to even the most refined tastes. Immerse yourself in an atmosphere of unparalleled elegance as you indulge in world-class amenities and impeccable service. From plush furnishings adorned with intricate detailing to state-of-the-art technology discreetly integrated into every corner, no expense is spared in ensuring your utmost comfort and satisfaction.
Embark on a sensational journey through Wales's captivating landscapes while relishing the unrivaled hospitality that defines these remarkable havens. Whether you seek solace amidst rolling hills or crave seclusion along picturesque coastal cliffs, 5-star hotels in Wales offer idyllic settings for unforgettable experiences. Discover culinary delights crafted by award-winning chefs using locally sourced ingredients, rejuvenate your senses at luxurious spas offering bespoke treatments rooted in ancient Welsh traditions, or immerse yourself in captivating tales during intimate storytelling sessions around crackling firesides – every moment promises to be an enchanting symphony for your senses.
Indulge your wanderlust and surrender to sheer bliss as you step into the realm of 5-star elegance that only Wales can evoke. From opulent interiors inspired by centuries-old cultural motifs to scenic vistas that will leave you breathless at every turn, these luxurious abodes beckon travelers seeking nothing short of perfection. Experience unbridled luxury woven into every detail – let Wales be your sanctuary as you bask under its spellbinding charm.
Best Wales Five Star Hotels
Tir y Coed Country House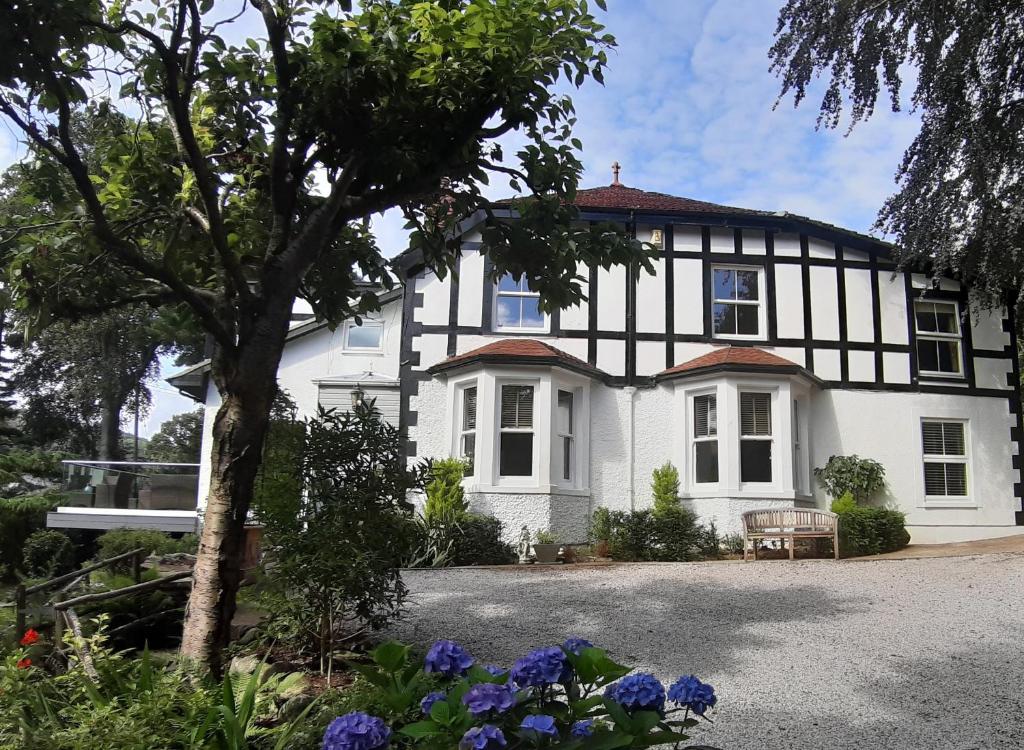 Tir y Coed Country House is a luxurious haven of peace and tranquillity, set amidst over an acre of stunning landscaped gardens. Located on the outskirts of Rowen, a picturesque village within the Snowdonia National Park, this country house offers breathtaking views of the surrounding mountains. Each beautifully appointed bedroom features individual design touches, luxurious fabrics, and meticulous attention to detail, ensuring a truly indulgent retreat.
– Impeccably designed bedrooms with luxurious fabrics
– Spectacular views of the magnificent mountains
– Convenient location near Conwy's medieval town and the coastline
– Bright and welcoming interiors flooded with natural light
Llanerch Vineyard Hotel (Hensol)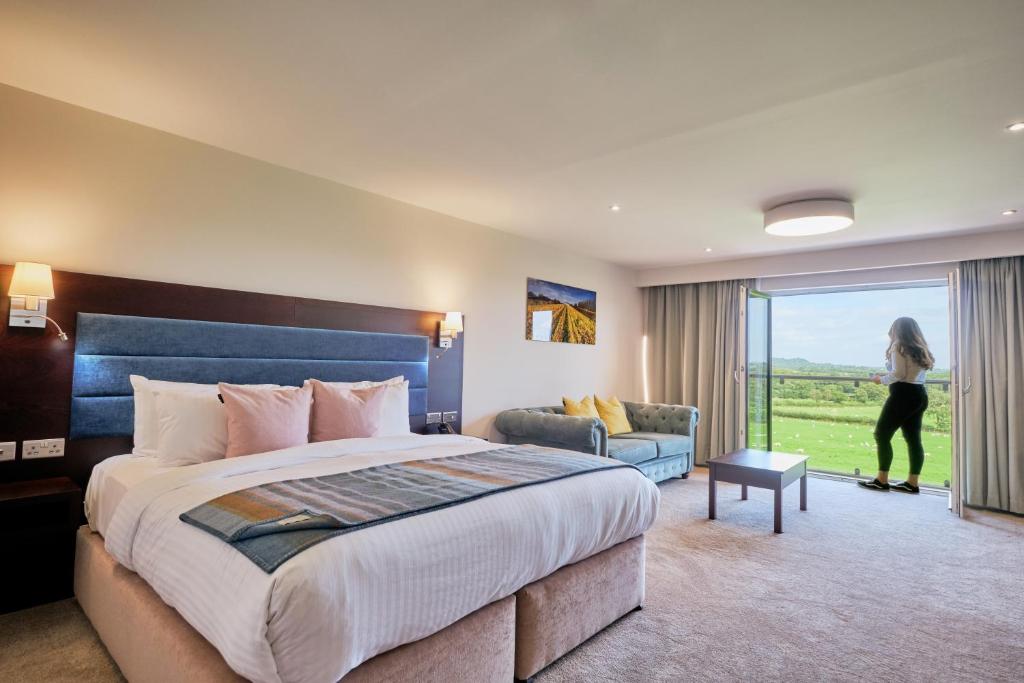 Located in Hensol, Llanerch Vineyard Hotel offers a truly luxurious experience with its restaurant featuring outdoor dining and a bar. The hotel provides free WiFi access, on-site parking, and is just a 10-minute drive from Creigiau Golf Club. Each room is tastefully decorated and includes modern amenities such as a flat-screen TV, refrigerator (in some rooms), electric kettle, and a private bathroom with bath or shower.
Pros:
– Beautifully landscaped spacious garden and terrace for guests to relax and unwind
– Shared lounge area for socializing with fellow travelers
– Convenient luggage storage facility
– Surrounded by picturesque woodland walks and hiking trails
– Easy access to Pontyclun Train Station, only 7 minutes' drive away
Cardigan Bay Holiday Park (Cardigan)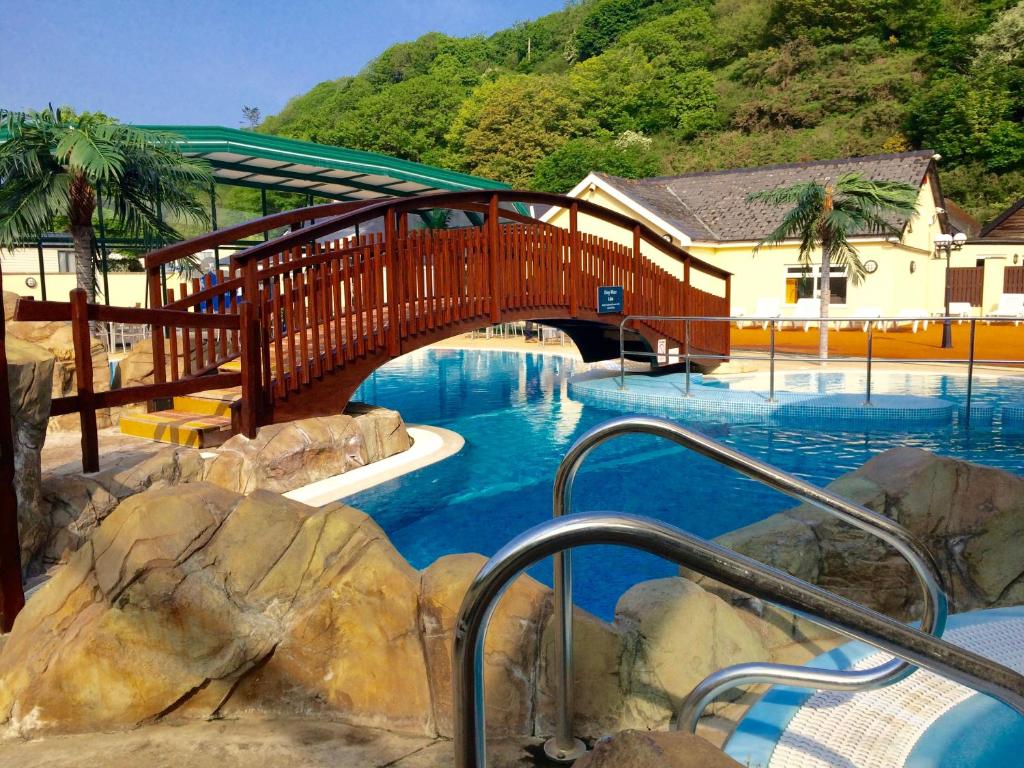 Located just 5 km from Cardigan Castle, Cardigan Bay Holiday Park is a stunning holiday destination that offers a peaceful and relaxing atmosphere. With its beautiful garden and free WiFi, guests can enjoy the tranquility of nature while staying connected. The park also provides easy access to the beach via a footpath, allowing visitors to soak up the sun and enjoy seaside activities.
– Idyllic location near Cardigan Castle
– Free WiFi for staying connected
– Access to a beautiful garden
– Footpath leading directly to the beach
Other places to stay in Wales
Wales Downtown Five Star Hotels
Wales Downtown boasts an impressive collection of luxurious five-star hotels that provide discerning travelers with a world-class experience. These exquisite properties offer a range of opulent accommodations and impeccable service, ensuring that guests feel pampered from the moment they arrive. Located in the heart of the city, visitors can easily explore its vibrant streets and immerse themselves in its rich history and culture. Whether indulging in gourmet dining options or enjoying state-of-the-art wellness facilities, Wales Downtown's five-star hotels guarantee an unforgettable stay filled with elegance and sophistication.
Harbourmaster Hotel (Aberaeron)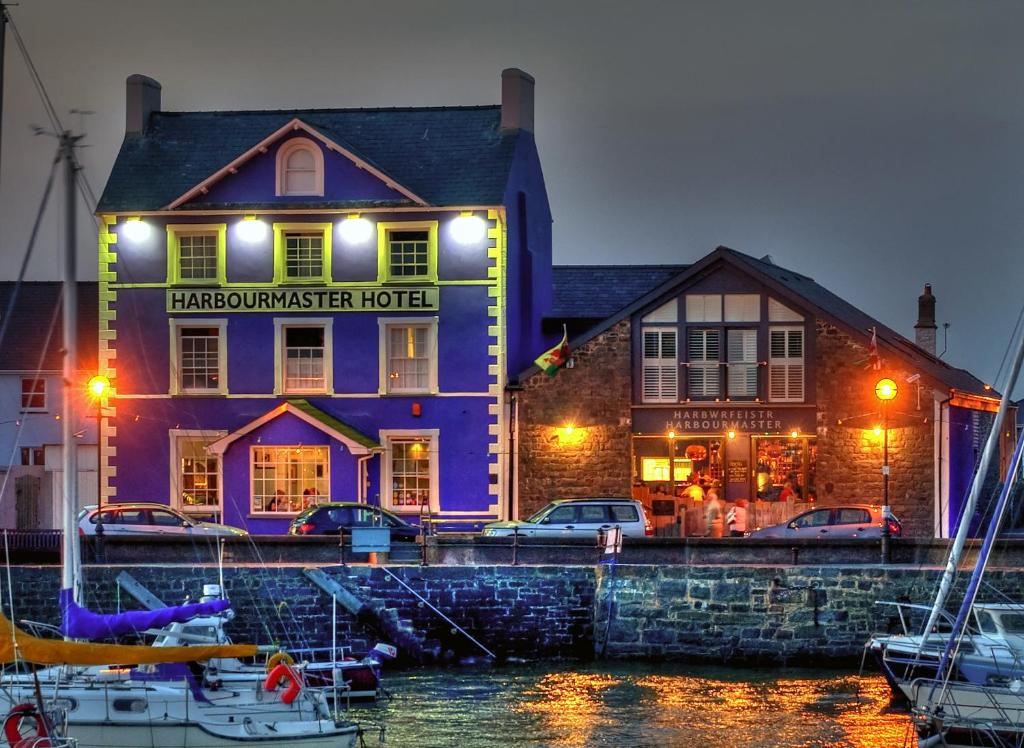 Located in Aberaeron, just 30 km from Clarach Bay, the Harbourmaster Hotel is a luxurious 5-star establishment that offers guests a delightful experience. With amenities such as a terrace, free private parking, an on-site restaurant and bar, and complimentary Wi-Fi throughout the property, this hotel ensures a comfortable stay. The hotel also boasts some units with balconies offering picturesque city views and serves delicious à la carte and continental breakfast options each morning. Guests can also partake in activities like cycling in the beautiful surroundings of Aberaeron.
Pros:
– Prime location in Aberaeron with easy access to nearby attractions
– Luxurious 5-star amenities including free private parking and complimentary Wi-Fi
– Stunning city views from units with balconies
– Delicious à la carte and continental breakfast options available every morning
voco St. David's Cardiff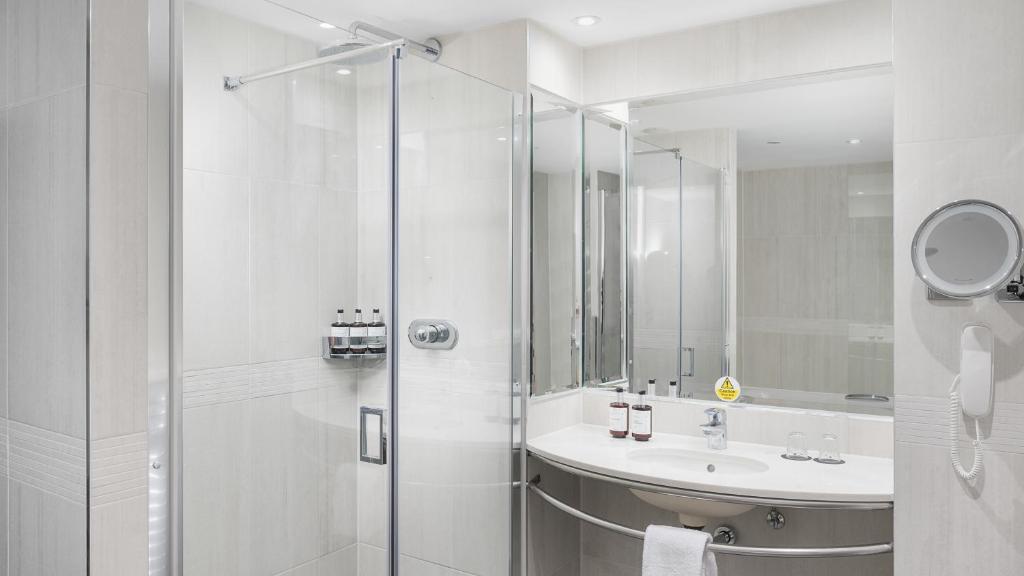 Located in an iconic building with picturesque views of Cardiff Bay, the 5-star voco – St David's Cardiff offers a luxurious experience with its spa, elegant rooms, and innovative dining options. The hotel is just a short walk away from Mermaid Quay and features sumptuous bedrooms, some with private balconies. With its award-winning spa facilities, including swimming pools and fitness studio, guests can unwind and indulge in beauty treatments for an extra charge.
– Iconic building with stunning views of Cardiff Bay
– Luxury spa facilities including swimming pools
– Stylish bedrooms with luxury bathrooms
– Innovative restaurant and bar offering cocktails and craft beer
– Close proximity to vibrant Cardiff Docks
Roch Castle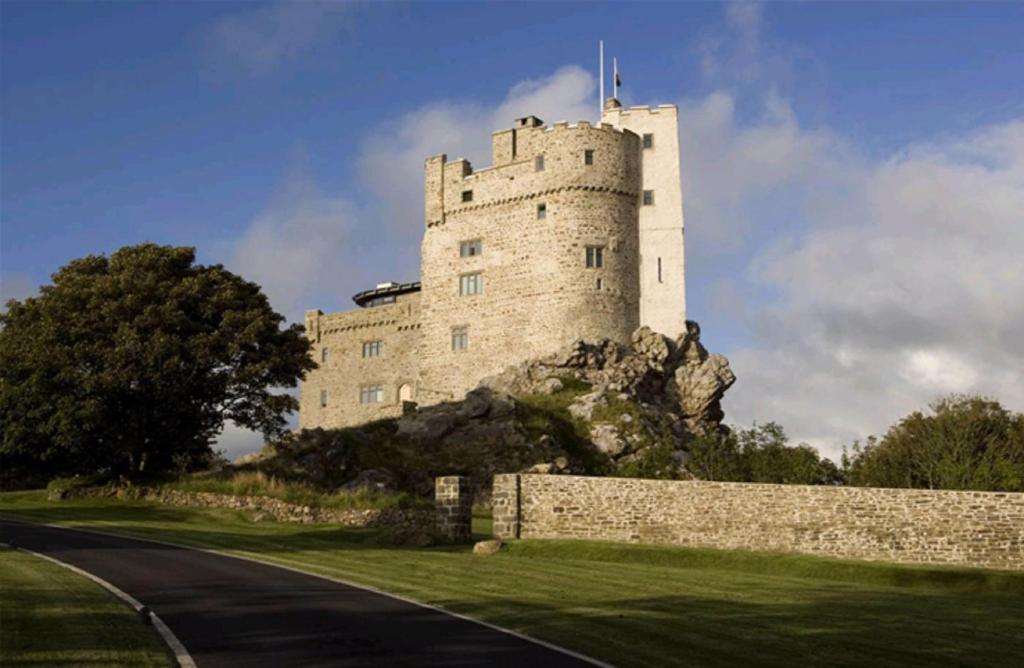 Dating back to the 12th century, Roch Castle is a luxurious 5-star hotel located on a rocky outcrop overlooking St Brides Bay. This historic castle offers elegant guest accommodation with free parking and WiFi. The rooms feature en suite bathrooms, some with a shower and others with a separate bath and shower. Guests can enjoy amenities such as bathrobes, slippers, TV with DVD player, iPod dock, hairdryer, and tea/coffee facilities. Breakfast is served at Roch Castle, providing the perfect start to exploring the surrounding area. The hotel is situated around 9 miles east of St David's and approximately 28 miles from popular resorts like Tenby and Saundersfoot. With its convenient location near Pembrokeshire Coast National Park, guests can easily explore the beautiful natural landscapes through short drives.
Pros:
– Stunning panoramic views of St Brides Bay
– Historic ambiance in a beautifully preserved castle
– Luxurious amenities including bathrobes and slippers
– Convenient location for exploring Pembrokeshire Coast National Park
Luxury 5 Star Hotels in Wales
Wales offers a collection of breathtaking luxury 5-star hotels that provide an unforgettable escape in a picturesque setting. Nestled amidst lush green landscapes, these opulent accommodations offer refined comfort and impeccable service. From the moment guests step into the grand lobby, they are enveloped in an atmosphere of elegance and tranquility. Each room is meticulously designed with plush furnishings, offering a perfect blend of modern amenities and classic charm. Indulge in exquisite dining experiences showcasing locally sourced ingredients and culinary masterpieces crafted by talented chefs. With spa facilities that cater to every need, including rejuvenating treatments and state-of-the-art fitness centers, guests can unwind and revive their senses. Whether exploring the magnificent countryside or simply relishing in the luxurious surroundings, these 5-star hotels in Wales promise an experience beyond expectations for discerning travelers seeking pure indulgence.
The Tilman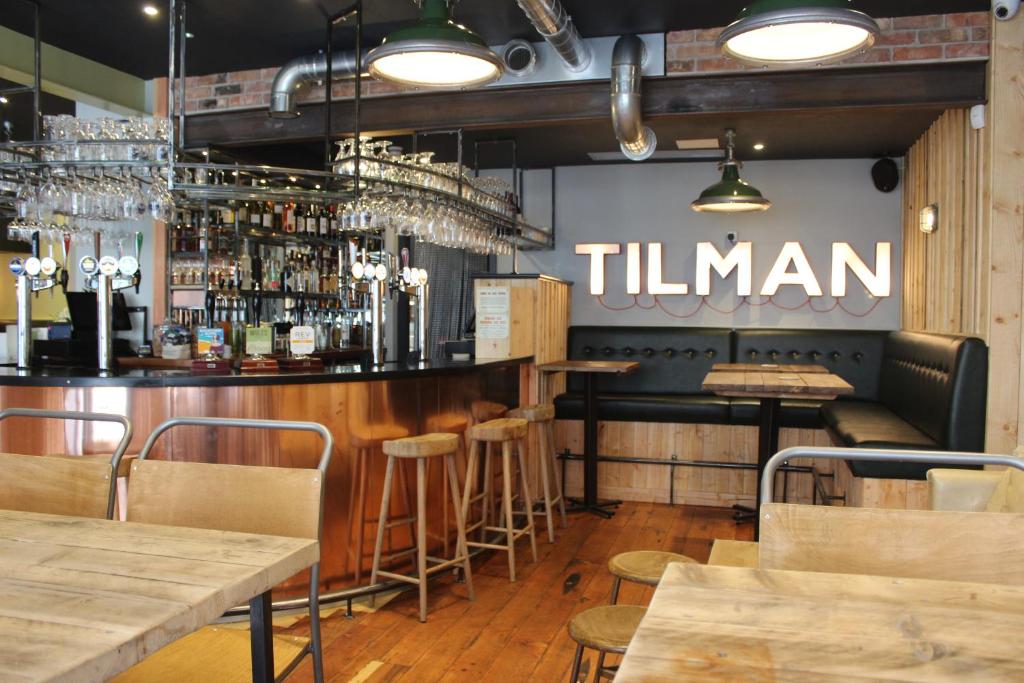 The Tilman is an exquisite hotel located in the scenic town of Barmouth. With its elegant bar and luxurious amenities, such as air conditioning, flat-screen TVs, and private bathrooms in each room, guests can expect a truly comfortable stay. Surrounding the hotel are opportunities for outdoor activities like cycling and hiking, making it an ideal destination for nature enthusiasts.
Pros:
– Excellent location near popular cycling and hiking routes
– Luxurious amenities including air conditioning and flat-screen TVs
– Elegant bar for guests to unwind after a day of exploring
– Private bathrooms in every room add convenience and comfort
manorhaus RUTHIN – manorhaus collection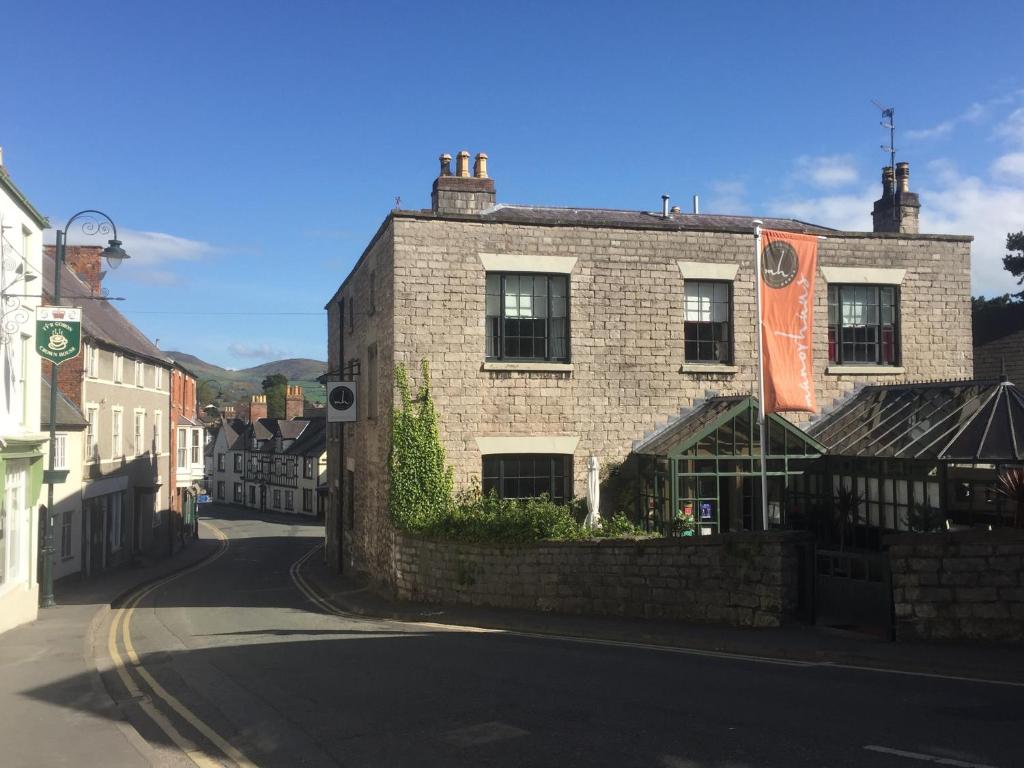 manorhaus RUTHIN – manorhaus collection is a luxurious Grade II listed Georgian townhouse located in the heart of Ruthin's town centre. This elegant hotel offers a range of amenities including an award-winning restaurant, private cinema, sauna, steam room, and free Wi-Fi. The individually designed rooms feature modern comforts such as king-size beds, flat-screen TVs with DVD players, and en suite bathrooms with complimentary toiletries. Guests can start their day with a delicious full English breakfast made from locally sourced ingredients and enjoy a selection of fine wines and Welsh spirits at the bar. Close to the Clywdian Hills, this hotel is also ideally situated for outdoor activities like mountain biking.
– Award-winning restaurant serving contemporary seasonal menu
– Private cinema for guests to enjoy movies in luxury
– Sauna and steam room for ultimate relaxation
– Free Wi-Fi throughout the hotel
– Convenient location near Chester and outdoor activities in the Vale of Clwyd
Ty Croeso Boutique B&B (Crickhowell)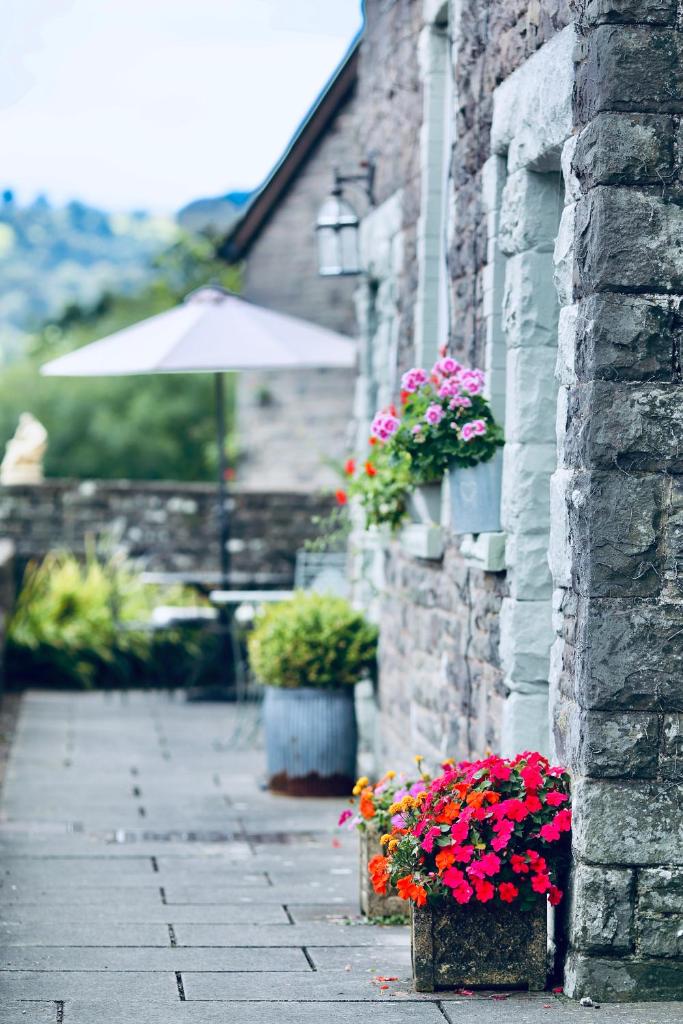 Ty Croeso Boutique B&B is a charming Victorian infirmary turned luxury Bed and Breakfast, nestled high on the hillside above the picturesque Monmouth and Brecon canal. Offering breathtaking views of the Usk Valley and nearby mountains, this hidden gem is just 2 km from Crickhowell in the beautiful Brecon Beacons National Park. With well-appointed rooms featuring satellite TV and tea/coffee making facilities, guests can enjoy a comfortable stay while indulging in homemade breakfast options including full English, full Welsh, and vegetarian dishes. Fairtrade tea and coffee, along with refreshing orange juice and local organic apple juice, are also available to enhance your morning experience. Conveniently located within a short drive to Cardiff, Newport, and Hay-on-Wye, guests at Ty Croeso can easily explore these vibrant cities or partake in outdoor activities such as walking, horse-riding, hang-gliding, fishing and cave exploration within a 10 mile radius.
Pros:
1. Spectacular views of the Usk Valley and nearby mountains.
2. Delicious homemade breakfast with various options including vegetarian.
3. Convenient location for exploring nearby attractions like Cardiff and Hay-on-Wye.
4. Close proximity to outdoor activities such as walking,horse-riding,fishing etc.
5. Charming boutique B&B housed in a former Victorian infirmary offering unique historical ambiance
Cheap 5 Star Hotels in Wales
When it comes to finding affordable luxury, Wales offers an array of cheap 5 star hotels that provide exceptional service and comfort without breaking the bank. These hidden gems boast elegant accommodations, stunning views, and attentive staff who go above and beyond to ensure a memorable stay. Whether nestled in the picturesque countryside or located in vibrant city centers, these budget-friendly options allow travelers to experience the grandeur of a 5 star hotel without compromising their wallet.
Mansion House Llansteffan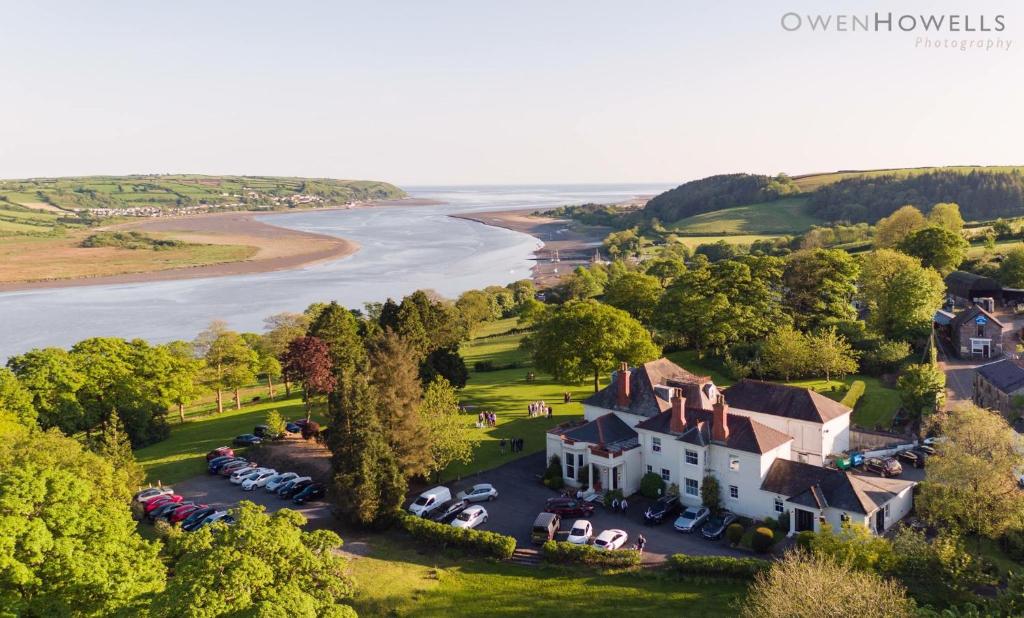 Nestled within 5 acres of stunning grounds, Mansion House Llansteffan is a 19th-century mansion offering breathtaking views of the Towy estuary and Carmarthen Bay. With spacious and elegant rooms featuring modern amenities, guests can indulge in the beauty of their surroundings while enjoying complimentary Wi-Fi and on-site parking. The hotel's restaurant prides itself on using locally sourced ingredients to create delicious homemade meals, offering an extensive à la carte menu and daily specials.
– Beautiful location with picturesque views
– Spacious and elegant rooms
– Complimentary Wi-Fi in public areas
– Locally sourced ingredients for delicious meals at the restaurant
– Close proximity to the Wales Coastal Path for outdoor activities such as fishing, hiking, mountain biking, golfing, and sailing
Penrhiw Priory (St. Davids)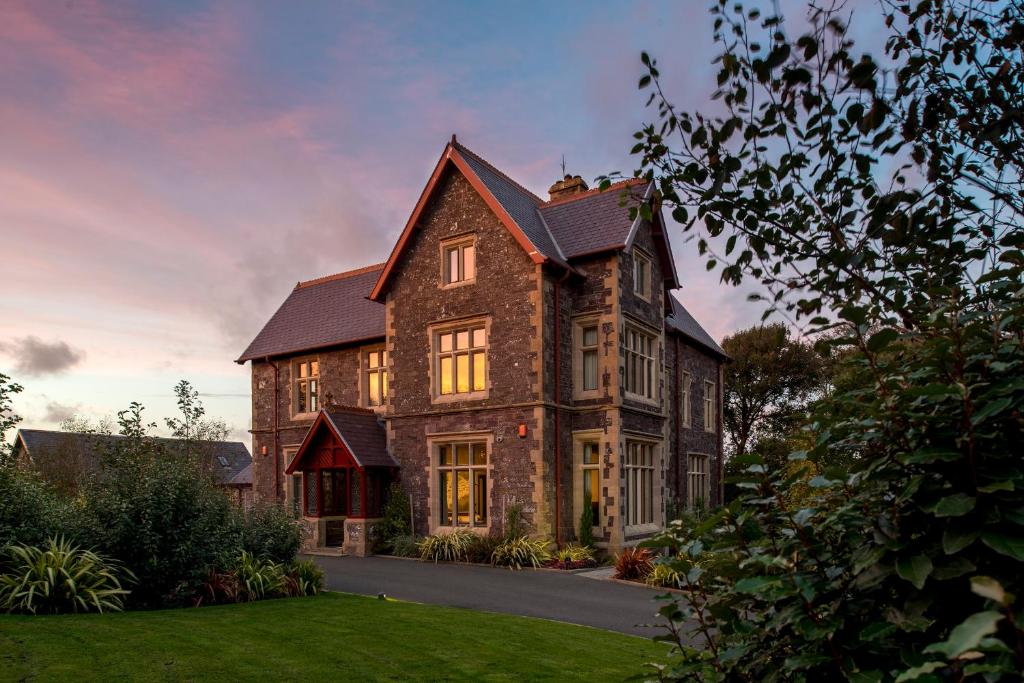 Located in the heart of the Pembrokeshire Coast National Park, Penrhiw Priory is a luxurious 5-star bed and breakfast housed in an elegant stone-built property. Surrounded by 12 acres of private woods and gardens, this country house offers a peaceful retreat with stunning views of Ramsey Island and its diverse wildlife. Each of the individually decorated bedrooms features contemporary designs and free Wi-Fi, while guests can also enjoy access to stylish lounge areas, a drawing room with floor-to-ceiling windows, and original fireplaces.
– Beautifully situated within the Pembrokeshire Coast National Park.
– Contemporary and minimalistic style in each bedroom.
– Luxurious common areas provide a cozy ambiance.
– An abundance of scenic walks and coastal views nearby.
– Exclusive self-catering options available for bookings.
Wales 5 star Hotels Information
| | |
| --- | --- |
| 🛎️ 5 star Hotels in Wales | 11 |
| 💵 Hotels Prices From | $211 |
| 💵 Highest price | $1080 |
| 🥇 Average Review Score | 9.1/10 |
| 🛏️ Average number of Rooms | 22 |
Top 5 star hotels in Wales
| | |
| --- | --- |
| Ty Croeso Boutique B&B (Crickhowell) | 9.6/10 |
| Roch Castle | 9.5/10 |
| Harbourmaster Hotel (Aberaeron) | 9.4/10 |
| Penrhiw Priory (St. Davids) | 9.4/10 |
| The Tilman | 9.3/10 |
FAQ
Can you recommend any luxury 5 star hotels in Wales?
Yes, some noteworthy luxury 5 star hotels in Wales include The Celtic Manor Resort, St. David's Hotel & Spa, and Bodysgallen Hall & Spa.
What amenities can I expect at a luxury 5 star hotel in Wales?
Luxury 5 star hotels in Wales generally offer a range of amenities such as spas, fitness centers, fine dining restaurants, concierge services, and luxurious room furnishings.
Are there any historical 5 star hotels in Wales?
Yes, Wales is home to several historic luxury hotels including the iconic Llangoed Hall which dates back to the 17th century and features beautifully preserved architecture and elegant interiors.
Do luxury 5 star hotels offer transportation services for guests?
Many luxury 5 star hotels in Wales provide transportation services for their guests such as airport transfers or chauffeur-driven cars upon request. It's best to check with your chosen hotel for specific offerings.
How can I book a stay at a luxury 5 star hotel in Wales?
You can easily book a stay at a luxury 5 star hotel in Wales through various online travel agencies or directly on the hotel's official website. It's recommended to book well in advance to secure your preferred dates and room type.
Popular 5 Star Hotels destinations