Welcome to an enchanting exploration of the opulent 5-star establishments nestled within the culturally rich city of Varanasi, India. Prepare to embark on a captivating journey as we unveil the epitome of luxury and grandeur offered by these esteemed accommodations. From exquisite architecture adorned with intricate details to impeccable service tailored to pamper your every need, Varanasi's finest hotels promise an unforgettable experience that seamlessly blends modern extravagance with traditional charm.
Indulge in a world where sophistication knows no bounds as you immerse yourself in the regal ambiance and unparalleled elegance that these premier hotels exude. Each establishment boasts a unique character, transporting guests into a realm where comfort and style harmoniously converge. Whether you find solace amidst serene gardens or seek respite in lavishly appointed suites boasting panoramic views of the Ganges River, Varanasi's 5-star havens present an oasis of tranquility for discerning travelers seeking only the utmost in refinement.
Join us on this virtual voyage through Varanasi's most sumptuous lodgings and allow us to be your guide as we delve deep into the heart of luxury accommodation in this vibrant destination.
Best Varanasi Five Star Hotels
Hotel Clarks Varanasi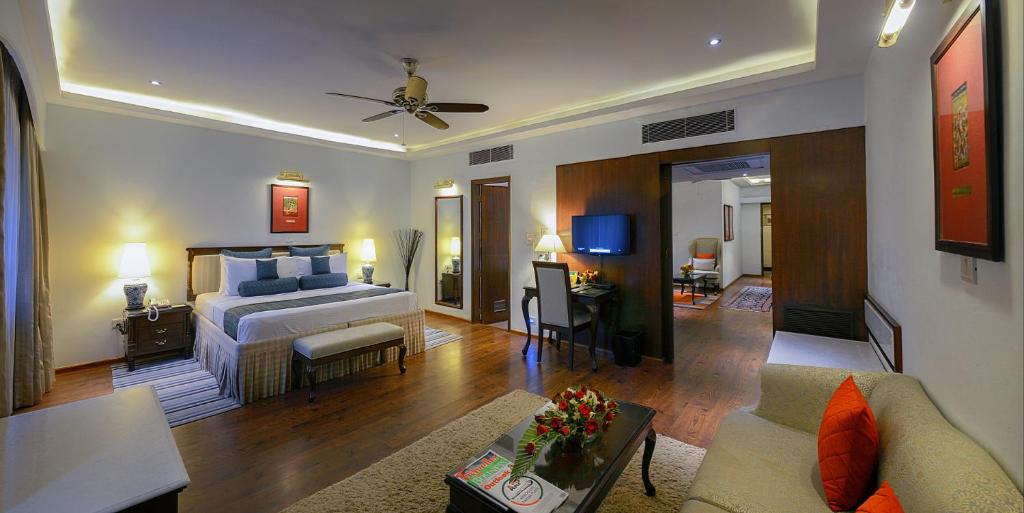 Hotel Clarks Varanasi is a luxurious 5-star hotel located in Varanasi, just next to JHV Mall and 6 km from the city centre. The hotel offers elegant rooms with wooden flooring, each equipped with a personal safe, tea/coffee maker, and a bathroom with a shower. Guests can enjoy a buffet spread of local, European and Chinese dishes at the Amrapali and Kadambari restaurants, or relax with tea or refreshing cocktails at Tarang Bar. The hotel also features an outdoor swimming pool, fitness centre for working out, and the opportunity to practice yoga and meditation at Amrit Rao Peshwa Palace. Car rental and currency exchange services are available for guests' convenience. With its convenient location close to Vishwanath Temple and the Holy River Ganges, as well as being only 21 km away from Varanasi Babatpur Airport, Hotel Clarks Varanasi provides both comfort and accessibility.
– Convenient location next to JHV Mall
– Elegant rooms with wooden flooring
– Variety of dining options including local cuisine
– Outdoor swimming pool
– Fitness center for working out
Hotel Madin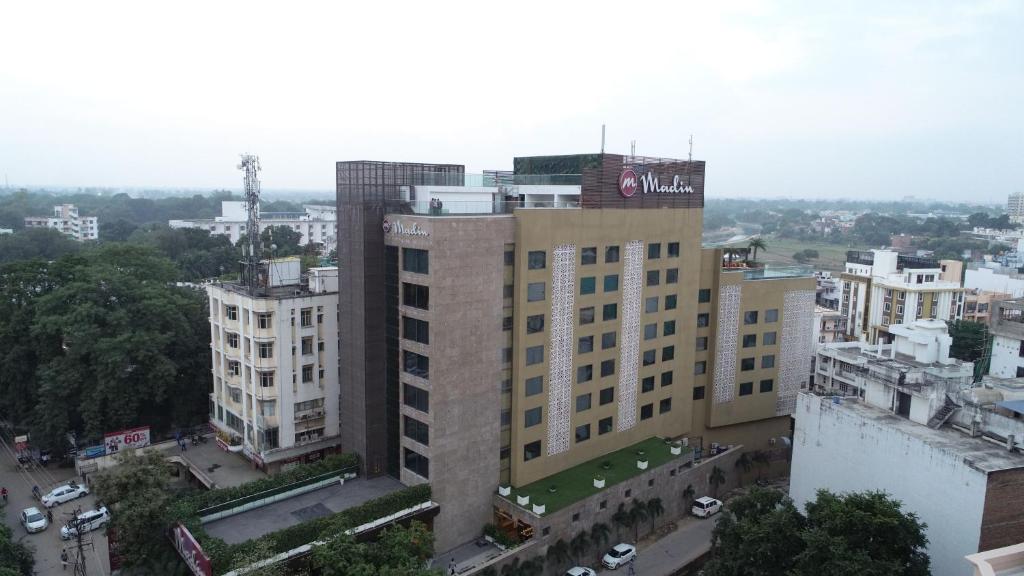 Hotel Madin, located in Varanasi, offers comfortable and convenient accommodation for travelers. The hotel features air-conditioned rooms with flat-screen TVs, private bathrooms, and complimentary bathrobes and toiletries. Guests can enjoy free WiFi access and parking, along with a terrace offering views of the city. The hotel also has a restaurant and car hire service available.
Pros:
– Free WiFi access
– Complimentary private parking
– Terrace with city views
– Restaurant on-site
– Car hire service
Ramada Plaza by Wyndham JHV Varanasi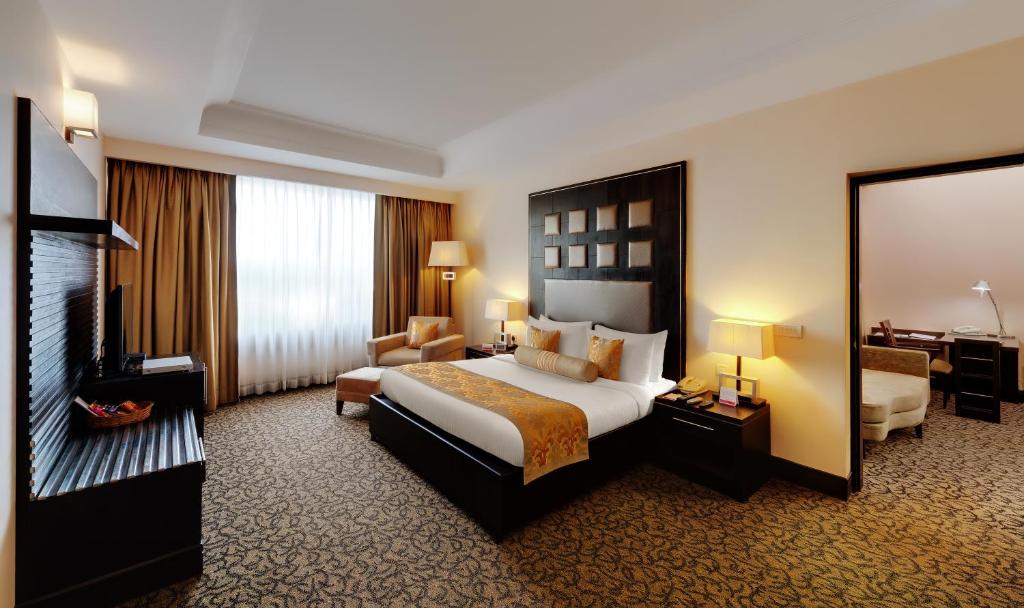 Ramada Plaza by Wyndham JHV Varanasi is a luxurious 5-star hotel located in the heart of Varanasi City. It offers a range of amenities including an outdoor pool, spa, gym, tennis court, and five dining options. The spacious rooms feature stunning views of the lawn, pool, or Varuna River and are elegantly decorated with wood panelled walls and carpeted flooring. Guests can enjoy drinks at the Toxic Bar & Lounge or Pool Side Bar and indulge in delicious Indian specialties at Tadka restaurant.
Pros:
– Beautiful outdoor pool for guests to relax and unwind
– Wide variety of dining options to cater to different tastes
– Spa and fitness facilities for guests to rejuvenate themselves
– Convenient location close to major attractions like Kashi Vishwanath Temple
– Luxurious rooms with modern amenities such as wired internet access and cable TV
Varanasi Downtown Five Star Hotels
Varanasi Downtown boasts an exceptional collection of five-star hotels, offering unparalleled luxury and world-class service. Nestled in the heart of this vibrant city, these establishments provide guests with a truly opulent experience. With their exquisite design, elegant interiors, and attention to detail, these hotels create an ambiance of refined sophistication. From sumptuous dining options to rejuvenating spa treatments, each hotel offers a range of indulgent experiences that cater to the discerning traveler. Whether seeking a tranquil retreat or exploring the bustling streets nearby, Varanasi Downtown's five-star hotels are the ideal choice for those seeking elevated comfort and style during their stay in this captivating destination.
Tree of Life Resort & Spa Varanasi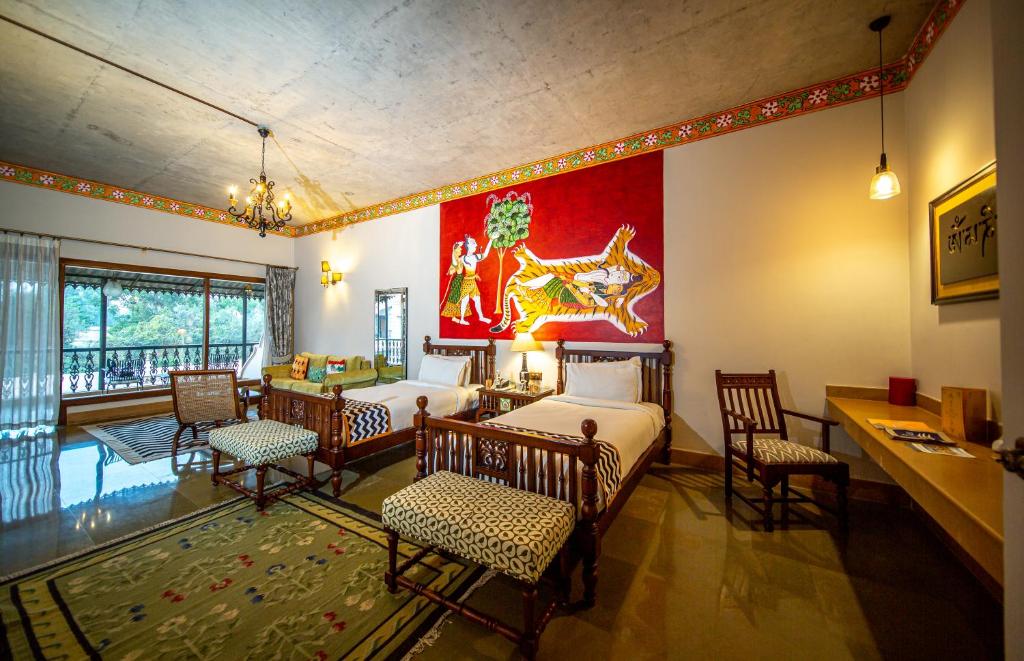 Tree of Life Resort & Spa Varanasi is a luxurious retreat located in the spiritual city of Varanasi. The resort offers Junior Suites designed in a local style architecture, providing guests with spacious and private accommodations. With amenities such as a sun terrace, spa center, and an on-site restaurant, guests can relax and indulge in true luxury during their stay.
– Spacious Junior Suites with high ceilings and teak wood furniture
– Unique hand-painted Shiva artwork adds to the local charm
– Well-appointed en suite bathrooms with unique designs
– Large private sit-out areas overlooking the gardens and religious pond
Brijrama Palace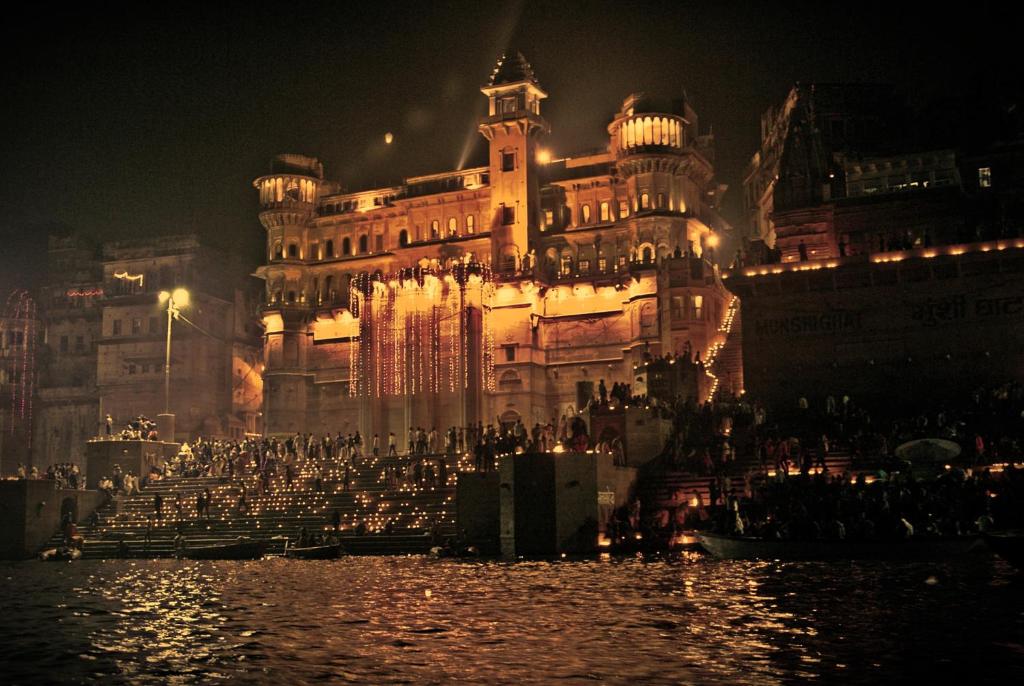 BrijRama Palace – A Heritage Hotel is a luxurious 5-star property situated on its own ghat in Varanasi. With its roots dating back to the 18th Century, it is considered one of the oldest structures in the city and offers stunning views of the Ganges. The hotel features two dining options, a rooftop terrace, complimentary boat check-in/check-out (except during monsoons), and various amenities such as hi-tea, yoga sessions, and live classical music performances.
Pros:
– Spectacular location overlooking the Ganges
– Rich historical heritage with an 18th-century structure
– Complimentary boat services for added convenience
– Luxurious amenities including hi-tea and live classical music performances
– Close proximity to popular attractions like Dasashwamedh Ghat and Kashi Vishwanath Temple
Taj Ganges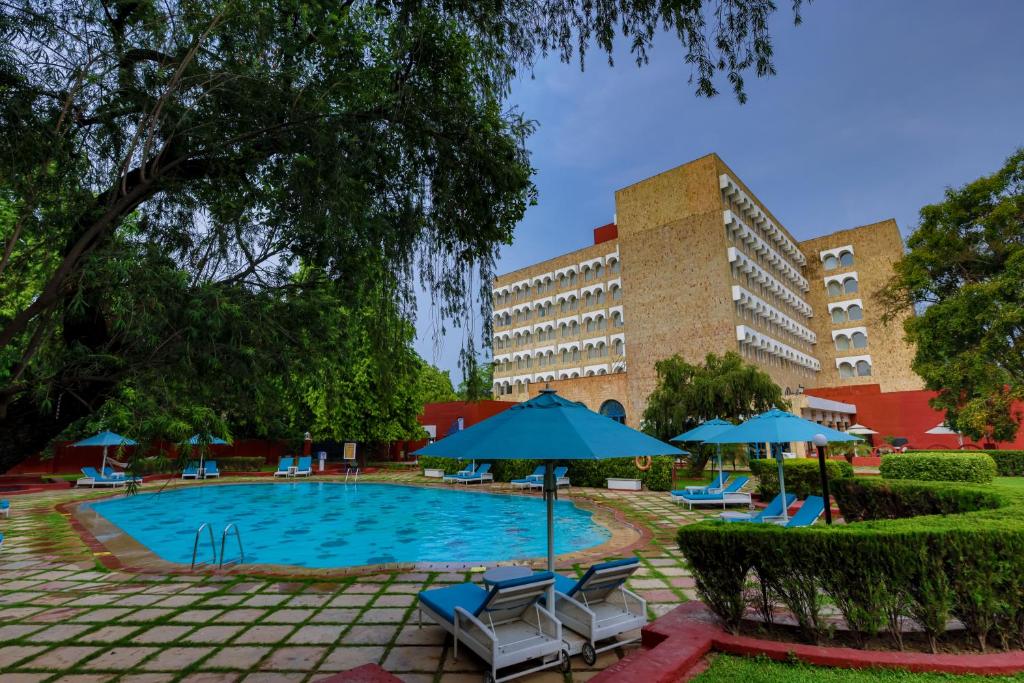 Taj Ganges, Varanasi is a luxurious 5-star hotel located in the ancient temple city of Varanasi. Set amidst 40 acres of tropical gardens, this peaceful retreat offers an outdoor pool and spa, along with 24-hour room service. The modern air-conditioned rooms provide stunning views of the garden, pool, or city and are equipped with all essential amenities. The hotel also features a fitness center, massage services, shopping arcade, doctor on-call, and a business center. Guests can indulge in delicious Indian, Pan-Asian, and international cuisines at the Chowk coffee shop or enjoy fine dining at Varuna. Prinsep Bar offers a wide selection of wines and cocktails to unwind.
– Luxurious property spread over 40 acres of tropical gardens
– Stunning views of garden, pool or city from every room
– Outdoor pool for relaxation and recreation
– Variety of dining options serving Indian, Pan-Asian and international delicacies
– Convenient location close to popular landmarks like Varanasi City Centre
Varanasi 5 star Hotels Information
| | |
| --- | --- |
| 🛎️ 5 star Hotels in Varanasi | 6 |
| 💵 Hotels Prices From | $199 |
| 💵 Highest price | $1517 |
| 🥇 Average Review Score | 7.9/10 |
| 🛏️ Average number of Rooms | 72 |
Top 5 star hotels in Varanasi
| | |
| --- | --- |
| Brijrama Palace | 9/10 |
| Taj Ganges | 8.9/10 |
| Hotel Madin | 8.3/10 |
| Ramada Plaza by Wyndham JHV Varanasi | 7.2/10 |
| Hotel Clarks Varanasi | 7.1/10 |
FAQ
What are the amenities offered by 5 star hotels in Varanasi?
Most 5 star hotels in Varanasi offer a wide range of amenities including luxury spas, fitness centers, swimming pools, fine dining restaurants, and concierge services.
Do 5 star hotels in Varanasi provide airport transportation?
Yes, many 5 star hotels in Varanasi provide airport transportation for their guests. It is recommended to check with the hotel beforehand regarding availability and charges.
Are there any famous 5 star hotels near the Ganges River in Varanasi?
Yes, there are several famous 5 star hotels located near the Ganges River in Varanasi. These hotels offer stunning views of the river and easy access to popular ghats and attractions.
What is the average price range of a room in a 5 star hotel in Varanasi?
The average price range for a room in a 5 star hotel in Varanasi can vary depending on the season and location. Generally, prices can range from $100 to $300 per night.
Which are some of the best luxury 5 star hotels to stay at while visiting Varanasi?
Some of the best luxury 5 star hotels to consider while visiting Varanasi include The Gateway Hotel Ganges, BrijRama Palace – A Heritage Hotel, Radisson Hotel Varanasi, and Ramada Plaza JHV Varanasi.
Popular 5 Star Hotels destinations