Welcome to the enchanting realm of opulence and grandeur in Palm Springs, USA. Prepare to be captivated by the allure of lavishness as we embark on a journey through the realm of luxury five-star accommodations in this idyllic desert oasis. Nestled amidst the picturesque landscapes and shimmering palms, these exquisite hotels offer an unparalleled experience that is sure to leave you spellbound.
Immerse yourself in a world where sophistication meets tranquility, where every need and desire is anticipated with utmost care and attention. Indulge in unrivaled comfort as you step into meticulously designed suites adorned with tasteful furnishings and plush amenities. Whether you prefer a sun-dappled terrace overlooking magnificent mountain vistas or a private poolside retreat, Palm Springs boasts a myriad of luxurious havens that cater to your every whim.
Unwind in extravagant spa facilities as skilled therapists work their magic, enveloping you in blissful relaxation and rejuvenation. Delight your taste buds with culinary masterpieces crafted by renowned chefs who weave together tantalizing flavors from around the globe. With impeccable service at your fingertips, no request is too extravagant for these exceptional establishments.
Join us on this voyage through paradise as we uncover the epitome of extravagance nestled within Palm Springs' awe-inspiring surroundings. Get ready for an unforgettable escape into pure indulgence at these divine five-star sanctuaries!
Best Palm Springs Five Star Hotels
L'Horizon Resort & Spa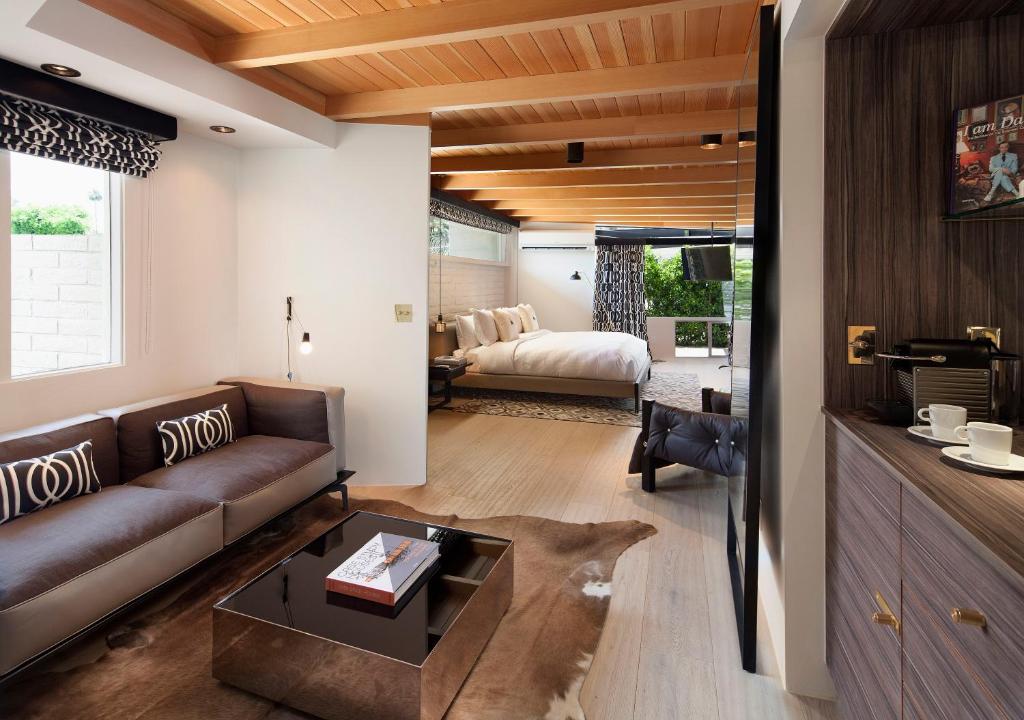 L'Horizon Resort & Spa is a luxurious adult-only (21+) resort located 2.6 km from Palm Springs Convention Center. Each room features a private bathroom, a flat-screen smart TV with cable channels, and a coffee machine. Guests can enjoy an alfresco dining experience at the on-site restaurant, SO-PA, and take advantage of amenities such as free WiFi throughout the property and complimentary use of bicycles to explore the cycling-friendly area. With its convenient location near shopping centers and the airport, L'Horizon Resort & Spa offers an exquisite stay for those seeking relaxation and comfort.
– Adult-only resort offering privacy and tranquility
– Elegant rooms with modern amenities
– On-site restaurant with alfresco dining experience
– Complimentary use of bicycles for outdoor exploration
JW Marriott Desert Springs Resort & Spa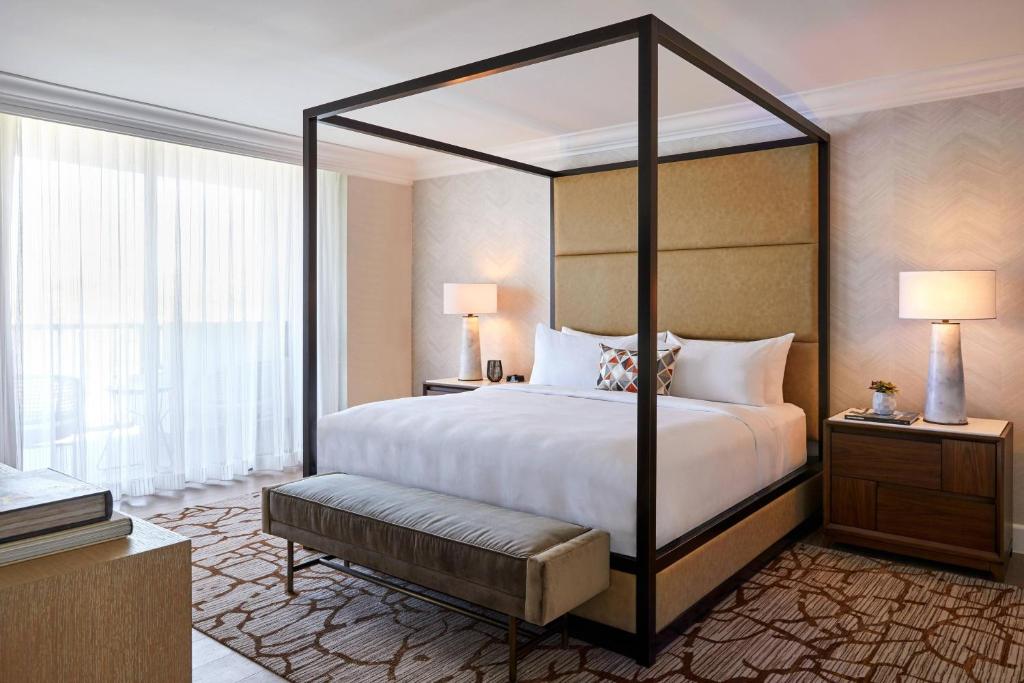 The JW Marriott Desert Springs Resort & Spa in Palm Springs offers an array of luxurious amenities, including 2 championship golf courses and a complex of 5 pools. The beautifully appointed rooms feature LCD TVs and marble bathrooms, providing a truly indulgent experience. Guests can also enjoy the hotel's extensive spa, offering a wide range of treatments.
– Scenic views of the hotel's pools and gardens from all rooms
– Gondola tours on the waterways from the hotel's gondola deck
– Tennis on clay and grass courts for sports enthusiasts
– State-of-the-art fitness center for wellness enthusiasts
– Variety of dining options including Californian cuisine at Rockwood Grill, Japanese dishes by 'Samurai chefs' at Mikado, and fresh sushi at the lobby bar
La Maison Hotel – Adults Only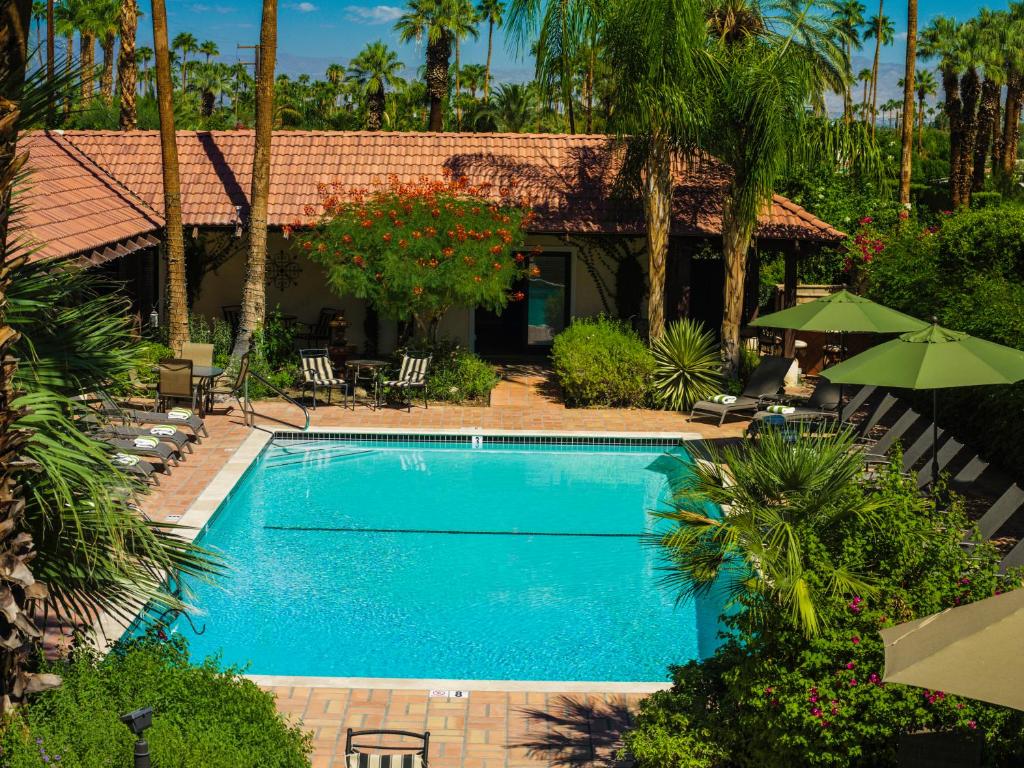 La Maison Hotel – Adults Only, located in Palm Springs, features an outdoor pool and sun terrace for guests to enjoy. Each room is beautifully styled with dark wood furnishings and offers amenities such as free Wi-Fi and toiletries in the en suite bathroom. The hotel also provides luxury duvets and linens for a comfortable stay.
– Poolside hot tub and barbecue facilities available
– Convenient access to Indian Canyon Hiking Trails for hiking and cycling opportunities
– Free cruiser bike rentals offered
– Mesquite Golf & Country Club just 1 mile away
– Close proximity to Joshua Tree National Park (1 hour drive) and Palm Springs Air Museum (5 miles away)
Other places to stay in Palm Springs
Palm Springs Downtown Five Star Hotels
Palm Springs Downtown boasts a collection of exquisite five-star hotels that redefine luxury and offer an unparalleled experience for discerning travelers. Nestled in the heart of this vibrant desert oasis, these exclusive accommodations captivate guests with their elegant design, impeccable service, and attention to detail. Each hotel exudes a distinct charm and sophistication, creating a serene haven where guests can relax, rejuvenate, and indulge in the ultimate indulgence. From plush rooms adorned with luxurious furnishings to world-class dining experiences and state-of-the-art facilities, Palm Springs Downtown's five-star hotels embody the epitome of opulence and provide an unforgettable stay for those seeking refinement at its finest.
Orbit In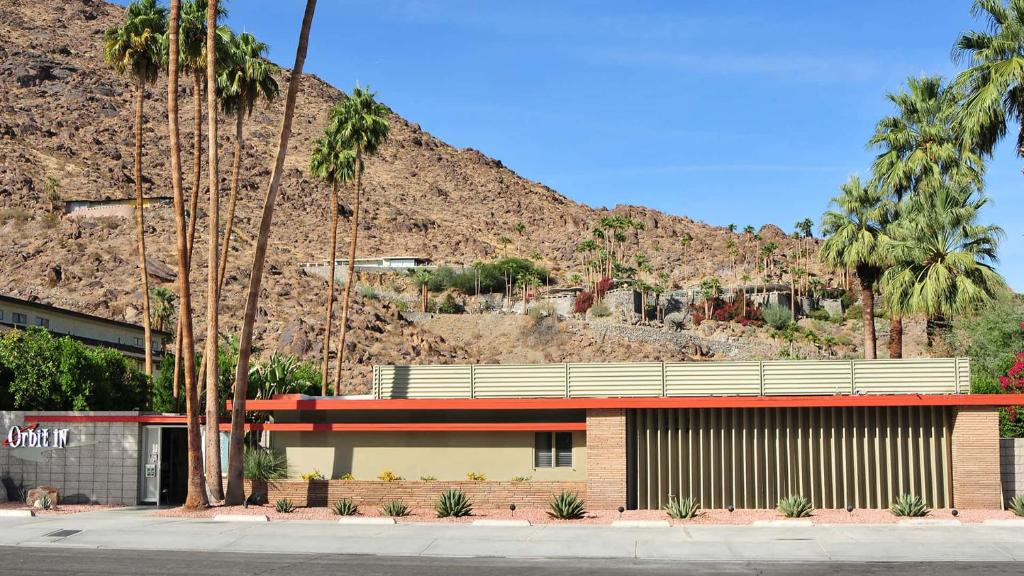 Newly opened in November 2022, Orbit In is a luxurious 5-star hotel located in Palm Springs. Situated just 1 km from O'Donald Golf Course, the hotel offers an array of amenities including free bikes, free private parking, an outdoor swimming pool, and a garden. The accommodation features beautifully appointed rooms with modern facilities such as a hot tub and terrace, along with free WiFi. Some rooms even offer a kitchenette with a stovetop. Guests can enjoy various activities in and around Palm Springs such as cycling. With its convenient location near the city center and popular attractions like Palm Springs Visitor Center and Escena Golf Club, Orbit In provides the perfect base for exploring this vibrant destination.
– Newly opened luxury hotel
– Convenient location near golf course and city center
– Free bikes available for guests to explore the area
– Beautifully appointed rooms with modern amenities
AMIN CASA PALM SPRINGS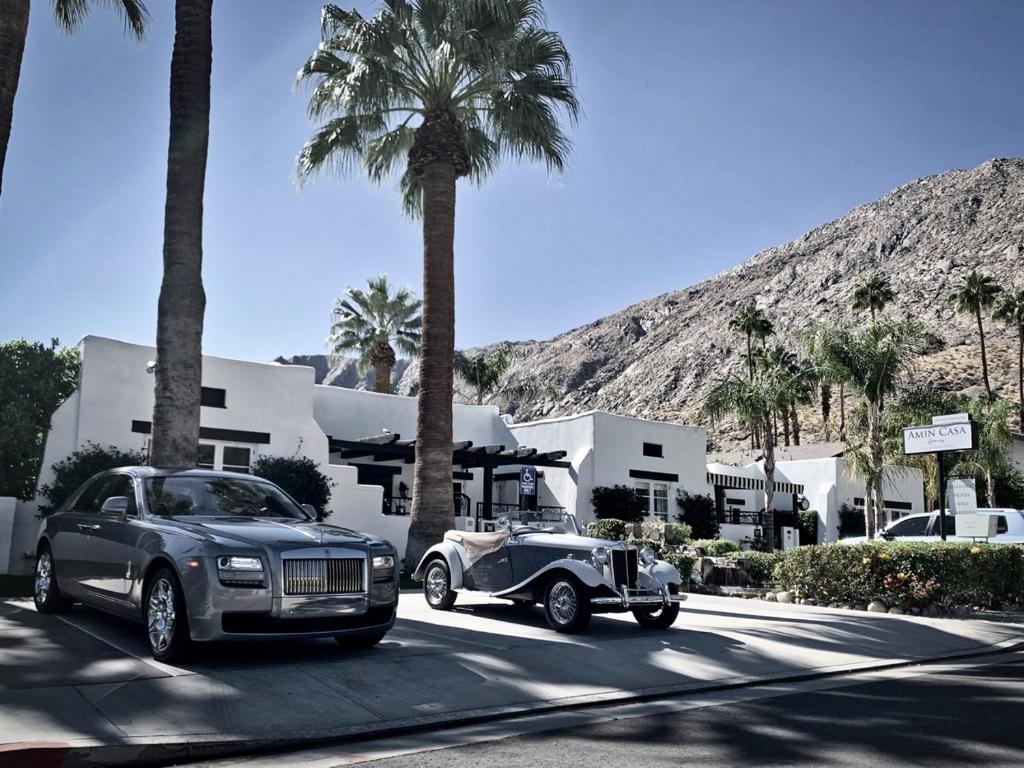 AMIN CASA PALM SPRINGS is a new boutique hotel that opened in October 2020. Located in the heart of Palm Springs, guests can enjoy free WiFi, bikes, and private parking. The 5-star accommodations offer stunning mountain views, with access to a garden and barbecue facilities. Guests can also indulge in the luxury of a hot tub. The hotel provides excellent business facilities, including a business center and concierge service for organizing tours. Each air-conditioned room is well-equipped with modern amenities such as a desk, coffee machine, fridge, microwave, safety deposit box, flat-screen TV, terrace, and private bathroom with shower. Some rooms even feature a kitchen with an oven, dishwasher and stovetop. With attentive service that includes laundry options and business services like faxing and photocopying available on-site.
Pros:
– Convenient central location
– Free WiFi and bikes for guests
– Beautiful mountain views
– Business facilities available
Palm Springs 5 star Hotels Information
| | |
| --- | --- |
| 🛎️ 5 star Hotels in Palm Springs | 5 |
| 💵 Hotels Prices From | $248 |
| 💵 Highest price | $1535 |
| 🥇 Average Review Score | 9/10 |
| 🛏️ Average number of Rooms | 163 |
Top 5 star hotels in Palm Springs
| | |
| --- | --- |
| AMIN CASA PALM SPRINGS | 9.9/10 |
| La Maison Hotel – Adults Only | 9.6/10 |
| Orbit In | 8.9/10 |
| L'Horizon Resort & Spa | 8.7/10 |
| JW Marriott Desert Springs Resort & Spa | 7.9/10 |
FAQ
What are the top 5 star hotels in Palm Springs?
Some of the top 5 star hotels in Palm Springs include The Ritz-Carlton, Rancho Mirage, Parker Palm Springs, La Quinta Resort & Club, The Colony Palms Hotel, and L'Horizon Resort & Spa.
Are there any all-inclusive 5 star hotels in Palm Springs?
No, currently there are no all-inclusive 5 star hotels available in Palm Springs. However, many luxury resorts offer a range of amenities and services to ensure a luxurious experience.
What is the average price range for a night at a 5 star hotel in Palm Springs?
The average price range for a night at a 5 star hotel in Palm Springs can vary from $300 to $800 depending on the season and specific property. Prices may also vary during special events or holidays.
Do these luxury hotels provide airport transfers?
Yes, most of the luxury hotels in Palm Springs do provide airport transfer services for their guests. It is recommended to check with your preferred hotel beforehand to arrange for transportation.
Are there any pet-friendly 5 star hotels in Palm Springs?
Yes, some of the 5 star hotels in Palm Springs are pet-friendly. Examples include La Quinta Resort & Club and The Ritz-Carlton, Rancho Mirage. However, it's always best to inquire about their pet policy before making your reservation.
Popular Five Star Hotels destinations