Welcome to my latest exploration of opulent accommodations in the enchanting city of Olbia, Italy. Nestled amidst the captivating landscapes and sparkling turquoise waters of Sardinia's northeast coast, Olbia offers a myriad of luxurious 5-star hotels that will exceed even the most discerning traveler's expectations. Join me as we embark on an unforgettable journey through elegance and indulgence, where every moment is infused with unwavering sophistication.
Olbia, with its picturesque charm and Mediterranean allure, serves as an idyllic backdrop for these magnificent havens of tranquility and lavishness. Prepare to be captivated by the architectural wonders that house these exclusive establishments, each one showcasing a unique blend of contemporary design and traditional Italian elegance. From exquisite suites adorned with plush furnishings to state-of-the-art facilities catered to pampering your senses, these hotels redefine luxury at every turn. Indulge in world-class amenities such as rejuvenating spas, delectable gastronomic delights crafted by masterful chefs, and impeccable service provided by attentive staff who anticipate your every need. Soothe your soul amidst stunning panoramas or immerse yourself in the vibrant city scene – whatever your preference may be, Olbia's 5-star accommodations promise an unparalleled experience that will leave you longing for more.
Best Olbia Five Star Hotels
Hotel Li Finistreddi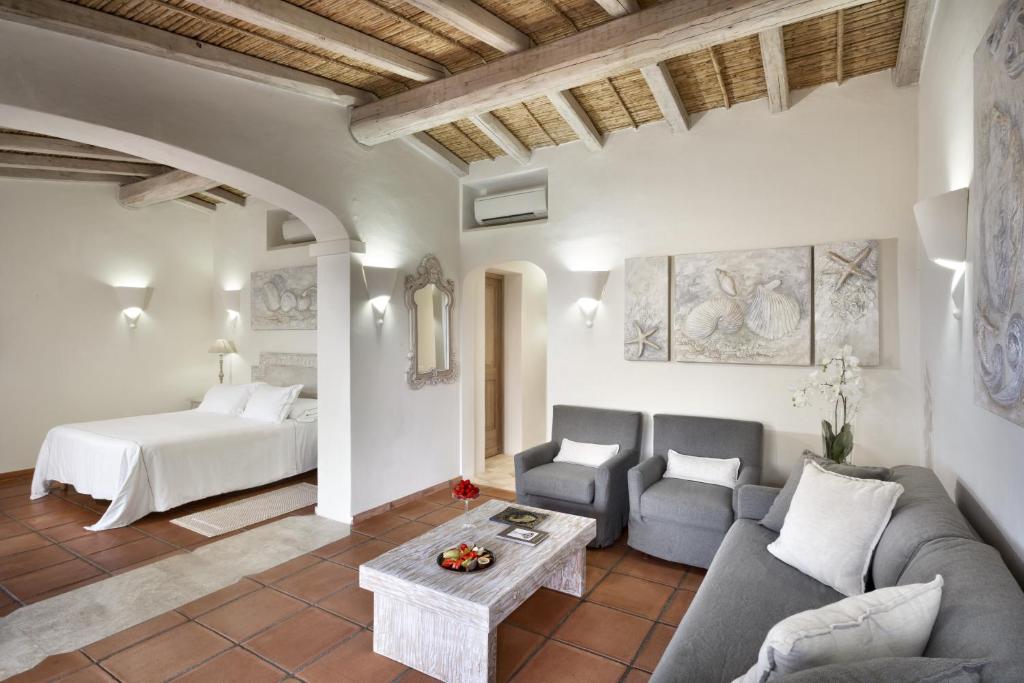 Hotel Li Finistreddi is a luxurious 5-star hotel located on a green hill in northern Sardinia. With stunning views of the Maddalena Archipelago, the hotel features two private outdoor swimming pools, a spa with a fitness corner, and an exquisite restaurant. The air-conditioned rooms come with balconies and free WiFi, and guests can enjoy an extensive à la carte breakfast before indulging in traditional Sardinian cuisine at the Osteria Gourmet restaurant. Other amenities include a wellness path, tennis court, and proximity to Porto Cervo.
– Breathtaking views of the Maddalena Archipelago
– Two private outdoor swimming pools
– Luxurious spa with hydromassage pool, sauna, and Turkish bath
– Exquisite à la carte breakfast and gourmet restaurant serving Sardinian delicacies
Petra Segreta Resort & Spa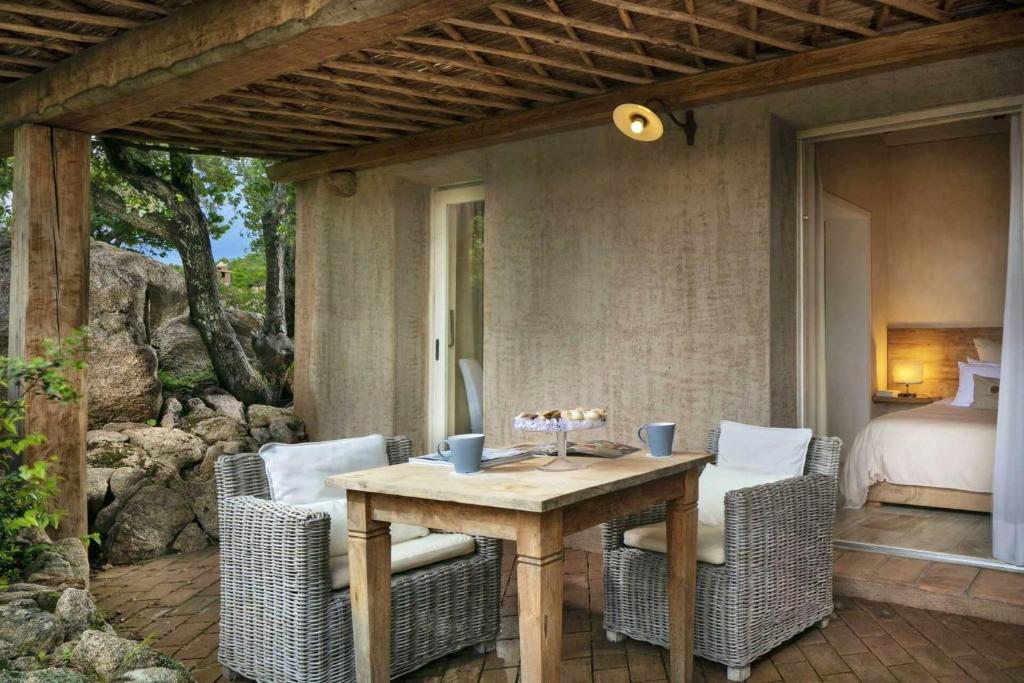 Located in the picturesque town of San Pantaleo, Petra Segreta Resort & Spa is a luxurious retreat nestled amidst 5 hectares of forest. With breathtaking panoramic views, modern wellness facilities, and a large heated pool, this resort offers an idyllic escape. The rooms are elegantly furnished in a classic country style and the Michelin-starred Il Fuoco Sacro restaurant serves delectable Sardinian cuisine. Guests can also unwind at the Osteria del Mirto for light lunches and snacks. The resort features traditional Sardinian houses known as Stazzi scattered throughout its grounds, providing guests with a unique experience. Each room comes equipped with air conditioning, a flat-screen TV, private bathroom, and private patio area. The main building houses the lobby, lounge with fireplace, and veranda overlooking the Maddalena Archipelago. For ultimate relaxation, guests can indulge in Ayurvedic massages or enjoy the sauna and Turkish bath at the wellness center. Additional amenities include bike rental services and free parking on-site. Located just a short drive from Olbia airport and beautiful sandy beaches along Costa Smeralda coastline, Petra Segreta Resort & Spa is an oasis of luxury in Sardinia.
– Breathtaking panoramic views
– Michelin-starred restaurant serving exquisite Sardinian cuisine
– Traditional Sardinian houses scattered throughout the resort's grounds
– Excellent wellness facilities for relaxation and pampering
– Convenient location near beautiful sandy beaches
Hotel Romazzino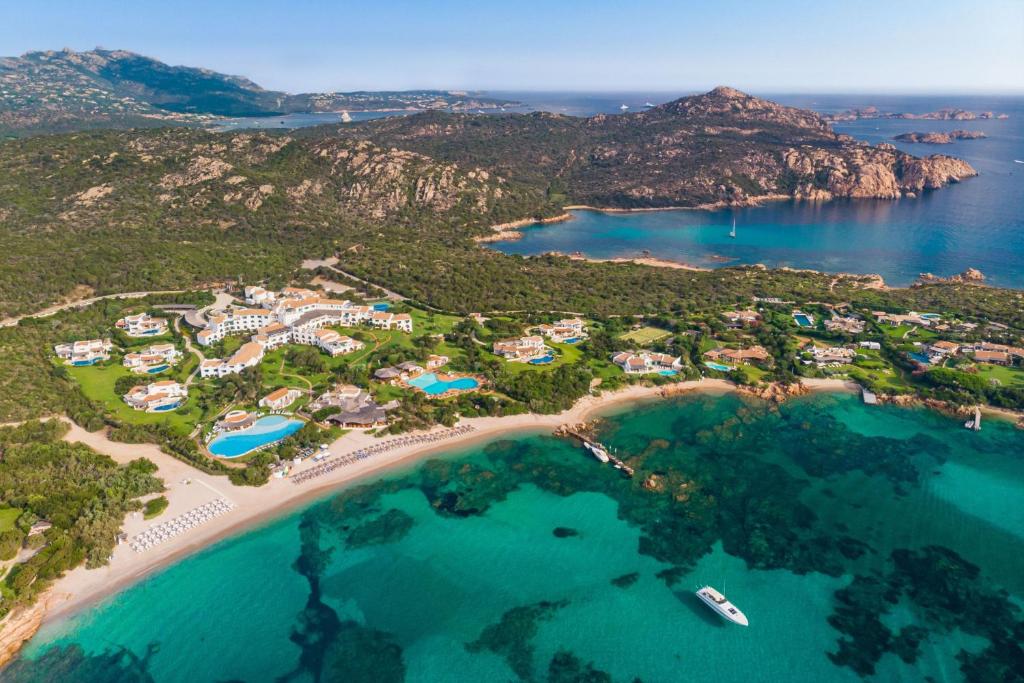 Hotel Romazzino offers a luxurious and picturesque retreat on the famous Emerald Coast. With its stunning whitewashed architecture, the hotel provides an array of leisure activities including a wellness center, two gyms, and a swimming pool. Guests can indulge in international cuisine at the Ristorante Centrale and enjoy beachfront dining at the barbecue restaurant.
– Private terraces overlooking the garden or Mediterranean Sea
– Choice of pillows from the pillow menu for a restful night's sleep
– Elegantly decorated rooms with handmade tiles and wood furniture
– Access to fitness centers, salt-water swimming pool, and private beach area
– Mini club with professional staff for children's entertainment and activities
Olbia Downtown Five Star Hotels
Olbia Downtown boasts an exquisite selection of five-star hotels, promising a luxurious and unforgettable stay for discerning travelers seeking the very best accommodations. Nestled in the heart of this vibrant city, these hotels offer prime locations that provide easy access to a myriad of attractions, shopping centers, and dining options. With opulent interiors adorned with lavish décor and unparalleled service, guests can expect nothing short of perfection. Each hotel strives to create a serene haven where guests can unwind and indulge in comfort and style. From elegant rooms with breathtaking views to world-class dining experiences, Olbia Downtown's five-star hotels are sure to leave guests enchanted by their unmatched luxury and sophistication.
Villa del Golfo Lifestyle Resort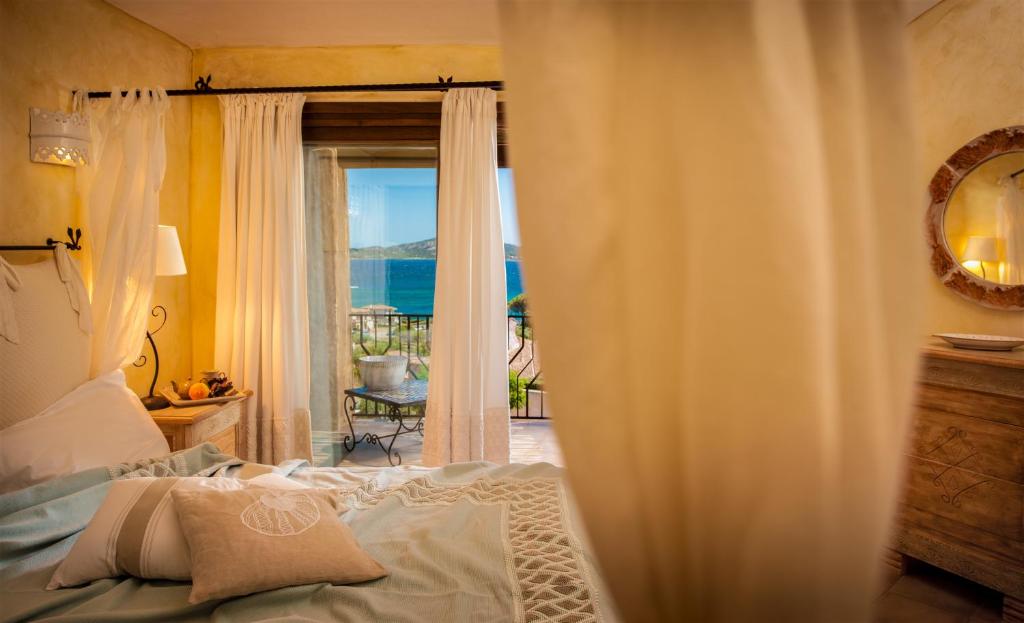 Villa del Golfo Lifestyle Resort offers stunning views of the Emerald Coast, with its granite rocks and the island of Caprera. The hotel boasts a large sun terrace and luxurious rooms and suites. Guests can indulge in top-quality Sardinian and Mediterranean cuisine at the hotel's gourmet restaurant, MiraLuna. Additionally, there is an elegant beauty center with a Turkish bath and hot tub for ultimate relaxation, as well as a piano bar and quiet reading room for moments of tranquility. The hotel also offers private yacht excursions upon request.
Pros:
– Breathtaking panoramic views of the Emerald Coast
– Luxurious accommodations with attractive features
– Gourmet dining experience at MiraLuna restaurant
– Relaxing amenities including a beauty center with Turkish bath and hot tub
– Private yacht excursions available upon request
Hotel Cala di Volpe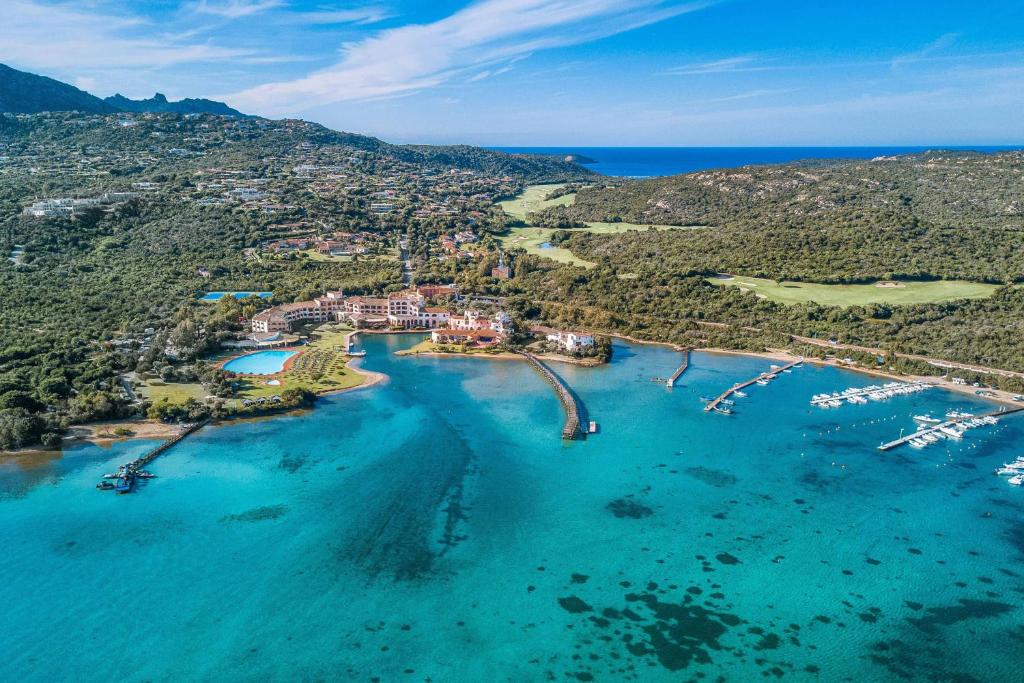 Hotel Cala di Volpe is a luxury 5-star hotel located in Sardinia's famous Porto Cervo. Surrounded by a lush, green Mediterranean landscape, the resort offers excellent sports and wellness facilities, including 3 floodlit tennis courts and a well-equipped fitness center. The hotel also boasts a stunning private beach, where guests can enjoy white-sand shores and crystal-clear waters.
4-5 pros:
– Award-winning restaurants with designer Mediterranean cuisine and gourmet Sardinian dishes
– Lovely views of the bay from the restaurants
– Large air-conditioned rooms with flat-screen TVs and private balconies overlooking Cala di Volpe Bay
– Free parking available for guests
– Relaxing massages and rejuvenating beauty treatments offered at the wellness center
Hotel Grand Relais Dei Nuraghi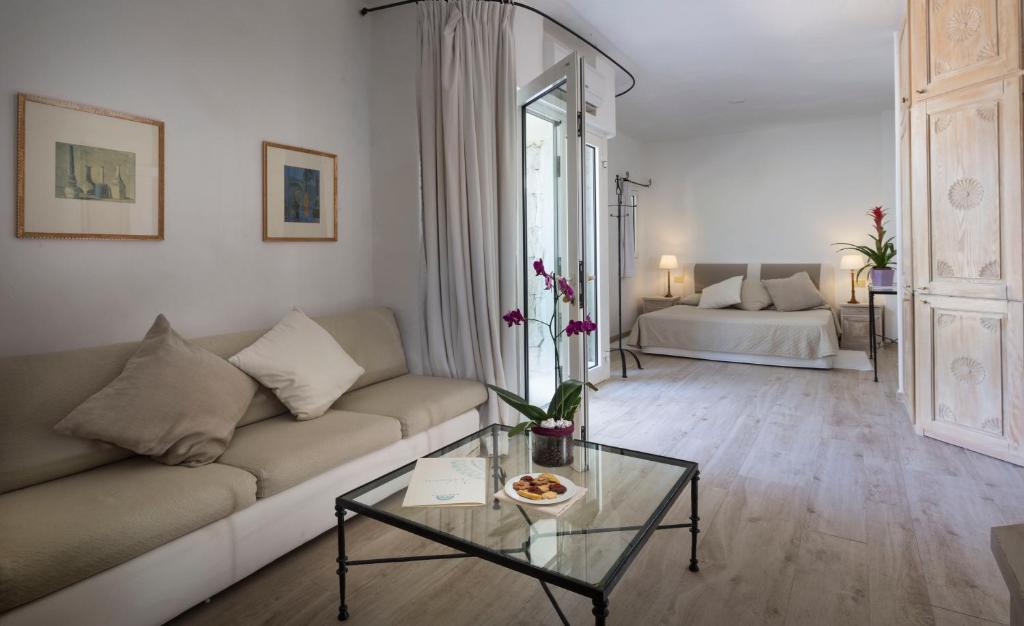 Located in the serene area of Baja Sardinia, Hotel Grand Relais Dei Nuraghi offers breathtaking panoramic views of the Archipelago of Maddalena and the Gulf of Arzachena. The hotel provides a tranquil oasis surrounded by lush Mediterranean vegetation, including ancient junipers and pink granite rocks. Guests can enjoy a range of activities such as swimming, tennis, sailing, windsurfing, or simply relax by the pool.
Pros:
– Stunning panoramic views over the Archipelago of Maddalena and the Gulf of Arzachena
– Tranquil atmosphere immersed in beautiful Mediterranean scrub
– Variety of sports activities available for guests to enjoy
– Proximity to charming little beaches
– Vibrant nightlife with bars, clubs, open-air markets and entertainment options in the surrounding village
Luxury 5 Star Hotels in Olbia
Olbia, located in the stunning region of Sardinia, offers a selection of exceptional luxury 5 star hotels. With their impeccable service, exquisite decor, and breathtaking surroundings, these hotels provide the ultimate oasis for discerning travelers seeking an unforgettable experience. From elegant rooms with plush amenities to world-class dining options and luxurious spa facilities, each hotel seamlessly combines opulence and comfort. Whether guests are looking to relax by the poolside or explore the nearby beaches and cultural attractions, these luxury 5 star hotels in Olbia offer an unparalleled retreat where every detail is carefully curated to exceed expectations.
Hotel Pitrizza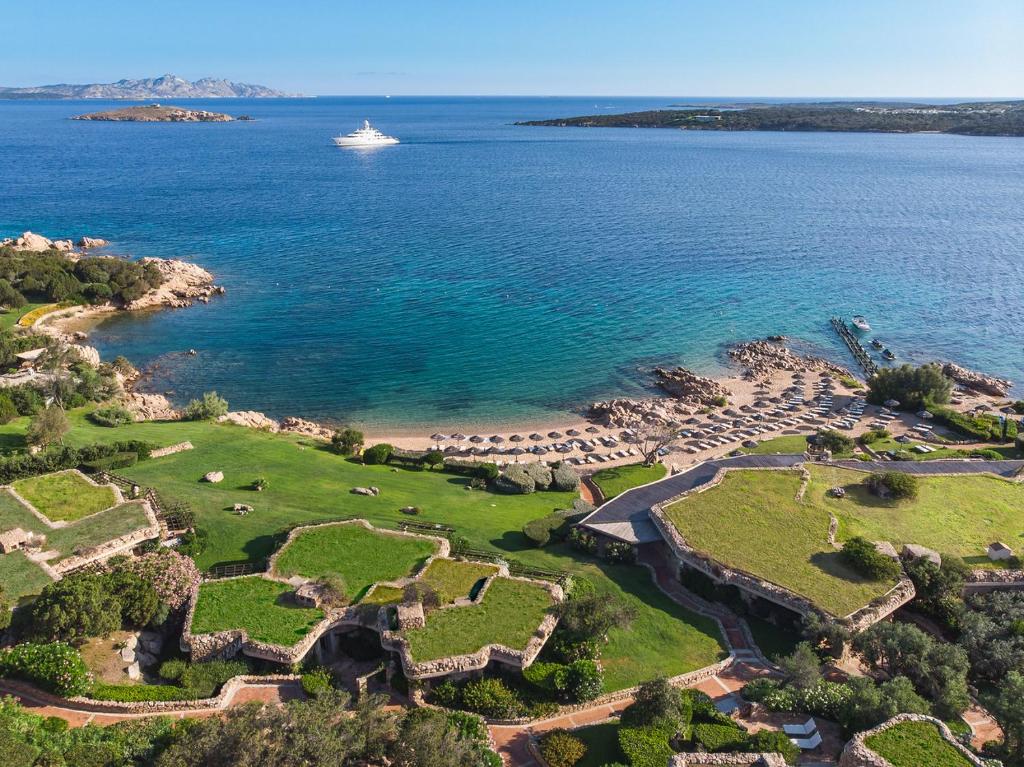 The Pitrizza is a luxurious boutique hotel located in the beautiful Costa Smeralda region of Sardinia. With stunning views of the crystal-clear sea, this refined establishment offers impeccable service and a range of amenities including an outdoor swimming pool, wellness center, and fitness center. Guests can indulge in delicious Sardinian cuisine at the in-house restaurant or take advantage of the dining-around program to enjoy meals at other Starwood hotels in the area.
– Beautiful views over Costa Smeralda
– Luxurious amenities including outdoor swimming pool and wellness center
– In-house restaurant serving delicious Sardinian cuisine
– Dining-around program to enjoy meals at other Starwood hotels
Olbia 5 star Hotels Information
| | |
| --- | --- |
| 🛎️ 5 star Hotels in Olbia | 7 |
| 💵 Hotels Prices From | $215 |
| 💵 Highest price | $1025 |
| 🥇 Average Review Score | 8.9/10 |
| 🛏️ Average number of Rooms | 60 |
Top 5 star hotels in Olbia
| | |
| --- | --- |
| Hotel Pitrizza | 9.4/10 |
| Hotel Cala di Volpe | 9.2/10 |
| Petra Segreta Resort & Spa | 8.9/10 |
| Hotel Li Finistreddi | 8.8/10 |
| Hotel Romazzino | 8.8/10 |
FAQ
What are the best 5 star hotels in Olbia?
Some of the best 5 star hotels in Olbia include Hotel Romazzino, Grand Hotel Porto Cervo, and Cala di Volpe, all offering luxurious accommodations and top-notch amenities.
Are there any luxury hotels near Olbia airport?
Yes, there are several luxury hotels near Olbia airport such as Geovillage Wellness Resort and Jazz Hotel, offering convenient access to the airport while providing a luxurious stay experience.
Which 5 star hotels in Olbia have a beachfront location?
Hotels like Hotel Abi d'Oru and Baglioni Resort Sardinia offer stunning beachfront locations with private beaches for guests to enjoy during their stay in Olbia.
What amenities can I expect at 5 star hotels in Olbia?
At 5 star hotels in Olbia, you can expect amenities like spa facilities, swimming pools, fine dining restaurants, concierge services, luxurious rooms with breathtaking views, and high-quality customer service.
How much do luxury 5 star hotels in Olbia typically cost per night?
The cost per night for luxury 5 star hotels in Olbia can vary depending on the season and specific hotel. On average, prices range from around $300 to over $1000 per night.
Popular 5 Star Hotels destinations