Welcome to the enchanting world of opulence and grandeur, where luxury knows no bounds. Today, we embark on a delightful journey through the sun-kissed beaches and vibrant culture of Goa, India, as we explore the realm of exquisite 5-star accommodations. Nestled along the sparkling coastline of this tropical paradise, these lavish hotels offer an unparalleled experience that is sure to leave you spellbound.
Indulge your senses in a symphony of elegance and sophistication as you step into these magnificent abodes. Each hotel is adorned with meticulous attention to detail, from the awe-inspiring architecture to the lush gardens that surround them. Immerse yourself in a haven of tranquility within their lavishly appointed rooms and suites which exude an air of refinement and comfort. Every aspect has been thoughtfully curated to ensure an unforgettable stay – from personalized services provided by attentive staff members to state-of-the-art amenities that cater to your every need.
As we unravel the secrets behind these luxurious sanctuaries, be prepared for a whimsical adventure that will transport you into a world where dreams come true. So join us on this captivating expedition as we unveil the hidden gems among Goa's finest 5-star hotels and discover what it truly means to experience unrivaled luxury in one of India's most breathtaking destinations.
Best Goa Five Star Hotels
DoubleTree by Hilton Hotel Goa – Arpora – Baga (Baga)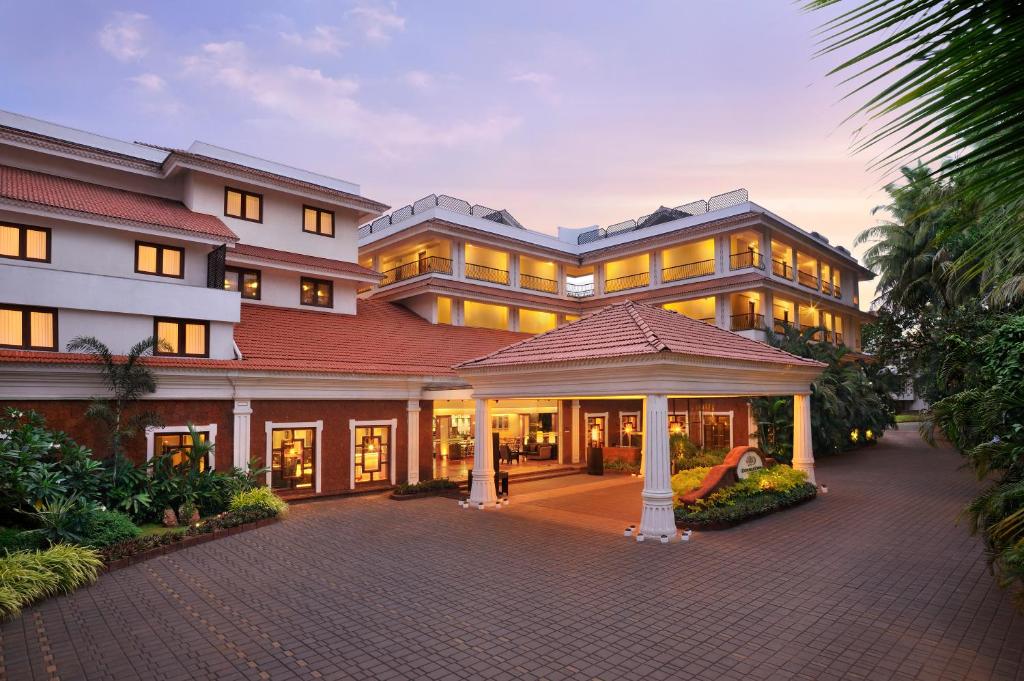 Located in the tranquil Arpora area of Goa, DoubleTree by Hilton Hotel offers contemporary guest rooms with balconies overlooking a lagoon. The hotel boasts an outdoor pool, three dining options, a fitness center, and activities for children. Guests can enjoy Indian delicacies at TAAL – Vegetarian Kitchen and Bar or savor Goan, Chinese, and Italian dishes at Flame.
Pros:
– Peaceful location with great views of the lagoon
– Contemporary guest rooms with balconies
– Outdoor pool and fitness center
– Three dining options offering a variety of cuisines
Holiday Inn Resort Goa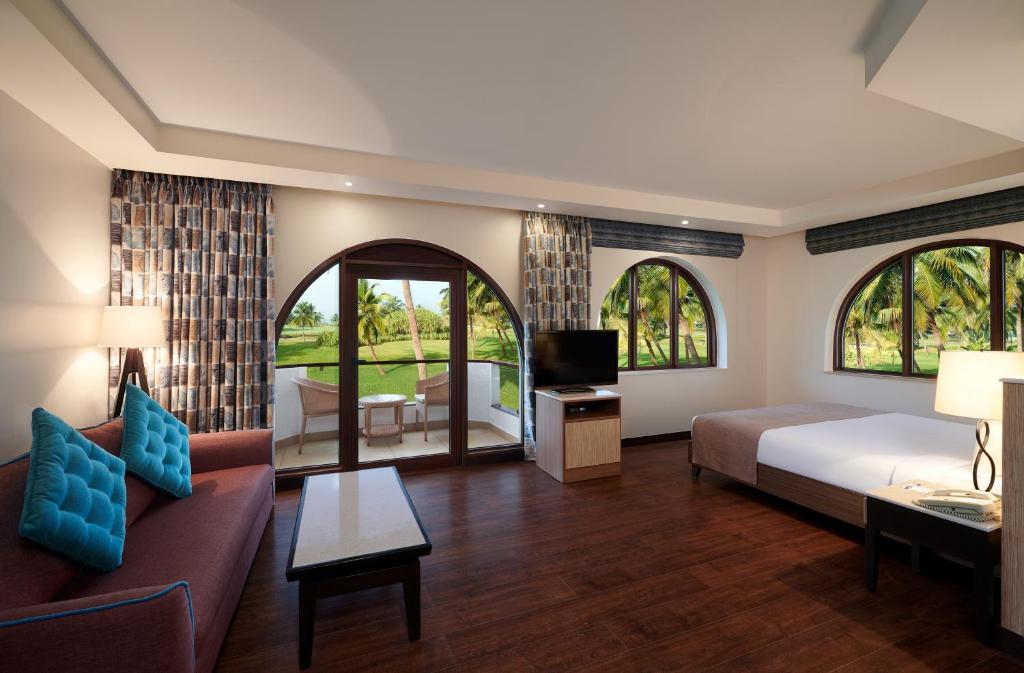 The luxurious Holiday Inn Resort Goa is situated in the picturesque Cavelossim, offering guests a tranquil retreat along Mobor Beach. Set amidst 25 acres of lush green landscape, this five-star hotel boasts a range of amenities including a spa, outdoor pool, and fitness centre. The elegantly appointed air-conditioned rooms provide stunning views of either the garden or pool, with some rooms even showcasing breathtaking sea views. Guests can indulge in delectable delights at any of the five dining options available on-site, including the 24-hour Zest Cafe which serves Indian and Global cuisine. Additional facilities include a tennis court, business centre, beauty salon, children's playground, and tour desk.
Pros:
– Beautiful location by the beach
– Extensive range of amenities including spa and fitness centre
– Variety of dining options to suit different tastes
– Well-appointed rooms with stunning views
– Convenient facilities such as free parking and business centre
The Native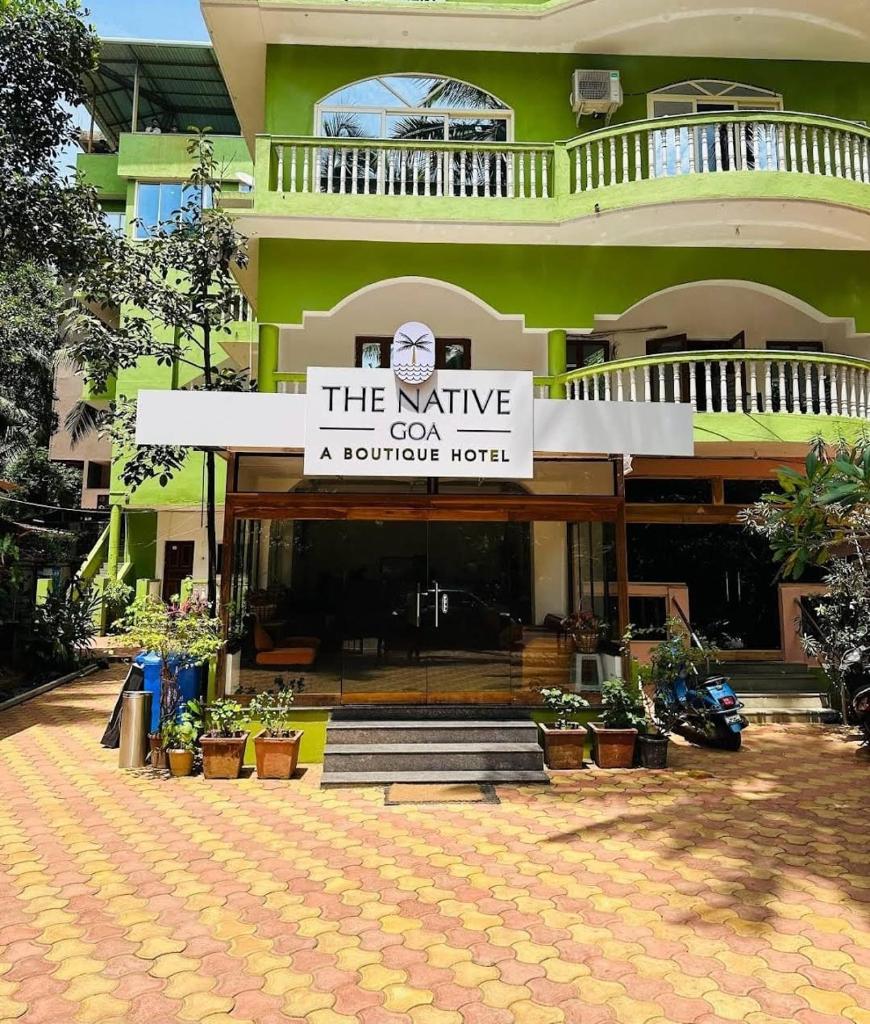 The Native is a newly opened 5-star hotel located in Calangute, just 2.4 km from Candolim Beach. Offering luxurious accommodations with a bar, free private parking, and a private beach area, this hotel provides an exceptional experience for guests. The rooms are equipped with modern amenities such as air conditioning and kettles, with some units featuring balconies. Guests can enjoy a delicious continental or Full English/Irish breakfast at the hotel's restaurant, which also serves American, Chinese, and French cuisine throughout the day. With its convenient location near popular attractions like Calangute Beach and Chapora Fort, The Native offers an ideal stay for travelers seeking luxury and comfort.
Pros:
– Newly opened luxurious 5-star hotel
– Conveniently situated near popular beaches and attractions
– Modern amenities including air conditioning and kettles in all rooms
– Variety of dining options available at the on-site restaurant
Other places to stay in Goa
Goa Downtown Five Star Hotels
Goa Downtown boasts a collection of luxurious five-star hotels that perfectly blend opulence and comfort. These exquisite accommodations offer an unparalleled experience, with their elegant interiors and impeccable service. Nestled in the heart of Goa, these hotels provide a haven for discerning travelers seeking a retreat from the bustling city life. From breathtaking views to world-class dining experiences, guests can indulge in an array of amenities that cater to every whim. With attention to detail and a commitment to creating unforgettable experiences, Goa Downtown's five-star hotels redefine luxury hospitality.
MansionHaus (Anjuna)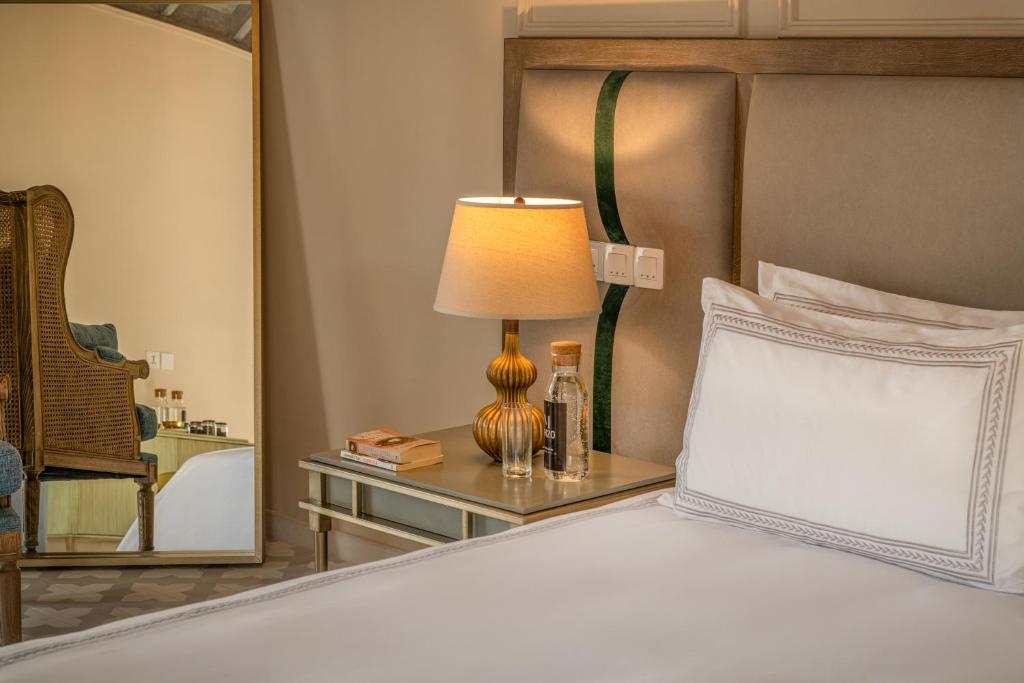 MansionHaus, a luxurious 5-star hotel located in Anjuna, opened its doors in August 2019. Situated just 1.2 km from the pristine Anjuna Beach, this hotel offers guests a garden, free private parking, a restaurant and bar. With amenities such as free WiFi, room service, and a business centre, MansionHaus ensures that guests have everything they need for a comfortable stay. The accommodation also includes airport transfers and a car rental service for added convenience.
Pros:
– A convenient location near Anjuna Beach and other popular attractions
– Spacious and well-appointed rooms with air conditioning and flat-screen TVs
– Delicious à la carte breakfast options to start the day off right
– A sun terrace where guests can relax and enjoy the beautiful surroundings
Diwa Club by Alila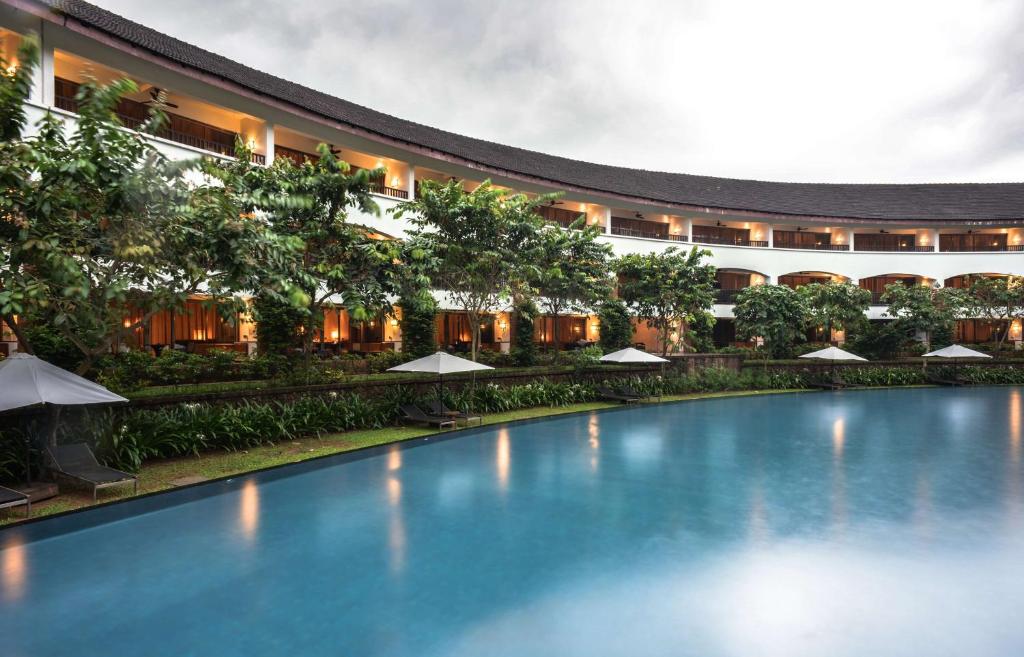 Located within the stunning Alila Diwa Goa resort in Majorda, South Goa, the Diwa Club by Alila is a luxurious sanctuary offering a range of exclusive amenities and services. With its own check-in desk, separate pool with an open-air spa bath, and an adjoining restaurant serving all-day breakfast, guests can indulge in ultimate relaxation and personalized attention. The beautifully furnished rooms overlook the private Diwa Pool and provide a comfortable retreat with king-size beds, stand-alone bathtubs, walk-in wardrobes, and separate workspaces.
– Unique spa treatments blending ancient Asian and Ayurveda techniques.
– State-of-the-art fitness center featuring Technogym equipment.
– Airport transfers and daily Chai-Paani and Sundowners by the pool.
– Access to all facilities at Alila Diwa Goa including infinity pool and kid's club.
– Convenient location just 20 minutes from Goa Dabolim International Airport.
Larisa Resort Ashwem (Mandrem)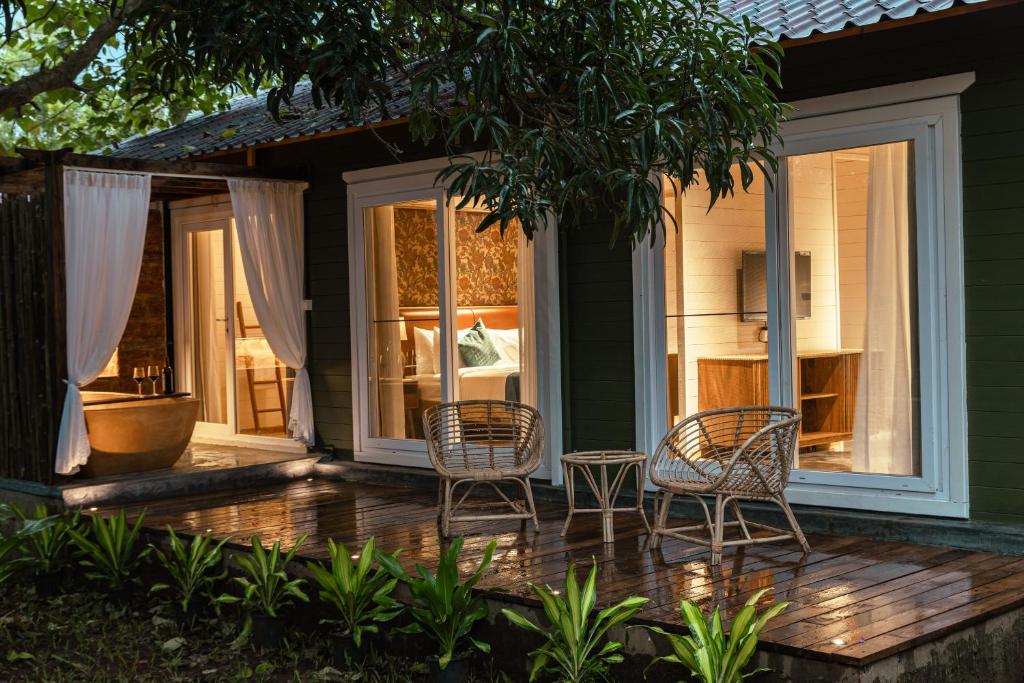 Larisa Resort Ashwem in Mandrem is a newly opened 5-star luxury resort, conveniently located less than 1 km from Mandrem Beach. The resort offers a range of amenities including an indoor pool, hot tub, and room service. Guests can enjoy the beautifully designed rooms with garden views, as well as the on-site restaurant and bar. The attentive staff at the 24-hour front desk and concierge service ensure that guests have a seamless stay. With free WiFi and private parking, Larisa Resort Ashwem is the perfect choice for travelers seeking comfort and relaxation in a stunning beachside setting.
– Newly opened luxury resort
– Indoor pool and hot tub
– Attentive 24-hour front desk
– Free WiFi and private parking
Luxury 5 Star Hotels in Goa
Luxury 5 star hotels in Goa offer an exquisite experience for discerning travelers seeking the finest in hospitality. Nestled along pristine beaches and surrounded by lush tropical landscapes, these opulent retreats boast elegant architecture and world-class service. With impeccable attention to detail, guests can expect lavish accommodations adorned with plush furnishings and modern amenities. Indulge in a culinary journey at the gourmet restaurants that showcase a fusion of international flavors or unwind at the luxurious spa offering rejuvenating treatments. Whether basking in the sun by the infinity pool or partaking in exhilarating water sports, these luxury havens provide an unparalleled escape for those yearning for an unforgettable coastal getaway.
The Park Calangute Goa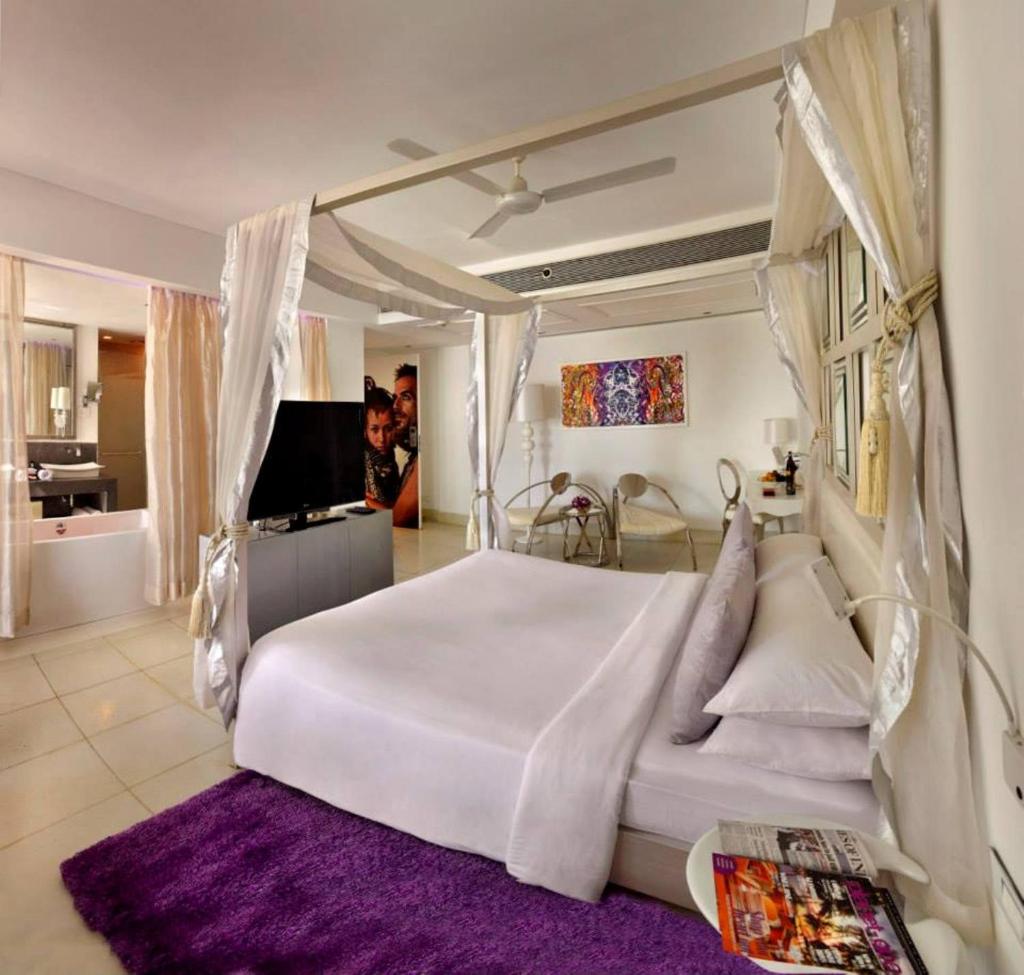 Located on Calangute Beach, The Park Calangute Goa is a luxurious boutique hotel that offers contemporary 5-star rooms with a 40-inch flat-screen TV. With two dining options and an outdoor swimming pool, guests can enjoy breathtaking views of the city from their stylish air-conditioned rooms which feature elegant furnishings, minibar, seating area, and private bathroom. To complete the luxurious experience, the hotel provides toiletries, bathrobes, slippers, and currency exchange services at the 24-hour front desk.
Pros:
– Prime location on Calangute Beach
– Contemporary and elegant rooms with modern amenities
– Two dining options offering local and Western cuisine
– Outdoor swimming pool for relaxation
Park Regis Goa (Arpora)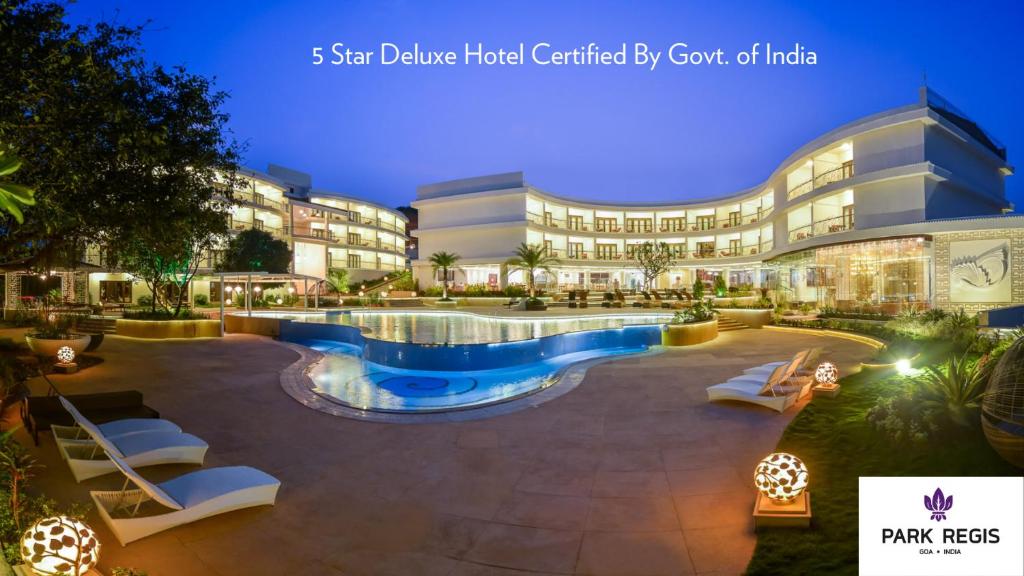 Park Regis Goa (Arpora) is a luxurious resort offering exceptional amenities including an outdoor pool and a fitness centre. This 5-star property features stylishly designed rooms with flat-screen TVs, seating areas, and private bathrooms. With its prime location near popular attractions such as Baga Night Market and Club Cubana, guests can easily explore the vibrant surroundings.
– Excellent facilities including an outdoor pool and fitness centre
– Stylishly designed rooms with modern amenities
– Convenient location near popular attractions
– Free Wi-Fi available for guests' convenience
Vivanta Goa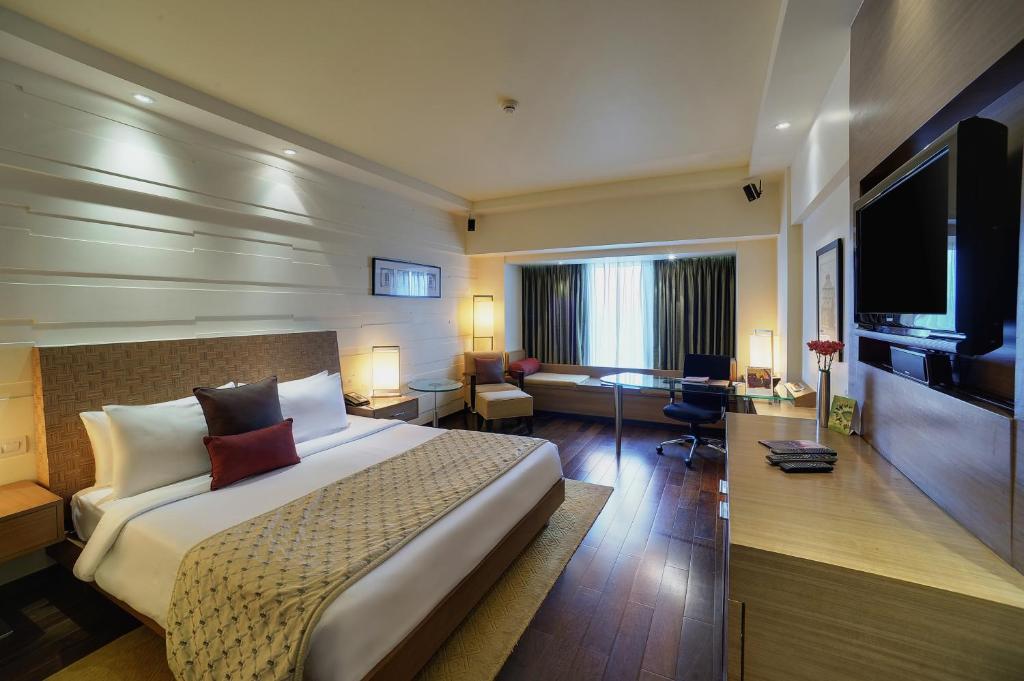 Vivanta Goa, located in the City Centre, offers a modern and luxurious stay with stunning views of the Mandovi River and Altinho Hills. Guests can enjoy amenities such as a rooftop pool, 24-hour gym, and indulgent massages at Jiva Spa. The hotel also provides free WiFi and is pet-friendly.
Pros:
– Convenient location in the City Centre with beautiful views
– Rooftop pool and 24-hour gym for relaxation and fitness
– Pampering massages available at Jiva Spa
– Pet-friendly property with free WiFi access
Cheap 5 Star Hotels in Goa
When it comes to finding affordable luxury, Goa offers a range of cheap 5-star hotels that cater to the discerning traveler on a budget. These hotels provide a comfortable and opulent experience without breaking the bank, allowing guests to indulge in the lavishness they desire at an affordable price. With their exquisite interiors, impeccable service, and convenient locations, these cheap 5-star hotels in Goa ensure that guests can enjoy a memorable stay without compromising on quality or extravagance.
3102bce (Vagator)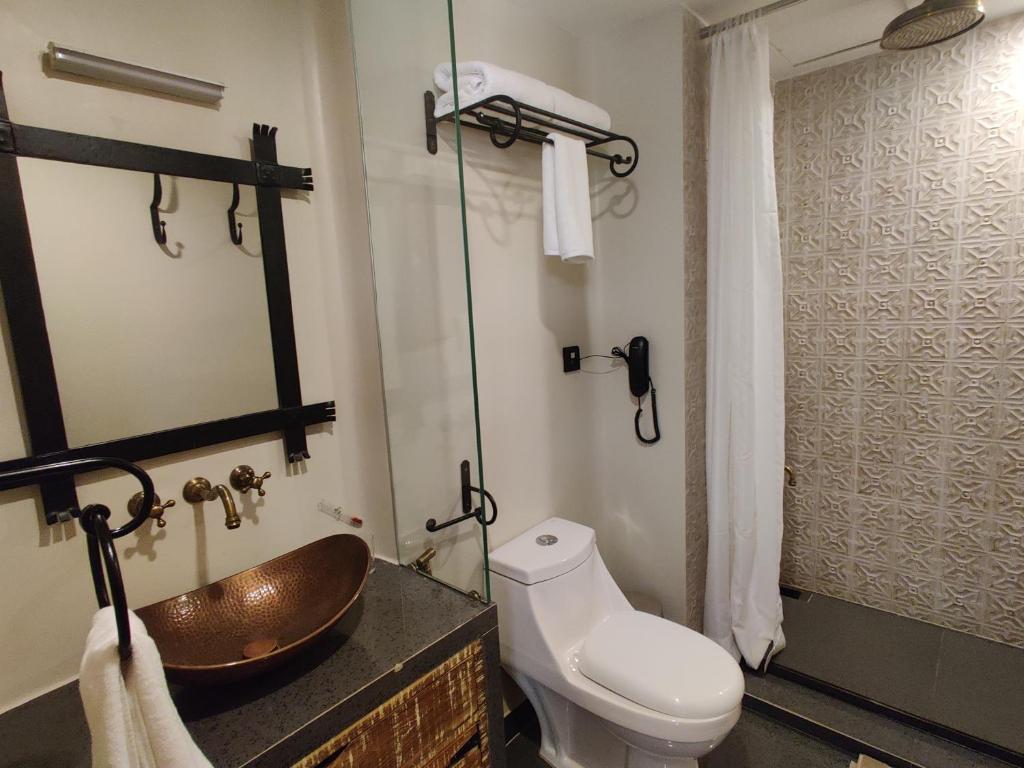 3102bce – A Vedic Resort is a luxurious 5-star hotel located in Vagator, Goa. This resort features a stunning rooftop pool and opened its doors in March 2020. With its prime location just 1.7 km from Vagator Beach, guests can enjoy easy access to one of Goa's most beautiful beaches.
– Rooftop pool with panoramic views
– Terrace for relaxation and outdoor dining
– Indoor pool and hot tub for ultimate relaxation
– Excellent staff who speak English and Hindi at the 24-hour front desk
– Buffet or continental breakfast options available
DoubleTree by Hilton Goa – Panaji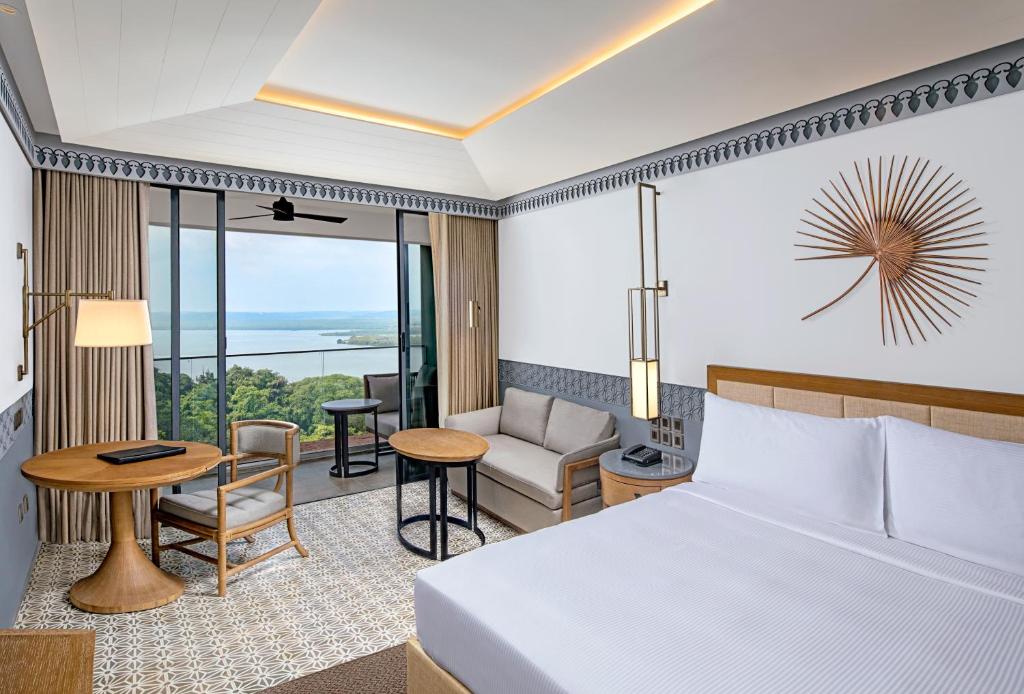 Overlooking the picturesque Mandovi River, DoubleTree by Hilton Goa-Panaji is a luxurious resort just minutes away from Panaji and Miramar beach. With an outdoor infinity pool, 24-hour fitness center, kids club, and a full-service spa, this hotel offers everything you need for a relaxing stay. The guestrooms and suites provide stunning views of the river or the lush green surroundings, each equipped with a spacious private balcony. Executive rooms and suites grant access to the exclusive executive lounge with complimentary refreshments, while the presidential suite boasts a private terrace and Jacuzzi. Indulge in delectable meals at the all-day dining restaurant Comida or savor authentic flavors from Mangalore and Goa at Feliz. End your day with your favorite cocktail at Rio Salao or enjoy hot/cold beverages along with fresh 'grab and go' options. The hotel's multilingual reception staff ensures smooth communication in English and Hindi, while being conveniently located 28 km from Dabolim International Airport.
Pros:
– Spectacular views of Mandovi River
– Outdoor infinity pool for relaxation
– Access to executive lounge for added luxury
– Wide range of dining options offering local specialties
– Convenient location near Panaji and Miramar beach
Goa 5 star Hotels Information
| | |
| --- | --- |
| 🛎️ 5 star Hotels in Goa | 11 |
| 💵 Hotels Prices From | $258 |
| 💵 Highest price | $1101 |
| 🥇 Average Review Score | 7.6/10 |
| 🛏️ Average number of Rooms | 83 |
Top 5 star hotels in Goa
| | |
| --- | --- |
| Diwa Club by Alila | 9/10 |
| Larisa Resort Ashwem (Mandrem) | 9/10 |
| Holiday Inn Resort Goa | 8.8/10 |
| MansionHaus (Anjuna) | 8.8/10 |
| Vivanta Goa | 8.6/10 |
FAQ
1. What are some popular 5 star hotels in Goa?
Some popular 5 star hotels in Goa include Taj Exotica Resort & Spa, The Leela Goa, and Park Hyatt Goa Resort and Spa.
2. What amenities can I expect at a 5 star hotel in Goa?
At a 5 star hotel in Goa, you can expect amenities such as luxurious rooms/suites, swimming pools, spa facilities, fitness centers, multiple dining options, concierge services, and sometimes even private beach access.
3. How much does a stay at a 5 star hotel in Goa typically cost?
The cost of a stay at a 5 star hotel in Goa can vary depending on the season and the specific property. On average, prices range from around INR 10,000 to INR 35,000 per night.
4. Are there any family-friendly 5 star hotels in Goa?
Yes, there are several family-friendly 5 star hotels in Goa that offer kid's clubs or recreational activities for children along with special menus catered to younger guests.
5. Can I find beachfront 5 star hotels in Goa?
Absolutely! There are several beachfront luxury resorts and hotels available in different parts of Goa offering stunning views of the Arabian Sea along with direct access to beautiful sandy beaches.
Popular Five Star Hotels destinations