Welcome to Baltimore, the vibrant city on the east coast of the United States that offers an exquisite selection of opulent accommodations. In this guide, we will explore the luxurious world of 5-star hotels in Baltimore, where discerning travelers can immerse themselves in impeccable service and lavish amenities. Whether you're seeking a refined retreat or a sophisticated urban escape, Baltimore's high-end hotels guarantee an unforgettable stay filled with indulgence and elegance.
Prepare to be enchanted as you discover Baltimore's finest establishments that epitomize luxury at its finest. From stunning waterfront properties boasting breathtaking views to historic landmarks transformed into sumptuous havens, these upscale hotels cater to every desire. Immerse yourself in grandeur as you step into meticulously designed lobbies adorned with exquisite artwork and ornate furnishings. Each room and suite is a sanctuary of comfort, exuding sophistication with plush linens, state-of-the-art technology, and tasteful decor that reflects both timeless elegance and modern aesthetics. Indulge your senses with gourmet cuisine crafted by world-renowned chefs at the hotel's fine dining establishments or unwind in blissful serenity at their exclusive spas offering rejuvenating treatments tailored to your needs. Throughout your stay, impeccable service awaits at every turn; from dedicated concierge assistance to personalized experiences curated just for you – ensuring an unparalleled luxurious experience throughout your time in magnificent Baltimore.
Best Baltimore Five Star Hotels
Four Seasons Baltimore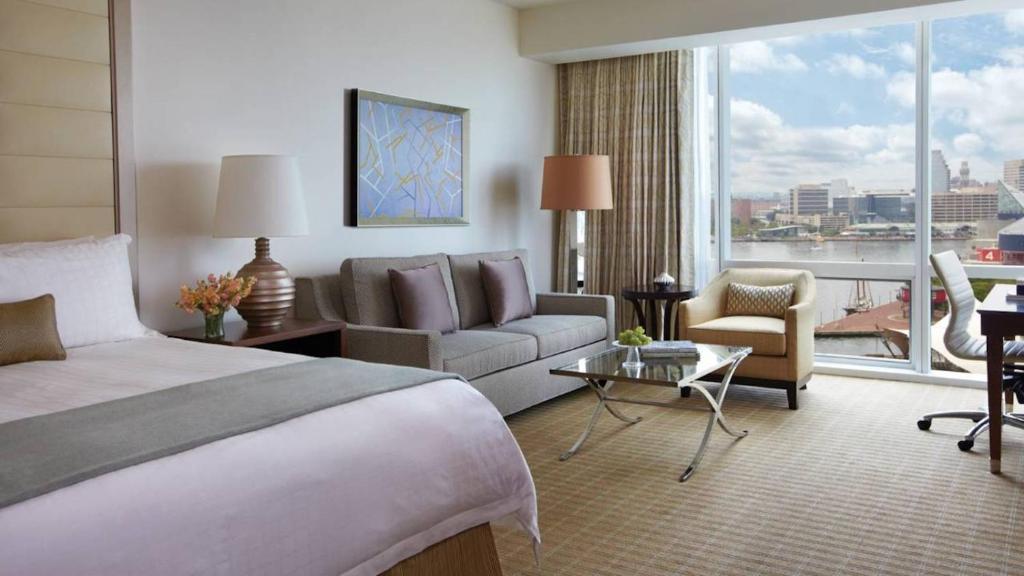 Located in Baltimore's Inner Harbor, the Four Seasons Baltimore is a luxurious 5-star hotel offering an array of amenities including free Wi-Fi, a full-service spa, a rooftop infinity pool, and four on-site dining facilities. The spacious guest rooms are beautifully decorated with modern furnishings and feature floor-to-ceiling windows for stunning views. Guests can also enjoy access to a state-of-the-art fitness center, sauna, and seasonal cabana rentals by the pool. Additionally, the hotel's convenient location allows easy access to popular attractions such as the National Aquarium and historic neighborhood of Fell's Point.
– Free Wi-Fi
– Full-service spa
– Rooftop infinity pool
– Four on-site dining facilities
– Convenient location near popular attractions
Ulysses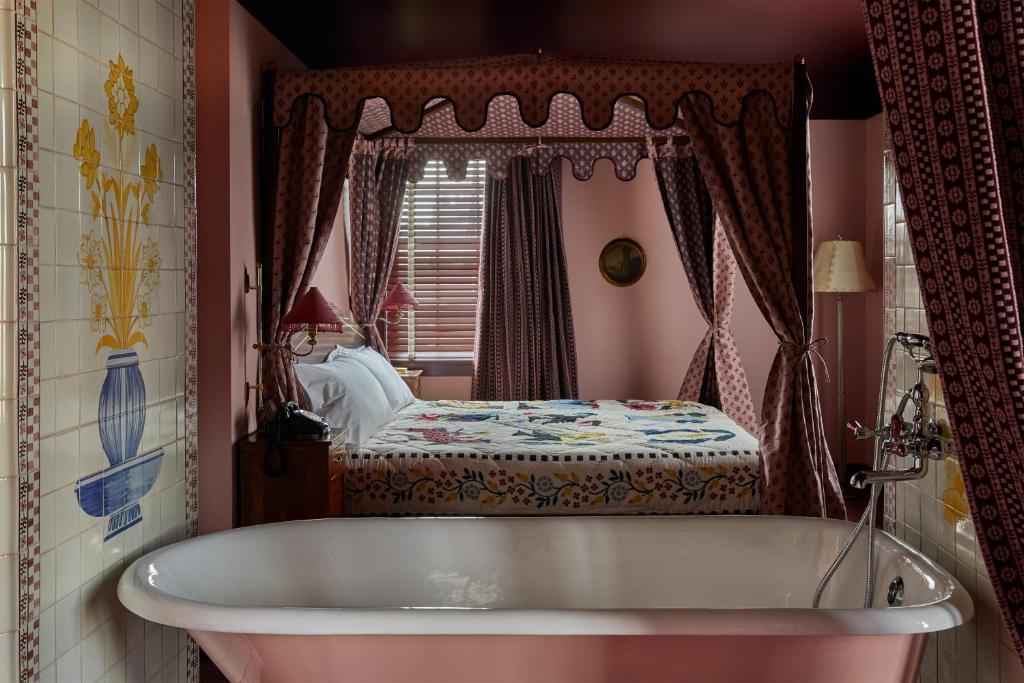 Ulysses is a luxurious 5-star hotel located just 500 meters from The Walters Art Museum in Baltimore. This newly opened hotel boasts a bar, restaurant, and air-conditioned rooms with free WiFi and private bathrooms. Guests can enjoy a delicious breakfast with à la carte, American, and vegetarian options, as well as access to a nightclub and 24-hour front desk service. Each room at Ulysses features a flat-screen TV with cable channels and comes with bed linen and towels. The hotel's convenient location puts popular attractions like Baltimore – Penn Station, MD, Historic Ships in Baltimore, and the Baltimore Convention Center within reach. The nearest airport is the Baltimore – Washington International Airport, just 16 km away.
– Newly opened luxury hotel
– Excellent location near popular attractions
– Bar and restaurant on-site
– Free WiFi throughout the property
The Ivy Hotel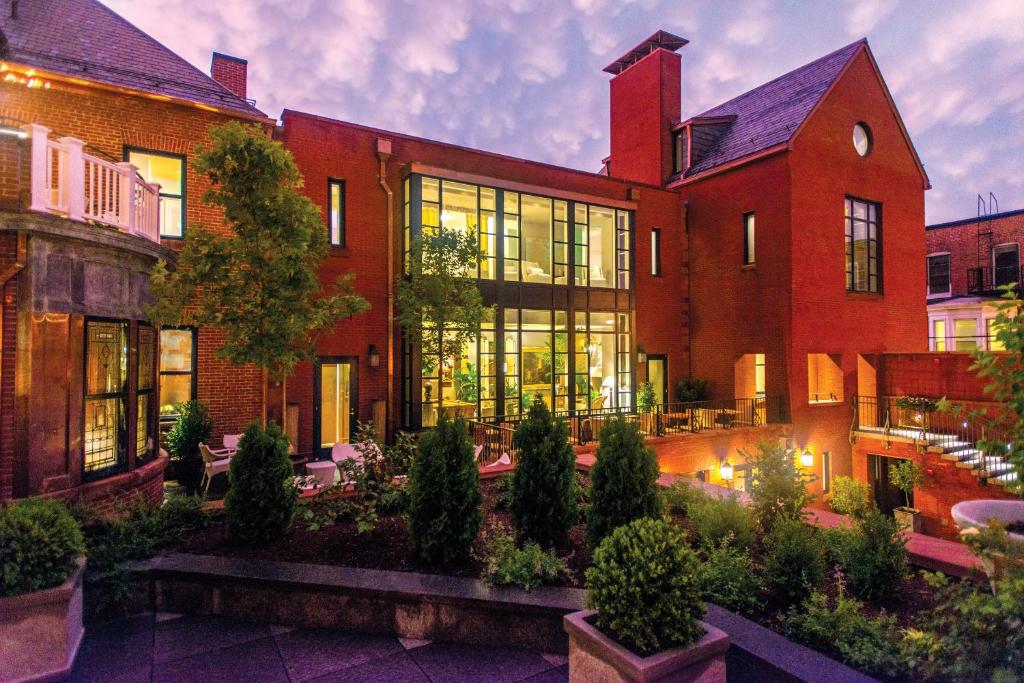 The Ivy Hotel, a 5-star boutique hotel located in Baltimore's Mount Vernon neighborhood, is a luxurious retreat housed in a historic mansion dating back to 1889. With its exquisite spa and fine dining restaurant, The Ivy Hotel offers guests an unparalleled experience. Each suite or guestroom boasts elegant features such as four-poster beds, plush bedding, gas fireplaces, and heated limestone floors in the bathrooms. Some suites even offer stunning views of Mount Vernon and a balcony. Guests can enjoy the hotel's leafy courtyard while sipping on a pot of tea or indulge in rejuvenating treatments at The Spa at the Ivy. Culinary enthusiasts will delight in The Magdalena's unique culinary creations that showcase local ingredients and seasonal cuisine. For those looking to explore, John Hopkins University and the Baltimore Convention Center are just 2 km away while attractions like the Inner Harbor and Oriole Park at Camden Yards are only a 5-minute ride from The Ivy Hotel.
Pros:
– Stunning historic building with luxurious amenities
– Beautifully designed suites with comfortable furnishings
– Excellent spa facilities offering a wide range of treatments
– Unique dining experience featuring locally sourced ingredients
Other places to stay in Baltimore
Baltimore Downtown Five Star Hotels
Baltimore's Downtown boasts an impressive selection of luxury five-star hotels that cater to discerning travelers seeking a premium experience. These opulent accommodations exude sophistication and elegance, combining sleek design with impeccable service. Situated in the heart of the city, guests are treated to convenient access to vibrant nightlife, cultural attractions, and renowned dining options. With their commitment to providing unparalleled comfort and luxury, Baltimore's Downtown five-star hotels promise an unforgettable stay for those seeking the finest in hospitality.
Inn at Perry Cabin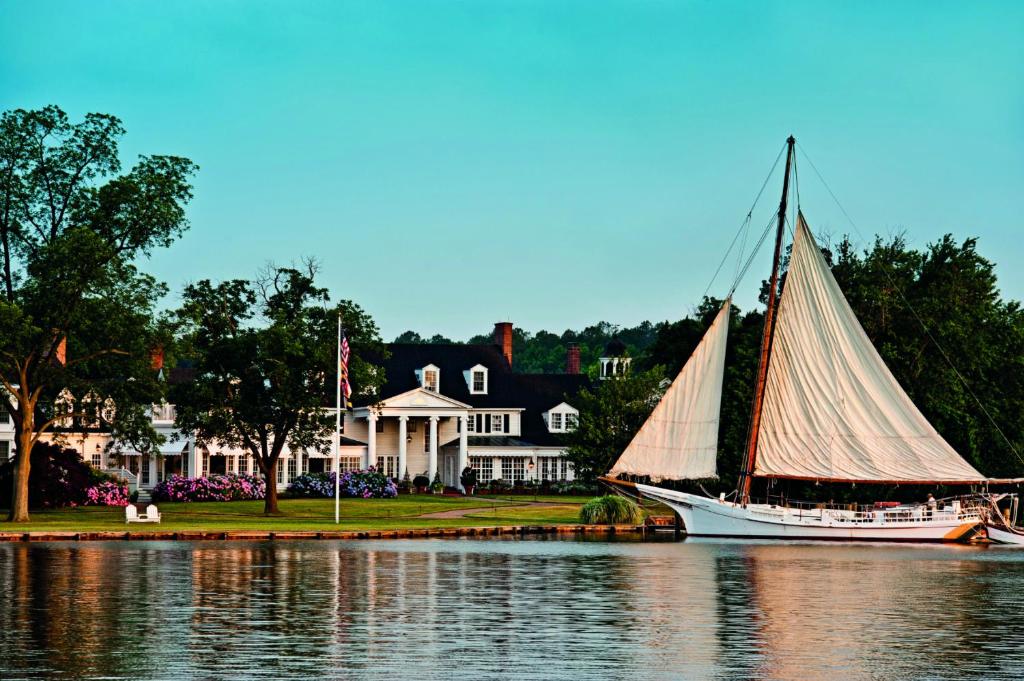 The Inn at Perry Cabin, located on Maryland's Eastern Shore, is a colonial mansion offering guests a luxurious retreat. With a full-service spa, multiple dining options, and breathtaking views of the Chesapeake Bay, this hotel provides the perfect blend of relaxation and indulgence. Each guest room is elegantly decorated in crisp colors and dark wood furnishings and features modern amenities such as cable TV, free WiFi access, and an iPod dock. Guests can take advantage of the outdoor pool and fitness center with yoga classes, explore the beautiful flower gardens and greenhouse on-site or enjoy delicious meals overlooking the water at Stars restaurant or cocktails by the fireplace at Purser's Pub. Proximity to St. Michael's town center also allows guests easy access to various shops and antique stores for those looking to indulge in some retail therapy.
– Stunning panoramic views of Chesapeake Bay
– Full-service spa for complete relaxation
– Multiple dining options offering delicious meals
– Convenient location near shops in St. Michael's town center
Antrim 1844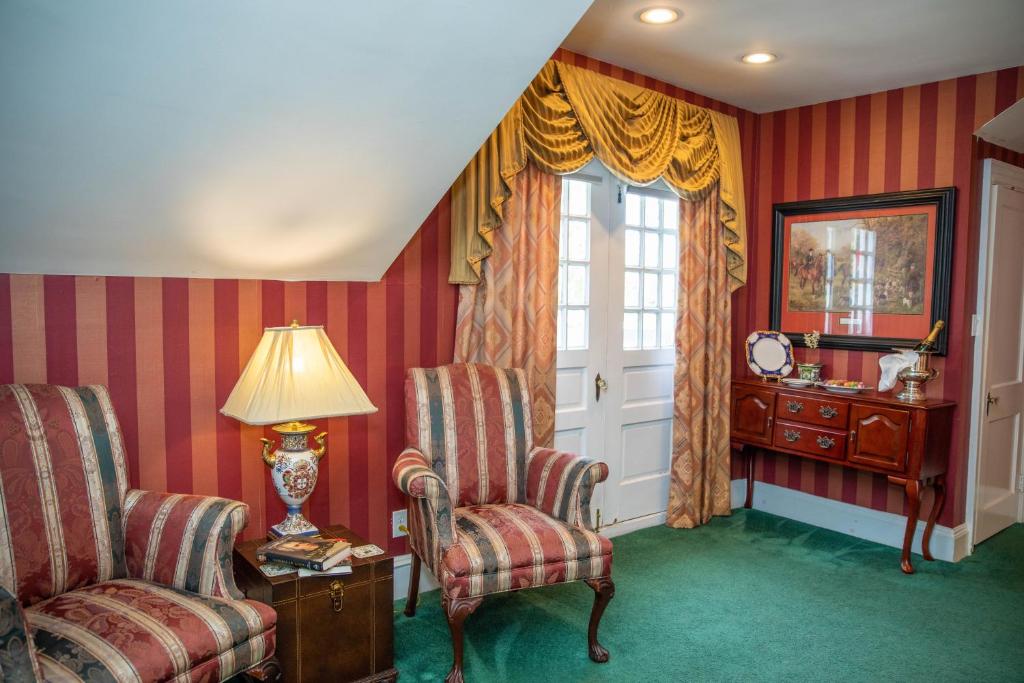 Nestled at the foothills of the Catoctin Mountains, Antrim 1844 is a luxurious 5-star hotel located on 24 acres of stunning landscape in Taneytown, Maryland. With its serene ponds, babbling streams, and enchanting rose gardens, it offers a peaceful retreat for guests. The hotel boasts an impressive range of amenities including an on-site restaurant serving delectable cuisine, tennis courts, croquet lawns, and a refreshing seasonal outdoor pool. Additionally, guests can enjoy activities such as hiking and biking in the surrounding area.
Pros:
– Beautifully landscaped grounds with ponds and rose gardens.
– Wide range of activities available including tennis and croquet.
– Nightly turndown service upon request.
– Delicious daily breakfast served in the Mansion.
Sagamore Pendry Baltimore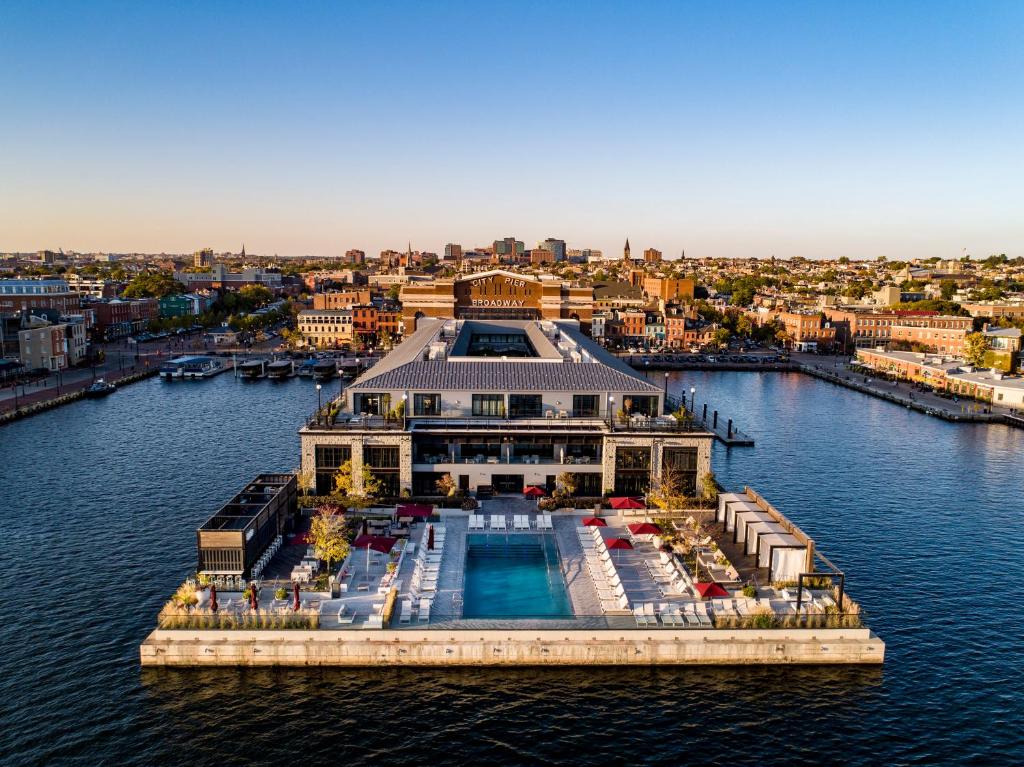 Located in Baltimore's vibrant Fells Point district, Sagamore Pendry Baltimore offers a luxurious stay with its waterfront location and stunning views. Guests can enjoy the outdoor pool and private pool deck with a seasonal bar and grill, as well as fine dining options at the on-site restaurants helmed by chef Andrew Carmellini. The hotel also provides amenities such as a 24-hour fitness center, function rooms for events, and car hire services.
– Waterfront location with beautiful views
– Seasonal outdoor pool with bar and grill
– Fine dining options by chef Andrew Carmellini
– Convenient amenities like 24-hour fitness center and car hire services
Luxury 5 Star Hotels in Baltimore
Baltimore boasts a charming array of luxury 5-star hotels, characterized by their impeccable service and sophisticated ambiance. These opulent establishments offer the perfect blend of modern elegance and timeless charm, ensuring an unforgettable stay for discerning travelers. From their meticulously designed interiors to the attention to detail in every aspect, these hotels exemplify the epitome of luxury hospitality. Guests can expect nothing short of exceptional comfort and indulgence, making their visit to Baltimore an experience to cherish forever.
The Mansion on O Street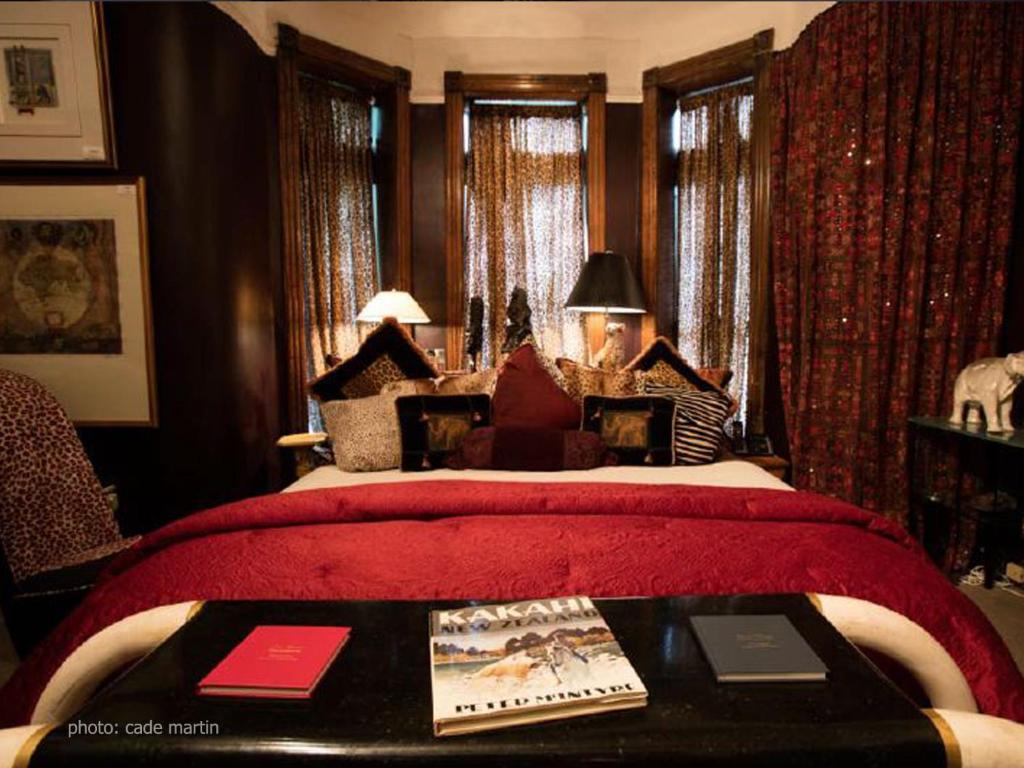 The Mansion on O Street is not your typical luxury hotel. With over 100 one-of-a-kind rooms and suites, this restored townhouse doubles as a museum and artist's residence, making it a truly unique experience. As you explore the property, you'll uncover hidden surprises behind the mansion's 70 secret doors. Each room has been thoughtfully decorated with art, antiques, and furnishings from around the world, creating a stylish and imaginative atmosphere. From teakwood soaking tubs imported from Italy to showers made out of English telephone booths, every detail is designed to impress. This historic venue has hosted CEOs, dignitaries, celebrities, and scientists alike and has even served as inspiration for songs, paintings, and legislation.
Pros:
– Exceptional collection of art and antiques from all corners of the globe
– Numerous hidden doors throughout the property add an element of intrigue
– Luxurious amenities such as teakwood soaking tubs provide a lavish experience
– The historical significance of the venue adds an extra layer of charm
– A stay at The Mansion on O Street offers a truly unique blend of luxury hotel accommodation with an artistic flair
Baltimore 5 star Hotels Information
| | |
| --- | --- |
| 🛎️ 5 star Hotels in Baltimore | 7 |
| 💵 Hotels Prices From | $144 |
| 💵 Highest price | $1518 |
| 🥇 Average Review Score | 9.2/10 |
| 🛏️ Average number of Rooms | 86 |
Top 5 star hotels in Baltimore
| | |
| --- | --- |
| The Ivy Hotel | 9.9/10 |
| The Mansion on O Street | 9.7/10 |
| Four Seasons Baltimore | 9.2/10 |
| Ulysses | 8.9/10 |
| Inn at Perry Cabin | 8.9/10 |
FAQ
What are some top 5 star hotels in Baltimore?
Some top 5 star hotels in Baltimore include Four Seasons Hotel Baltimore, The Ivy Hotel, and Sagamore Pendry Baltimore.
What amenities can I expect at a luxury hotel in Baltimore?
Luxury hotels in Baltimore typically offer amenities such as spa facilities, rooftop bars, fine dining restaurants, concierge services, and luxurious room furnishings.
Are there any historic 5 star hotels in Baltimore?
Yes, there are several historic 5 star hotels in Baltimore including the Lord Baltimore Hotel which has been a landmark since 1928 and the Admiral Fell Inn which is housed within a collection of historic buildings from the 18th and 19th centuries.
Do luxury hotels in Baltimore offer views of the Inner Harbor?
Yes, many luxury hotels in Baltimore offer stunning views of the Inner Harbor. Hotels like Four Seasons Hotel Baltimore and Sagamore Pendry have rooms or rooftop bars that provide beautiful vistas of the harbor.
How do I book a stay at a luxury hotel in Baltimore?
You can book a stay at a luxury hotel in Baltimore either directly through their website or by contacting their reservations department. It is also advisable to check with travel agencies or online booking platforms for any available deals or packages.
Popular Five Star Hotels destinations